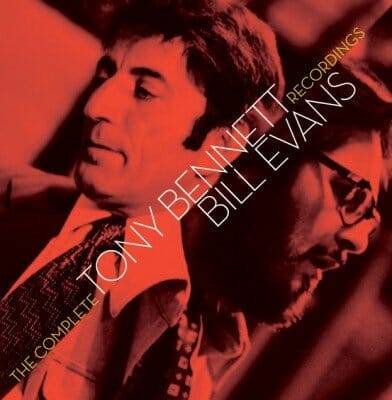 "The Complete Tony Bennett/Bill Evans Recordings" 4 vinyl LP's, 40th Anniversary Edition Fantasy – Concord
Forty years ago Tony Bennett and pianist Bill Evans recorded their first of two duo albums: 1975's "The Tony Bennett/Bill Evans Album," followed by their '76 "Together Again." These albums have been distributed on various formats in the past, but to commemorate their fortieth anniversary Fantasy Records is issuing a four LP deluxe box pressed in glorious one-eighty gram audiophile vinyl. Also included is a twelve by twelve photo of Bennett and Evans plus a twelve page booklet with rare images with the liner notes of Will Friedwald who previously co-authored Bennett's autobiography "The Good Life." Brief history: Tony Bennett and Bill Evans made an arrangement to cut two LPs: "The Tony Bennett/Bill Evans Album," and "Together Again," the first would be for Evans' Fantasy Records label, the second on Tony Bennett's own Improv Records.
Bennett had already achieved commercial success and notoriety, while the exquisite pianist Evans exclusively worked under the lower lights within the context of jazz. But Evans associated with giants like Miles Davis, Cannonball Adderley, Charles Mingus, Chet Baker, Herbie Mann, and Michel Legrand. These piano-vocal recordings could have been risky endeavor especially for Bennett who hadn't yet delved with the jazz aristocracy that Evans had. But their magical collaboration melds, partially because this duo selected songs Bennett was comfortable with, some that Bennett previously recorded, and because of Evans' sideman experience – he was an attentive and radiant pianist/accompanist who proved to be the flawless contrarian that enhanced Bennett's expressive vocal abilities. So what we get are Broadway and the Great American Songbook covers that work to near perfection by two men who found common ground to create not one but two landmark recordings.
There are times I found Bennett vocally challenged but the skillful Evans keeps Bennett grounded, and also grabs the ring to stretch-out a bit with gorgeous and seductive piano excursions. But do not discount Bennett's superb vocal phrasings making these duo recordings a fully balanced and equal partnership of Evans' piano and Bennett's vocals.
For the indulgent there are twenty "alternate" takes and two "bonus" tracks, nine are previously unreleased except on Bennett's box set "The Complete Improv Recordings." But few (if any) of the "alternate" takes are different that the original versions, but they do display subtle variances. Especially if you listen closely, and on an intimate recording like this one – you shouldn't be distracted and remain attentive. This is not a party record and can best be likened to walking into a quiet late-night bar and finding Bennett vocalizing with Evans' piano in a quiet setting where you can hear a pin drop. So just immerse yourself in the imagery of each musician's facets, sit back and pour yourself your favorite cocktail, turn down the lights and savor these delightful passages and their inimitable nuances.
For 16 years Bob Putignano has been pivotal at WFDU with his Sounds of Blue radio show (Wed. & Fri. 9am-1pm) www.SoundsofBlue.com – 2015's most pledged to ($21,000+) radio program at http://wfdu.fm Previously a contributing editor at Blues Revue, Blueswax, and Goldmine magazines, currently the Music Editor for the Yonkers Tribune www.YonkersTribune.com – www.MakingAScene.org & www.wfdu.fm/Whats-Happening/Bob's Music Reviews/bobs music reviews/ Bob was the 2003 recipient of the "Keeping the Blues Alive" award (given by the Blues Foundation in Memphis) for his achievements in radio broadcasting. Putignano can be contacted at: bob8003@yahoo.com
——————————————————————————————————————————-
Bob Putignano: www.SoundsofBlue.com Wed. & Fri. 9am-1pm:
2015's most pledged to radio program at WFDU @ $21,000+ http://WFDU.fm Now celebrating 15 + years on the air in the NYC area Music Editor: www.yonkerstribune.com, www.makingascene.org & wfdu.fm/Whats-Happening/Bob's Music Reviews/bobs music reviews/