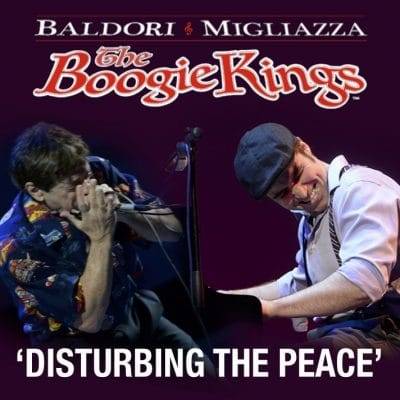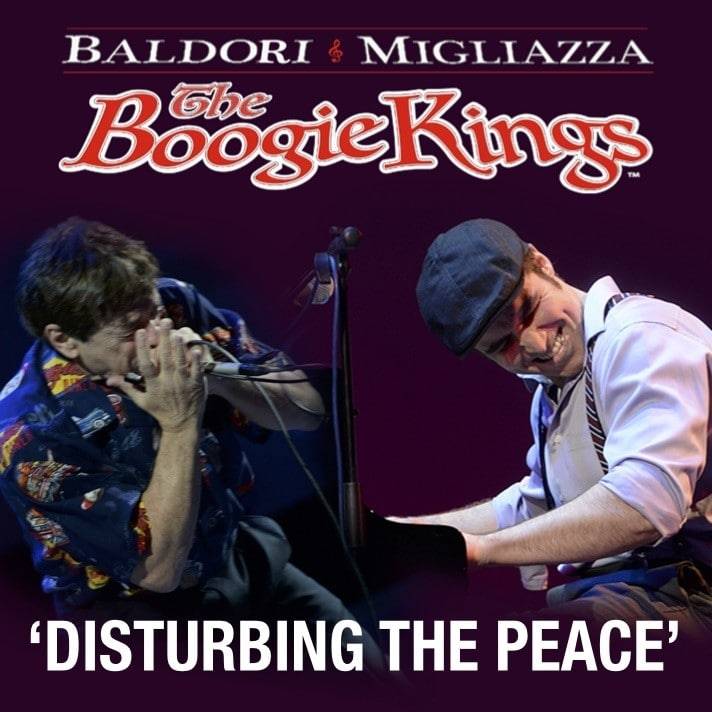 The Boogie Kings
Disturbing the Peace
BluJazz/Spirit
Bob Baldori and Arthur Migliazza bring four-handed boogie-woogie thunder on their collaborative and aptly named, Disturbing the Peace. Images of freight trains, highways, loud juke joints and boisterous road houses ring through this resounding set that often sounds like a full band. Yes, it's generally loud and raucous – two pianists just pounding the 88s with fervor. Yet, the chemistry and inherent feel between the players is uncanny, honed from playing as a duo for seven plus years.
The duo attracted plenty of attention with their 2015 off-Broadway production of Boogie Stomp! which played to audiences globally. So, buoyed by its success, the duo decided to recreate that same magic in the studio. As you might expect with this century old art form, boogie woogie piano, the duo pays tribute to the masters and originators, throwing in some classic Chicago blues along the way to give it some variety. They pay tribute to Jimmy Yancey, Meade Lux Lewis, Pinetop Smith and Hersal Thomas. Baldori plays harmonica and sings on Little Walter's "Blues With a Feeling" and Muddy Waters" "Got My Mojo Working." Migliazza takes the lead vocal n his original stomping "Boogie Woogie Man."
Just about every form of American roots music is heard as Bob and Arthur seamlessly move from classic stride piano to early R& B to rock n' roll. Among the highlights, aside from the previously mentioned, are their revival of Huey (Piano) Smith's "Rocking Pneumonia and The Boogie Woogie Flu," seemingly a requisite tune for this kind of project. Elements of gospel, and riffs from James Booker run through it. They also render the classic Louis Prima big band piece "Sing, Sing, Sing" in their own unique way.
Baldori grew up in Dearborn and East Lansing, MI, deeply influenced by the early rock n' roll of Chuck Berry and Bo Diddley. Baldori's band, The Woolies, had a national hit with a cover of Diddley's "Who Do You Love" in 1966. He went on to play with Chuck Berry for over 50 years, including recording two full length albums. In addition to Berry, Bob has worked and recorded with many other blues and rock legends, playing piano and harmonica. They include Muddy Waters, John Lee Hooker, Luther Allison, Del Shannon, John Hammond, Tom Rush, Hubert Sumlin and Bo Diddley. He has performed hundreds of dates in venues from Detroit to Chicago, Moscow to Rio, LA to New York to the White House for President Clinton. In addition, as he did here, he has produced and engineered over 200 albums. Baldori resides in Okemos, MI, thus the tune "Okemos Breakdown."
Migliazza was a child prodigy, playing in this style at age ten listening to countless old blues piano recordings, and began playing the piano professionally at the age of 13. He's had such mentors/teachers as Henry Butler, Ann Rabson and, of course, Bob Baldori. Arthur has been inducted into the Arizona Blues Hall of Fame, was a finalist at the 2010 and 2014 International Blues Challenge in Memphis, TN, and in his 20+ years of performing has been privileged to play on some of the world's greatest stages. In 2014 he received the Best of the Blues Award for Best Keyboardist in Washington State and his latest album, Laying It Down, resided at #1 on the Roots Music Report charts for Washington State for the summer of 2014, and reached #20 on the national chart. His first instructional book, considered by many to be a benchmark in blues and boogie woogie piano instruction, is entitled How to Play Boogie Woogie Piano and is now available for purchase worldwide through publisher Hal Leonard. Arthur currently resides in New York City.
The rumbling, rollicking sound of Bob and Arthur together brings the age-old boogie-woogie piano style to another new level. And, it's a style that remains as captivating as ever.
[amazon_link asins='B005IC2EEU,B005F1265G,B00N67PE96,149500791X,B078G7FCHY,B000BTWSWS,B00IO9PUEA,1999747801,0711903263′ template='ProductCarousel' store='maasc-20′ marketplace='US' link_id='23332f15-1465-11e9-87ea-ad43df641354′]