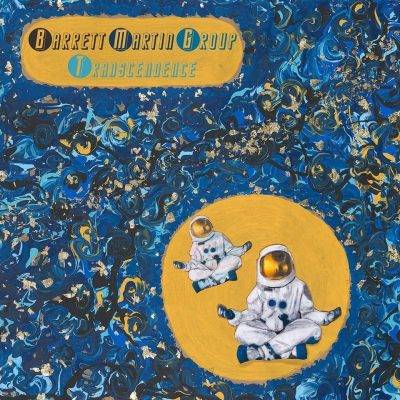 The Barrett Martin Group
Transcendence
Sunyata
Don't let the name fool you. The Seattle-based Barrett Martin Group is not a law firm or a real estate office. Of course, it's not but the staid nature of the name unfortunately conjures up those boring references when the music is anything but. It's demonstrative, thrilling, exotic, and eminently accessible. Barrett Martin is a Grammy-winning producer, drummer, and composer who sallies forth here with his band's sixth album Transcendence. The seven-piece group is an ensemble that sounds as mighty as a big band. Members include: Martin (drums, vibes, marimba, percussion), Evan Flory-Barnes (upright bass), Andy Coe (guitar), Ryan Burns (piano, keyboards), Hans Tueber (saxophones), Dave Carter(trumpet) and Thione Diop (African drums).
You've undoubtedly heard Martin before. He's a renowned session drummer and percussionist who has appeared on over 100 jazz, rock, blues, and world music albums. Here are a few of the familiar names that he's played with: REM, Queens of the Stone Age, Brazilian singer Nando Reis, Delta blues legend CeDell Davis and Luna. Suffice it to say that Barret performs in a variety of settings, evidence by his recent Latin Grammy win for his production and drum work on the Brazilian album Jardim-Pomar. Yes, exotic percussion is an indelible part of the band's sound that incorporates American jazz and blues with African, Brazilian and Cuban rhythms along with traces of classical and ambient music. Percussion instruments, for example, include Indonesian gamelans, marimbas, kalimbas, and several handmade ones.
As Barrett describes the band's unique sound: "I started out with a Jazz and Classical music education, and I carried those influences with me when I started working as a studio musician and producer. Years later I studied ethnomusicology, both in graduate school and around the world, so those forms of music began to influence how I composed and produced music. By the time I started the BMG, I had synthesized many forms of world music, so we have this Jazz-Blues-World music approach to the songs, but there's also a variety of rhythmic influences from my experience as a drummer, so it's a very colorful and nuanced band, and very emotive. Most importantly, our music seems to resonate with people around the world, from all different cultures, so I think we're on to something."
The other aspect of this effort that makes the music brim with a rather unpredictable intensity is the use of guest musicians. Notable fellow Seattle-based Wayne Horvitz (composer, keyboardist and record producer) who first came to prominence in New York working with John Zorn's Naked City, contributes on "Sands of Venus." Queens of the Stone Age guitarist David Catching plays on "The Asp" and 'Wizard of the Desert," adding wildly distorted guitar that produces an edginess that offsets the ambient, electronica imbued pieces sandwiched in between. REM guitarist Peter Buck adds to the cacophony of "The Grover." The album concludes rather ethereally with two of the more classical/ambient pieces, "Moonfish" and "Event Horizon" featuring also some bizarre percussion and Carter's ECM-like trumpet.
Despite the thrilling guest contributions (particularly from Catching) and the talents of individual band members (Tueber especially stands out); the emphasis, unlike many jazz albums, is not on extended soloing but rather the ensemble approach. Thus, the combination of melodies and rhythms make for a very approachable listen filled with lots of textures, proving Barrett's point that "they are on to something."
[amazon_link asins='B0788XQ17Z,B006P0FD1K,0692851747,B0002ZDW6W' template='ProductCarousel' store='maasc-20′ marketplace='US' link_id='839b78ae-4947-11e8-8190-6b0a49d53b22′]