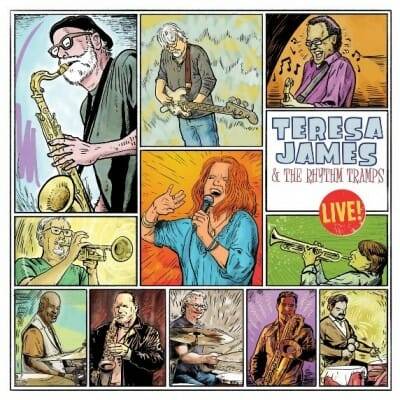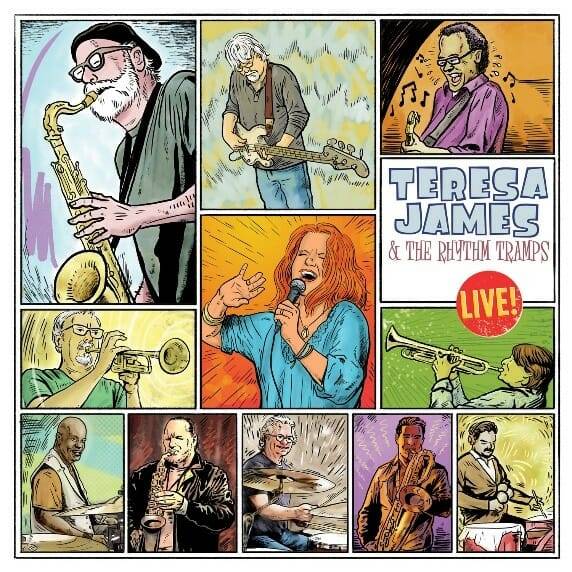 Teresa James & The Rhythm Tramps
Live!
Jesi-lu Records
Teresa James is originally from the Houston, Texas area but has for a long time called Los Angeles home. Her earliest recordings have each been re-issued several times as all of her albums are in demand. James' fifth album 2007's "Bottom Line" resulted in her receiving a Blues Music Award nomination. Her last recording was 2018's "Here in Babylon".
This new live album was recorded over 4 nights at Bogie's in Westlake Village, Ca. It is a welcome addition to her catalogue as she is seldom seen on the East Coast. She also tells us in the liner notes that because the band members have their own touring schedules there are four different Rhythm Tramp lineups. All the band members took part sometime during the four nights and James' thanks them all. The live recording also serves as a "best of" or retrospective of the Rhythm Tramps twenty-year existence.
The Rhythm Tramps are James, all keyboards and lead vocals; husband Terry Wilson, bass and background vocals; Billy Watts, guitar and background vocals; Herman Matthews, Jay Bellarose or Tony Braunagel, drums; Lee Thornburg or Darrell Leonard, trumpet; and Joe Sublett, Paulie Cerra and/or Ron Dziubla, saxophones. The album is produced by Wilson and James.
The oldest song, "Shoorah, Shoorah", was recorded by James' in 1998 and appears on her album "The Whole Enchilada" re-issued in 2003. The song was written by Allen Toussaint and first recorded by Betty Wright in 1974. The Glen Clark/Billy Swan authored "I Want It All" was recorded by Clark in 1994, James' version originally appeared on her 2003 album "Oh Yeah!", the live version includes great keyboard work from James and a fab horn arrangement; also from that album is Wilson's "Easier Said Than Done" with some fine rhythm guitar from Watts.
Three songs are from James' BMA nominated "Bottom Line" album all co-written by Wilson. "In The Pink" with James' tinkling the ivories was written with her, while the other two songs, the sexy "Put The Squeeze On Me", and "Don't Make A Habit Of It" were written with others.
Four songs were included on James' 2012 recording "Come On Home". "If I Can't Have You" was written by Etta James and Harvey Fuqua and recorded by them as a duet in 1960; on the new version James shares the vocal with Watts. The poignant "Forgetting You" beautifully sung was written by Wilson while "She Got A Way With Men" was written by him and James; these feature Cerra on sax. "Long Way From Texas" is credited to T. Klemperer and has become a sort of theme song for The Rhythm Tramps as it personifies their brand of "roadhouse music".
"I Like It Like That" written by Lowman Pauling of The 5 Royales was first recorded in 1954; the song appeared on James' 2016 "Bonafide" album and James' live version is just fabulous. "The Day The Blues Came To Call" is an emotional tribute to the late Greg Allman written by Wilson and James and included on James' last album "Here To Babylon". The only song not previously recorded by James' is a cover of William Bell's "Everyday Is Like A Holiday".
This album fulfills my need for a Teresa James fix. Lord knows "I could get used to it".
Richard Ludmerer