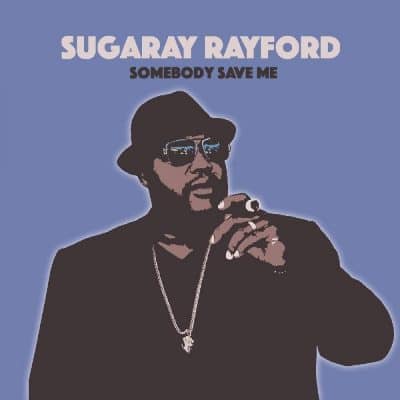 Sugaray Rayford
Somebody Save Me
Forty Below Records
Sugaray Rayford is the ex-Mannish Boys front man. This is the fifth album under his own name; the last being 2017's "The World We Live In". Rayford also has fourteen Blues Music Award nominations including two for 2019. He has received a BMA nomination as "B.B. King Entertainer of The Year" each year since 2015.
"Somebody Save Me" is Rayford's first album for Forty Below Records. The recording includes twelve new songs written and produced by Eric Corne. The core band includes Rayford, vocals; Sasha Smith, Hammond B-3, Wurlitzer, and piano; Taras Prodaniuk, bass; Matt Tecu, drums; and Rick Holmstrom (who plays with Mavis Staples), or Eamon Ryland, guitars.
"The Revelator" is a funky almost reggae tune with some fabulous bass from Prodaniuk. Corne's production includes a three piece horn section. Trumpeter Mark Pender, takes a solo, as he is joined by Ron Dziubla, sax; and Richard A. Rosenberg, trombone. The production is completed with the addition of a two-piece string section and five member choir.
"Time To Get Movin" is a bit of social commentary as Rayford sings "The mansions on the hillside look down on homeless camps, while we're caught in the crossfire lookin' for the exit ramps". Corne on harmonica joins guitarist Holmstrom, and keyboardist Smith who shines on both organ and piano.
"You and I" is a Stax-like production featuring the horns and a great vocal performance from Rayford. Background vocalists Carol Hatchett and Roberta Freeman harmonize sweetly with him on the chorus. Holmstrom plays evocative lead and rhythm guitar. A second Memphis styled tune "Is It Just Me" pairs Pender with David Ralicke on sax, while Ryland plays guitar.
"Saw you from the distance, my heart beating thru my chest" is the opening line to the ballad "My Cards Are On The Table"; Rayford's passionate vocal, just drips with emotion on this fabulous song. The title track, "Somebody Save Me", is another soul ballad and another great vehicle for Rayford; once again the strings and background vocalists complete the production.
"Angels and Devils" and "Sometimes You Get The Bear And Sometimes The Bear Gets You" are two more fine vocal performances from Rayford, the later featuring a solo from Holmstrom and Smith on a vintage Italian organ. "I'd Kill For You, Honey" features Ryland on slide. The closer "Dark Night of The Soul" includes the lyric "how come you always take more than your share".
Magic can happen when a great vocalist is paired with a great songwriter and producer. The combination of Rayford and Corne yield one of those magical recordings.
Richard Ludmerer