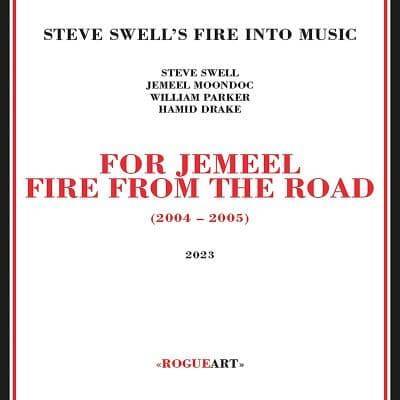 Steve Swell's Fire Into Music
For Jemeel – Fire from the Road
Rogue Art
Steve Swell's Fire Into Music is a band that grew out of New York's creative improvisational scene in the late '80s, with this 3-CD live set, For Jemeel, Fire from the Road, dating to shows from 2004-2005 in two Texas locations (Houston and Marfa) and the Guelph Jazz Festival in Ontario, Canada. It is being issued now in tribute to the group's late saxophonist, Jemeel Moondoc, who passed away in August 2021 due to complications with sickle cell anemia. Swell, the trombonist, formed his improvising, chord less quartet Fire Into Music for a three- and half-week tour in late 2004, followed by a shorter run in the fall of 2005. The other members are legendary bassist William Parker and Chicago drummer/percussionist Hamid Drake. This unit reconvened in 2006 for their lone studio recording Swimming in a Galaxy of Goodwill issued in 2007 on this same Rogue Art label. The group had planned to reconvene in the summer of 2021 but Swell was fighting (successfully as it turned out) throat cancer only to have Moondoc pass later in the summer. That brings us to the present three hours of music that Swell uncovered of performances during the aforementioned tours, mostly to showcase his fallen friend.
Disc One from Houston's El Dorado Ballroom has just one long improvised piece stretching just shy of an hour, revealing the fiery interplay and the easily heard distinctive voices of the four participants. Featured following the long drawn-out tones from the two horns, is a remarkable ten-minute mostly arco solo, from Parker answered by shifting, expressly stated solos from Swell and Moondoc and spirited unaccompanied exchanges between them that grows fiercely intense when Parker and Drake rejoin, resolved by the ever active drummer who brings the proceedings to a surprisingly calm exit. Moondoc was an explorative player, using all the keys on his alto, screeching, honking, bleating gutturally, issuing primal screams and otherwise playing with a calm, pure tone when called for. His bluesy approach, described by Parker as "genuinely touched upon the deeper parts of Africa" owes somewhat to Ornette Coleman, yet he's less playful and maybe even more lyrical and less structured.
Disc Two from Ballroom Marfa with a highly engaged audience has three pieces combining for over an hour of music with Moondoc's angular "Junka Nu" leading off, giving off an even better sense of the altoist's unbounded approach when leading and a stunning pizzicato turn from Parker. Another rendition of the same piece appears on Disc Three, the Ontario performance. The middle piece is a combustible free improvisation, again demonstrating the telepathic interplay of the four energized musicians and especially stunning spots from Parker and Drake. Swell's extended minor blues "Space Cowboys" is imbued by Moondoc's spiraling lines and Parker's throbbing bass. Disc Three also has three pieces for over an hour of music. Besides "Junka Nu" we hear the edgy groove of "Box Set," previously recorded by Swell's group Slammin' the Infinite (he has knack for cool group names) and his co-led quartet with Gebbard Ullman. Also here is the title track from the aforementioned studio album, featuring feisty four-way conversations between the quartet.
Even though this music is nearing the twenty-year-old mark, it's some of the most energetic free jazz heard on record in recent years and definitely worthy of exposure at this time. Fire Into Water and Moondoc especially were vital forces, that sadly will no longer be with us though we can long treasure these 'left it all on the floor' performances.
Help Support Making a Scene
Your Support helps us pay for our server and allows us to continue to bring you the best coverage for the Indie Artists and the fans that Love them!
Make a one-time donation
Make a monthly donation
Make a yearly donation
Choose an amount
Or enter a custom amount
$
---
Your contribution is appreciated.
Your contribution is appreciated.
Your contribution is appreciated.
Donate
Donate monthly
Donate yearly
You can donate directly through Paypal!
Subscribe to Our Newsletter