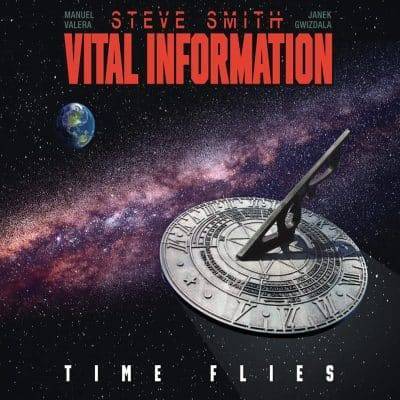 Steve Smith and Vital Information
Time Flies + A Prayer For the Generations
Wounded Bird
Rock and Roll Hall of Fame drummer Steve Smith, formerly of Journey, and recognized in many quarters as one of the all-time best drummers, has been leading his jazz group, Vital Information, for forty years now so this represents a four-decade anniversary. The group is in essence a trio with Grammy nominated, Guggenheim Fellow and bandleader with 13 albums to his credit, Manuel Valera, on keyboards and Janek Gwizdala on electric bass, both bandleaders and composers. It may on paper sound like a conventional piano trio, but the span of music requires these highly versatile musicians. Smith says, "I envisioned a trio with a big sound and a wide conceptual range, from high energy jazz-rock, 'stadium' ballads, grooving odd times to burning straight-ahead swing." Additionally, for these sessions, Time Flies, renowned tenor saxophonist George Garzone is an integral member. He plays on three of the dozen on Time Flies and is the main impetus of the bonus CD, A Prayer For the Generations, a take on Coltrane followed by a series of eight improvised recordings that went down with the same four players after the first CD was completed. Smith and Garzone's relationship traces to their days at Berklee College of Music in the early '70s.
Let's go to Time Flies, a mix of straight-ahead and fusion pieces, many composed and/or arranged by either Valera, with Gwizdala contributing one, Smith and Valera collaborating on one, one from the four of them, and a few covers. Although the opener "Emergence," was written by Valera, Smith evokes drummer Tony Williams' album title of the same name in his take. Smith leads the acoustic trio into Bud Powell's up-tempo burner "Tempus Fugue-It" with the bassist and pianist displaying immense chops. Garzone joins for the group's collectively penned title track, a groove-oriented blues with Valera on Rhodes while the nimble brushwork of the leader is clearly in the spotlight for Valera's arrangement of the standard "Darn That Dream." The Cuban pianist Valera expresses his fondness again for Bud Powell in his arrangement of "Un Poco Loco" as Smith uses the cowbell much like Max Roach did in the original recording of the classic bebop tune, a longtime favorite for pianists and an especially exhilarating ride in this rendition.
The trio renders Mike Mainieri's "Self Portrait," a tune performed many times with Smith when both were in Steps Ahead. Valera delivers an elegant piano intro before the quartet launches into their sublime take on a ballad that was often played in arena-size venues in a jazz-rock fusion format. Continuing in the acoustic setting, Smith sets up a high-octane excursion on McCoy Tyner's "Inception" with Garzone blowing fierce clusters and Valera making his piano dance. Smith and Valera co-penned the rhythmically complex "Choreography in Six," infused with shades of Latin and taken in 6/4 time with a lyrical solo from bassist, along with each of the co-writers.
Steps Ahead bandleader Mainieri joins the trio on vibes for the Valera penned "No Qualm," a highly melodic acoustic/electric hybrid where the keyboardist plays in both mediums while on Monk's ballad, "Ugly Beauty," rather unexpectedly, he takes flight on Rhodes only as Smith's kit and especially cymbal work is most impressive in this light rendition. Garzone teams with Smith on an energized duet intro to Cole Porter's "What Is This Thing Called Love," which morphs into a highly punctuated 7/4 vamp, twisting the original melody in a few directions before Smith puts an explosive cap on it. Gwizdala's closing "Erdnase" is the oddest fit of the dozen, an ethereal exercise featuring lyrical electric bass, shimmering acoustic piano, and Smith using the gong as his ride cymbal.
The bonus disc begins with a furious take on Trane's "One Down, One Up" and the collective group reaction was to continue in this high driving mode but to go for an improvisational approach. Thus, the next eight tracks, save the fifth one ("Part IV") which is Joe Zawinul's "Directions" (where Garzone reaches afar) find this quartet exploring the full gamut from burners to blues to ballads to mid-tempo groovers, all done in a single take and ordered on the CD as they were recorded in the band's signature electric/acoustic sonics, which you hear immediately when moving from the Trane piece to the Weather Report-like "Part I." The group continues a fusion exploration into "Part II" with Smith's frenetic drumming contrasting with Garzone's mix of jabs and elongated lines that veer into more spacey territory in the spiritually rich, epic "Part III." "Part V" is a fusion workout for the trio and the inspired Garzone rejoins for the extensive rhythmic groove of "Part VI," replete with a series of bluesy call and response patterns. The languorous, ethereal 'Part VII" as Valera combines Rhodes with synths and Garzone goes deep into aggressive clusters. Smith sets an infectious groove for the undulating "Part VIII," one that otherwise meanders via the keys until the thread of a theme begins to develop around Smith's insistent beats.
Listening to Time Flies alone may leave you exhausted from the range of high energy bop to fusion but when coupled with A Prayer for the Generations that blissful state of exhaustion will transport you even further. This writer can't wait to see them live on their East Coast tour in June and hear firsthand the group interplay and why Modern Drummer magazine has named Smith #1 All-Round drummer for five consecutive years.
Help Support Making a Scene
Your Support helps us pay for our server and allows us to continue to bring you the best coverage for the Indie Artists and the fans that Love them!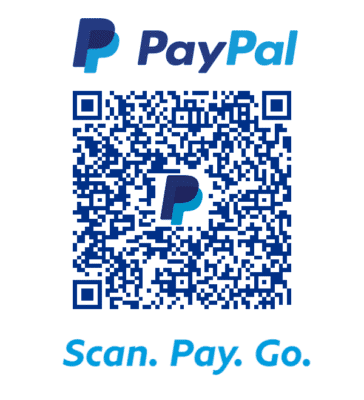 FOLLOW US ON INSTAGRAM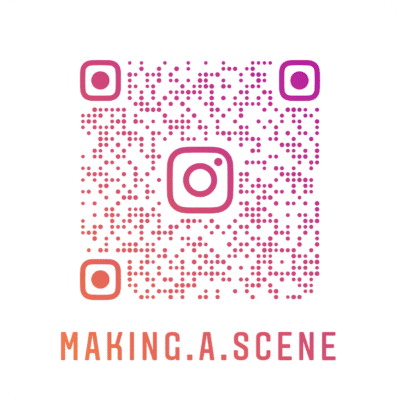 Subscribe to Our Newsletter