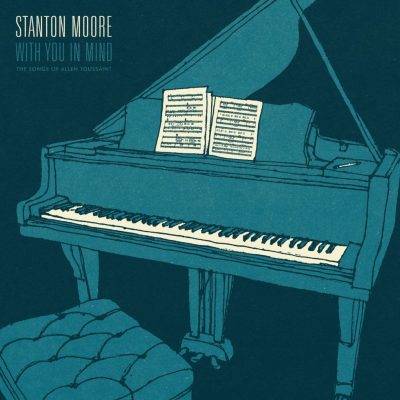 Stanton Moore
With You in Mind The Songs of Allen Toussaint
Cool Green Recordings/Mascot Label Group
Stanton Moore is a New Orleans funk, jazz and rock drummer. He is a founding member of the jazz rock band Galactic with whom he has recorded ten albums. He also records as The Stanton Moore Trio with organist David Torkanowsky and bassist James Singleton.
The Stanton Moore Trio had reserved studio time in order that they work on their follow up album to 2014's "Conversations". Before they even got started they got the word that Allen Toussaint had died. The trio decided to shift their gears and make this tribute album. These ten Toussaint written tunes are re-imagined by the trio with the assistance of various notable guests.
Cyril Neville of the Neville Brothers, and many other projects including Royal Southern Brotherhood, sings on "Here Come The Girls", originally recorded by Ernie K. Doe in 1973; the trio is also joined by Trombone Shorty who takes a beautiful solo.
Neville also sings on "Life", written for Dr. John's 1973 album "In The Right Place" which was also produced by Toussaint. Played in 7/8 time the trio is joined by trumpeter Nicholas Payton and saxophonist Skerik. The backing vocalists are Erica Falls and Jolynda Kiki Chapman the daughter of local legend Topsy Chapman.
On "Everything I Do Gone Be Funky" and on "Night People" both originally recorded by vocalist Lee Dorsey; the trio and Neville are joined by the legendary funk jazz saxophonist Maceo Parker. "The Beat" is a poem, which has never before been recorded, and it is narrated by Neville.
Chapman also steps forward and sings on the beautiful "All These Things" first recorded by Art Neville in 1962.
"Java" written with Alvin "Red" Tyler", the first of two instrumentals, was recorded by Toussaint under the name Tousan in 1958; it was a huge hit for Al Hirt in 1963. Saxophonist Donald Harrison Jr. joins Payton, Shorty and the trio on this fabulous rendition. The second instrumental is "Riverboat" also recorded by Dorsey in 1970; this time the trio is joined by Payton and Harrison.
The title track, "With You in My Mind", first recorded in 1974, is given the trio's own interpretation.
"Southern Nights" Toussaint's most identifiable song was first recorded by him in 1975 and a hit for Glen Campbell two years later. Payton is featured on both trumpet and keyboards while the song is narrated by actor Wendell Pierce.
Moore has proven himself to be a great bandleader but he has come up with his best and most sensitive album to date. Toussaint was a soulful funky musician, producer and musical pioneer. This totally original tribute to Toussaint and his music is what New Orleans is all about.
Richard Ludmerer
[amazon_link asins='B0711V6PXL,B07195CKN7,B071RTW784,B071RTW77J,B072F41Q13,B0722R6N5D,B07195CKN3,B0722R6HHT,B072F38ZPY' template='ProductCarousel' store='maasc-20′ marketplace='US' link_id='87852179-7301-11e7-81a4-51eba59a5ddb']