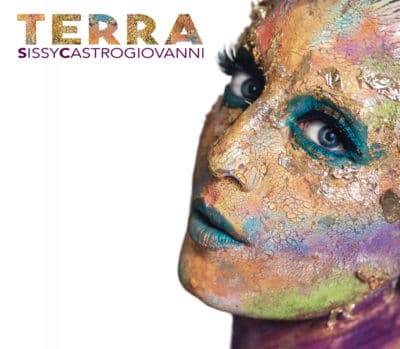 Sissy Castrogiovanni
Terra
MANU
There is always a fascination for this writer when world music meets jazz, and to a good back story as well. It also doesn't hurt to have eye catching album art, On Sissy Castrogiovanni's self-produced Terra, most stateside listeners, except those who speak the Sicilian dialect, will not identify with the lyrics but will likely still be captivated by Sissy's voice and musical accompaniment. To her credit, she does provide English translations of the lyrics in the liners. This is the second release for the Boston-based, Sicilian native who is an award-winning singer, songwriter, producer, and educator.
The album's title refers to Mother Earth, is a meditation on our spiritual and environmental conception of our home planet, inspired after Sissy studied a book of Genetic and Developmental Biology. Sissy's compositions are an attractive amalgam of musical cultures, her Sicilian and Mediterranean influences as the foundation spiced with earthy African rhythms, tribal voices, and avant-garde jazz harmonies. Alongside Sissy on this album are pianist Tim Ray; bassist Jesse Williams; soprano saxophonist Lihi Haruvi; guitarist Claudio Ragazzi; percussionists Jamey Haddad, Marcus Santos, Fabio Pirozzolo; drummer Jorge Perez-Albela; and multi-instrumentalist Puccio Castrogiovanni performing two traditional Sicilian instruments: the marranzano and zampogna, as well as lending his vocals. The album also features a string quartet and a vocal choir in some of the songs.
"How perfect", notes the artist, "How magical, how incredible is this whole process called: creation of life. It has been happening on the Earth every single second for billions of years. Terra, Mother Earth, knows what and how to do things way better and before us. We have lots to learn from Her." Sissy goes on to note, "This album is about the Earth's astonishing power, which also lives within us. Terra is about trusting this power, the magic of life, and the Earth's millennial wisdom."
Sissy grew in in a tightly knit musical family, including a legion of musicians on her piano-playing father's side. She grew up on Sicilian folk music and classical music but eventually became exposed to the rich confluence of Middle Eastern and Spanish flamenco influences as well as African rhythms. When she first arrived in the States in 2009, she sang blues, rock, soul, and funk and later earned a full scholarship to the prestigious Berklee College of Music in 2011 where she fell in love with the open harmonies of jazz. At Berklee she specialized in jazz composition and Mediterranean studies. She released Intra Lu Munnu (Inside the World) in 2013, also singing all songs in Sicilian dialect. Sissy has toured extensively throughout Europe, the United States and South America, and has collaborated with numerous distinguished musicians including Bobby McFerrin and Javier Limon and has excelled in performance with Jack DeJohnette, and Patrice Rushen, to name a few.
Sissy cleverly begins with the highly recognizable (the only track when we can say that) American traditional folk song "Wayfaring Stranger" with lyrics in Sicilian, and a beautiful reharmonization with gorgeous piano playing as well as a fiery soprano sax solo and that sets an intriguing tone for the album. Immediately, one senses the purity and vibrancy of Sissy's voice. She titled this arrangement "Gandalf", a wise and calming presence through the path of the wayfaring stranger in the song. "Magia" (Magic), is a lively piece adorned with African rhythms. The inspiration for this composition is the way in which humans often make choices based on the belief that life is difficult and that dreams are only reserved for a privileged few.
Other important messages that the artist wants to convey are about trusting our guts and inner instinct ("'A Panza"); about self-forgiveness and acceptance (the choir-backed "Paci"); about unity and love for the humanity, in an imaginary land where soul's healing is possible ("Ama"). The former and latter are also infused with polyrhythmic surprises and dynamic changes. On the other hand, the wistful, reflective "'Nsonna" is a ballad that Sissy wrote for her son and is one of a few that features the lovely backing of the string quartet. "Ancili" (Angels) has Sissy's strong lead vocal buttressed by animated vocal harmonies and unique percussion effects.
The centerpiece is the title track which makes strong environmental statements, as indicated in these lyrics – "Listen deeply, do you hear it? Now she is crying for mercy. Who gave you the right to play God? How can you look into your children's eyes, while poisoning the food that satiates their hunger? Who told you this Mother would remain silent while watching its destruction?" The tune is yet another that serves as a showcase for Tim Ray's stellar piano playing. The final two tracks evoke her Sicilian roots, first with the epic, meandering, soprano sax and inventive drumming imbued "Stranizza D'Amuri," (Strangeness of Love) and then the string-laden "E Vui Durmiti Ancora"( You are still sleeping) a blissful serenade about love. The lyrics are "Wake up! Look out the window! The sun is rising again, and I'm still here singing my love for you." These bits of nostalgia summate a group of compositions written about love, faith, magic, and the Earth's bounty.
It may have been John Coltrane who once said, "You don't have to understand it, you just have to feel It." Whether we understand Sissy or not, it's impossible to not feel her passion. Her talent is off the charts too.