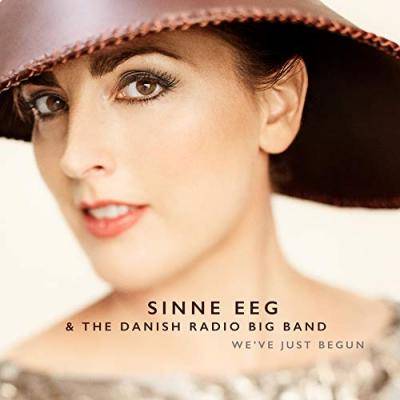 Sinne Eeg & The Danish Radio Big Band
We've Just Begun
BFM Jazz
Jazz vocalist Sinne Eeg has been spreading her spell beyond her native Denmark where she is a huge star, to other locales in Europe and the U.S. Now that she's combined songwriting with her classy interpretations of standards, she is quickly becoming one of the top vocalists on the international scene. This collaboration with the 55-year running 19 -piece Danish Radio Big Band, We've Just Begun, is her ninth album. It is already being hailed as her best outing to date, and its title indicates this is an important step in what will follow. She has all the ingredients of the best jazz vocalists with a dark, alluring voice, sultry delivery when called for, superb intonation, inherent sense of swing and phrasing as well as the requisite scatting ability. Now that's added originals to her mix, she is unstoppable with this program of three standards, an adaptation of a tune from a vintage Danish film, and five originals either as composer and/or lyricist.
She begins with the title track that she composed with lyrics from Mark Winkler with an arrangement from Peter Jensen. That joyful, grand big band sound underscores her bold, sexy, vocal approach with a strong tenor solo from Hans Ulrik. She follows with another original, "Like a Song," where she wrote both the music and lyrics for this jazz waltz. It's mellower and more romantic with a touching piano solo from Henrik Gunde from which Eeg sings and scats to the tight ensemble work of the horns, bringing it to a grand finale. This typifies her style as she says, "I like to have little sections in a tune where I work more as a part of the band instead of always being a soloist on top of the band. I've always like to be very involved in the process when I'm having big band arrangements made for me. In the cases of 'Hvoffor Er Lykkken Sa Lunefuld' and 'Like a Song' I first create a little vocal solo that is improvised/composed. The melody that came out of that was then orchestrated by the arranger, Jesper Riis."
The lyrics she wrote for "Those Ordinary Things" comment on the little details we sometimes overlook until they're gone – "You see in the street/They're walking hand in hand/His kind, familiar smile/This wasn't what you planned/You know the door just closed/But what you really miss the most/Those ordinary things, those ordinary things." It's imbued with another tenor solo from Ulrik. "Talking to Myself" is a cover, marked by walking basslines, brushwork on drums and a guitar solo from Per Glade. "Hvoffor Er Lykkken Sa Lunefuld,"arranged by Jensen as was the previous, is the tune from the Danish movie, the 1937 A Consummate Gentleman. It begins with an introspective passage before morphing into swinging big band jazz, with the horns in counterpoint to Eeg's scatting.
Any artist who takes on the classic "My Favorite Things" is challenged to make it different somehow. Riis also arranged this one, taking it from a delicate 5/4 to a heated 4/4 section with swinging solos from Frederik Menzies on tenor and drummer Soren Frost. Eeg's sultry side is best represented on her co-written "Samba Em Comum," where alternates between Portuguese and English lyrics. Her husband has lived and worked in Brazil and shares the love of Brazilian music with her, helping her with the pronunciation too. This features an emotive trombone solo from Peter Dahlgren. The song is a comment on a decision to shut down two of Denmark's non-commercial radio stations. A choir joins in at the end, making this piece further stand apart from the others.
The late arranger Roger Neumann, to whom the album is dedicated, created a moody atmosphere for Eeg's heartfelt reading of "Detour Ahead," a 1948 jazz standard., written by Herb Ellis, Johnny Frigo and Lou Carter, and popularized by Bill Evans. She sounds like an enchantress here, smoothing out any possible wrong turns, buoyed by flute solo from Nicolai Schultz. "Comes Love," another Neumann arrangement, is from a 1939 Broadway show covered by artists from Sarah Vaughan to Joni Mitchell. Eeg puts her best Sarah Vaughan face on for this one, coming forth with perhaps her best vocal on the album, a mix of sultry, beautiful and carefree. The horns bounce off her vocal lines, sitting out for her sexy scatting, followed by the clarinet solo from Peter Fuglsang before the horns return gloriously, before laying out again before she sings, and they rejoin. This is a truly spectacular track, the album's longest at almost seven minutes.
She ends with one she wrote lyrics for, the uplifting gospel-tinged "To a New Day," an ode to optimism, forgiveness, and hope – an antidote for our times. Gerard Presencer adds the soaring trumpet solo while the horns joyously blare in this triumphant and apt conclusion to this well constructed and impeccably rendered project. Denmark cannot contain this talented lady any longer. Eeg's voice, interpretations, and writing are now for all of us to appreciate and enjoy.