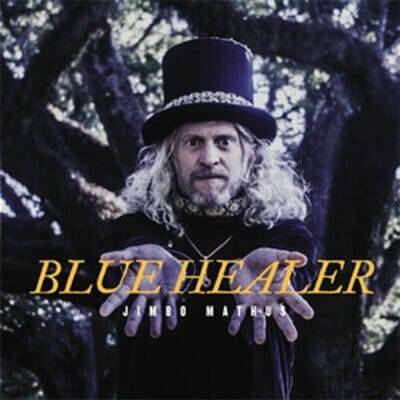 Jimbo Mathus is almost impossible to categorize. This Mississippi native's music is a combination of all sorts of Southern styles from gospel to blues to country to rock, fueled with mysticism and given a psychodelic twist. Add Mathus's growling vocal and masterful storytelling and you have something strange and wonderful. You feel at times as though you are traveling through a swampy landscape on a mythic journey, except on "Coyote," where the scene changes to a Southwestern cowboy trail in a peyote dream.
You would not expect the ordinary from Mathus, who began his career with the formation of the Squirrel Nut Zippers and brought retro to the radio, then formed the South Memphis String Band with roots music icons Luther Dickinson and Alvin Youngblood Hart. Now, with his TriState Coalition band, he is making roots music but the roots are more likely to be found in voodoo shops than country gardens.
Of course, there's plenty of room in Mathus's vision for less spiritual pursuits, like the pure Southern raunchy bad-boy rave-up of "Shoot Out the Lights," the litany of really bad behavior, even pyromania, in "Mama Please," and the country rock ode to what must be the king of all losers, "Old Earl." Then there's the Southern boogie of "Boothill Witch," which reflects the dark side of the spiritual realm as the Blue Healer represents the sometimes almost overwhelming light.
"Thank You" is a quieter, sparer love song that seems out of place, but within the context of the album may represent the seeker's return to a more grounded life through the aid of the Blue Healer.
The Blue Healer of the title appears periodically throughout the album, including the title song, which tells the story of this mysterious figure who holds the answers the seeker needs. It is a reverb-filled and myth-drenched exploration of the power of a source beyond the self to redeem the soul, which may in part be music but may be more than that as well.
The album ends with "Love and Affection," a rock song with blues licks and gospel and funk all combined into one joyous affirmation.
Jimbo Mathus makes music that is his own blend and no one else's, and it is held together by his storytelling and his vision. It can be enjoyed on many levels. For those who appreciate roots music, you will be glad you came along for the ride. It if were possible to give this more than five stars I would.
This review originally appeared on Blogcritics