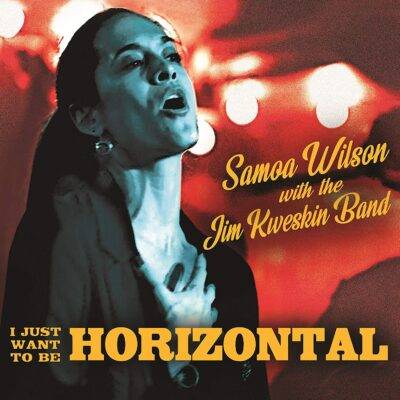 Samoa Wilson with the Jim Kweskin Band
I Just Want To Be Horizontal
Kingswood Records
During the early 1960's there was a thriving folk music revival coming out of New York's Greenwich Village. In 1963 the "Even Dozen Jug Band" released their album on Elektra Records. The music was fun, and among the band members was Maria D'Amato. The following summer at the Berkshire Music Barn I witnessed The Jim Kweskin Jug Band. Not only was I mesmerized by the guitar and vocals of Kweskin but alongside him was D'Amato now Maria Muldaur, her husband Geoff, banjo picker extraordinaire Bill Keith playing pedal steel, and violinist Richard Greene. The 1965 album "Jim Kweskin and The Jug Band: Jug Band Music" on Vanguard Records delighted me with songs like "The Blues My Naughty Sweetie Gives To Me"; "Sadie Green, The Vamp of New Orleans", and "Ukulele Lady". Relishing each of Kweskin's follow-up recordings, I was upset when they disbanded.
Kweskin continued to bring us old-time music. He teamed with Samoa Wilson to record 2003's "Now and Again" and followed up a year later with "Live The Life". With a voice comparable to Maria Muldaur's they played vintage folk, blues and jazz; and sang the songs of the Carter Family, Jimmy Rodgers, Bessie Smith, and many more collected by Harry Smith in his Anthology of American Folk Music. Among the musicians contributing was bassist Matthew Berlin.
In 2018, co-producers Kweskin and Berlin decided to launch a new project with Samoa, settling on the 1930's Jazz recordings of a then unknown Billie Holiday. At the time Holiday was the singer with pianist Teddy Wilson And His Orchestra, and many of Holiday's elegant early songs are included. Among them are 1935's "I Wished On The Moon", "I Cried For You", "He Ain't Got Rhythm", "Me, Myself and I"; and wonderful versions of "Our Love is Here To Stay" and "Until The Real Thing Comes Along". The nine-piece ensemble includes vocalist Samoa; Kweskin, guitar and vocals; Titus Vollmer, guitars; Mike Davis, trumpet and cornet; Paloma Ohm, alto saxophone; Dennis Lichtman, clarinet, fiddle, mandolin, and alto sax; Sonny Barbato, piano and accordion; co-producer Berlin, bass; and Jeff Brown, drums.
Kweskin's finger picking and Samoa's beautiful voice open "After You've Gone". Then there is a tempo change and Kweskin takes over on the vocal. The full ensemble finally joins in featuring guitarist Vollmer; Ohm on alto saxophone, and Lichtman on fiddle and Clarinet. Vocalist Samoa returns to complete the production.
The delightful "Kitchen Man" from Bessie Smith; Rosetta Howard's "The Candy Man"; and obscure tunes like "Inchworm" from a Danny Kaye film, the 1930's Hawaiian pop tune "At Ebb Tide", the obscure Tony Bennett ballad "Someone Turned The Moon Upside Down", and the sultry title track "I Just Want To Be Horizontal" are all wonderfully sung by Samoa.
Kweskin helped shape my musical preferences. It's wonderful to hear him again on this album produced for Samoa Wilson.
Richard Ludmerer