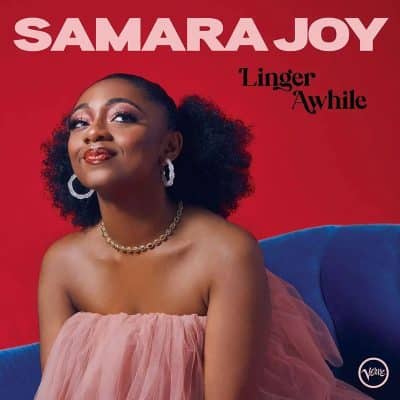 Samara Joy
Linger Awhile
Verve
Vocalist Samara Joy has risen quickly, making it to major label status by signing with Verve Records, for her debut, Linger Awhile. Prior to this Joy had just one eponymous release on the Whirlwind label. Verve, though is the same label that was home for the iconic female vocalists Billie Holiday, Sarah Vaughan, Ella Fitzgerald, and Betty Carter. While Joy would be humbled to attain anywhere near the status that they did, it certainly seems that the industry is already chomping at the bit as if they've found the 'next Ella.' Samara Joy belies her youthful age of just 22 years; her preference for standards and her unhurried, mature phrasing is that of an 'old soul'. Her voice has an irresistible balance of purity, emotion, and perfect pitch.
This writer was fortunate enough to catch a portion of her set at the 2022 Newport Jazz Festival, which she played on the smallest, most intimate of the three stages to an audience that showered her with multiple standing ovations. There was warmth in that tent from the very first opening notes. It seems as if it's not just the industry types that are craving for the next Ella or Sarah.
Joy, a Bronx native, took home the 2019 Sarah Vaughan International Jazz Vocal Competition prize while still in college. Here are a few more names for you, suggesting that you must be clearly destined for this path to the upper ranks of female jazz vocalists. Samara's love with jazz began while attending Fordham High School for the Arts, where she performed regularly with the jazz band and eventually won Best Vocalist at Jazz at Lincoln Center's Essentially Ellington competition. Samara attended SUNY Purchase and recently graduated as the Ella Fitzgerald Scholar. For reference, Ella Fitzgerald also began her performing career at age 22 and went on to become the most popular jazz vocalist for the next five decades.
Linger Awhile has the same supporting cast that backed her in Newport – Pasquale Grasso (guitar), Ben Paterson (piano), David Wong (double bass), and Kenny Washington (drums). Joy's main backer seems to be Grasso, whose trio also backed her on her first album and Joy appeared on his own latest 2022 offering, Bebop. Here, she also renders many of the same tunes in her Newport set, putting her stamp with vocals and vocalese on standards such as "Someone to Watch Over Me" (George Gershwin), "'Round Midnight" (Thelonious Monk), and "Nostalgia (The Day I Knew)" (Fats Navarro). She brings a freshness with inventive interpretations especially of "Round Midnight," "Misty," and "I'm Confessin'."
As you likely know, the female jazz vocal category is among the most competitive in music. Contemporaries such as Jazzmeia Horn, Melanie Charles, and Cecile McLorin Salvant are in the same conversation as Joy but Horn, unlike Joy, is a composer with a penchant for original material, some of it that leans into modern-day subjects. She also favors scatting, which curiously we do not hear from Joy. Charles also leans more contemporary and brings R&B into her repertoire. Salvant, by most accounts would lead this conversation but she has moved from a bent for vintage material into a dramatic mix that includes her own tunes, the earlier ones, and a rather wide-ranging array of covers. She seems to be retooling her approach. Joy, on the other hand, at least for now, stays with the traditional standards that never grow tiresome. She delivers these tunes exquisitely, effectively carving out her own niche.
Based on the warm Newport Jazz reaction, maybe Joy's kind of lush romanticism is what all of us need more of in these times.