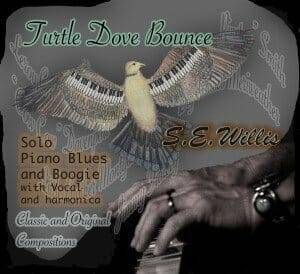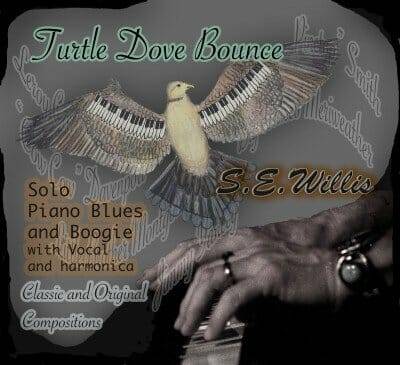 S.E. Willis
Turtle Dove Bounce/Live at the Poor House
Mr. Suchensuch Records
S.E. Willis aka Steve is the veteran piano player in The Elvin Bishop Band. During a two year period when Willis was ill he worked in his home studio recording his versions of some classic piano blues. He also contributes four original compositions. Willis decided to combine his completed solo piano recording with a live set he recorded in January 2011, at The Poor House Bistro in San Jose, Ca. when he was backed by Bishop and the other members of the band. This two cd set is the result.
On the first cd Willis' opens with the "Cow Cow Blues", which was written and recorded by Charles Davenport in 1928. Besides being a boogie-woogie piano player Davenport was also a vaudeville entertainer.
"Pinetop's Boogie Woogie" also called "The Original Boogie Woogie" is from Clarence "Pinetop" Smith who also first recorded it in 1928.
Included also is Eurreal Wilford "Little Brother" Montgomery's "The Vicksburg Blues" recorded in 1930. Willis states he got to meet Montgomery who was from the greater New Orleans area. Montgomery passed away in 1985.
Chicagoan Jimmy Yancey wrote and recorded "The Fives" in 1939. This piano instrumental is a terrific show piece for Willis. It is just fabulous.
"Good To Go Boogie" is an original in the traditional boogie-woogie style embraced by Willis and it is another fabulous instrumental.
Willis is also a gifted vocalist and he sings on two songs written by Leroy Carr, "How Long" and "Baby Don't You Leave Me No More". Robert Lockwood Jr. once told Willis that the later was the model for "Sweet Home Chicago".
"Worried Life Blues" was written by Big Maceo Merriweather in 1941. It has been recorded by both Ray Charles and Eric Clapton among many others.
Willis has also written three more songs on which he sings. "Hard Times Coming", the "Drinking Blues" and the terrific title track "Turtle Dove Bounce" which starts off as an instrumental. Willis has also overdubbed himself on harp on these three tunes.
As a bonus we have this equally wonderful live set. Elvin Bishop is a great bandleader and he attracts some great musicians. The band consists of Wills, vocals, piano and harmonica; Bob Welsh, guitar; Bobby Cochran, drums and vocals; Ruth Davies, bass; Ed Earley, trombone and vocal; Nancy Wright, sax and background vocals; and Takezo Takeda, second guitar. Bishops sits in on guitar on four tracks and sings on Fat Domino's "Don't Lie to Me". Among the fourteen tracks are two more Willis originals, two New Orleans classics, and vocals by Cochran and Earley. As always this band "cooks".
This is a great new double album well deserving of your attention.
Richard Ludmerer