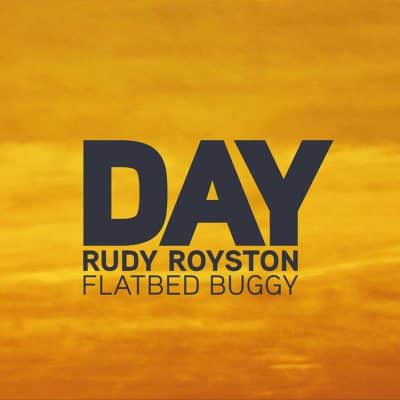 Rudy Royston's Flatbed Buggy
DAY
Greenleaf Music
In-demand drummer Rudy Royston has played on countless albums as a valued sideman. You've seen his name associated with most releases from the Posi-Tone label that we have covered on these pages and you're likely aware that he often contributes his own compositions to many of those albums.  In fact, he is very visible as well on other labels too as the drummer of choice for Bill Frisell, Dave Douglas, J.D. Allen, Lisa Hilton, and many others.  The wide-ranging Royston is equally comfortable in straight-ahead and progressive settings. This may be the first time, though, at least on these pages, where you see him as leader.  Appearing on Douglas' forward- thinking Greenleaf Music label, this is the second outing for Royston's uniquely configured (for lack of a better term) chamber jazz quintet, Flatbed Buggy, and Royston's fifth as a leader. The album paints a series of indoor scenes relating to the shifting moods and observations made while "captured" during the pandemic shutdown.
Rarely will you hear the kind of low register harmonics that this quintet emits because one does not often come across this kind of lineup. Royston is on drums with John Ellis (bass clarinet), Hank Roberts (cello), Gary Versace (accordion), and Joe Martin (bass). The album is dedicated to Royston's late brother, Ritchie, and his musical mentor, the late cornetist Ron Miles, who, along with Frisell and Royston, was a vital cog in the Denver music scene where Royston developed.
Those that may have heard the generally described pastoral and cinematic 2018 Flatbed Buggy will find this album, in Royston's words "more aggressive." He explains the difference this way, "I'm playing a little more aggressively because the scenes I'm portraying lend themselves to that. The scenes on the first record are all outdoors so you want to feel that space and air and dust. The scenes on this one, I was inside the whole time."
The album moves chronologically through the day, as one hears the light stirring, and then beginnings of activity in "Morning" as the ensemble kicks in, trading lines between bass clarinet and accordion that form the two lead voices, underpinned by rich harmonics of cello and bass, which Martin often plays with a bow.  As the piece evolves, expressive voices of all comingle in increasingly spirited interplay.  Royston is his frenetic, but very much on-the-spot self. His skittering snares, as much as anything else on the more measured "Thank You For This Day" connote a sense of getting things done in the working hours of the morning. Martin composed "Lemeni Village" (named for a seaside village in Greece) also paints shifting pensive and bustling scenes through the rich harmonics of the four instruments and Royston's steady and delicate where needed hand. Interestingly, Versace's accordion gives the whole sound palette a Grecian feel. This is one of the few albums where one hears a bass clarinet throughout and Ellis' command of the instrument inevitably evokes the work of two of those renowned on the instrument such as Eric Dolphy and Bennie Maupin, and in more contemporary terms Brian Landrus and Tim Garland.
Royston's "Look to the Hills" is perhaps the most spiritual (and classically chamber sounding) of the pieces and Royston references a passage from the Bible that encourages us to "look to the hills from which comes our help and strength." Versace and Martin begin the 2 PM "The Mokes" as a duet with Ellis and Roberts filtering in as Royston helps navigate the group through a tricky rhythmic path that remains harmonically rich with the cello, accordion, and bass clarinet darting in and out and weaving lines around each other.  Royston and Martin set up the aptly named "Five-Thirty-Strut" as Versace, Roberts, and Ellis dance to the infectious groove, delivering their trademark tonal color mix along the way. One instrument never stays isolated for too long as solo passages just continue to inspire the others to join in. The frivolity of the prior piece comes to an immediate standstill with the contemplative "Missing You," revved up slightly with "Keep It Moving," put to rest primarily with the cello and arco bass in the brief "Time to Sleep" before Roberts sends us off with the vamp-based closer "A.M. Hours."  It's uncanny how well the Martin and Roberts pieces fit with Royston's compositions.
Rich textures, spirited interplay, resonant low register harmonics, and terrific writing make Royston's second effort with his quintet, Flatbed Buggy, one of the year's most creative offerings to date.
Help Support Making a Scene
Your Support helps us pay for our server and allows us to continue to bring you the best coverage for the Indie Artists and the fans that Love them!
Make a one-time donation
Make a monthly donation
Make a yearly donation
Choose an amount
Or enter a custom amount
$
---
Your contribution is appreciated.
Your contribution is appreciated.
Your contribution is appreciated.
Donate
Donate monthly
Donate yearly
You can donate directly through Paypal!
Subscribe to Our Newsletter