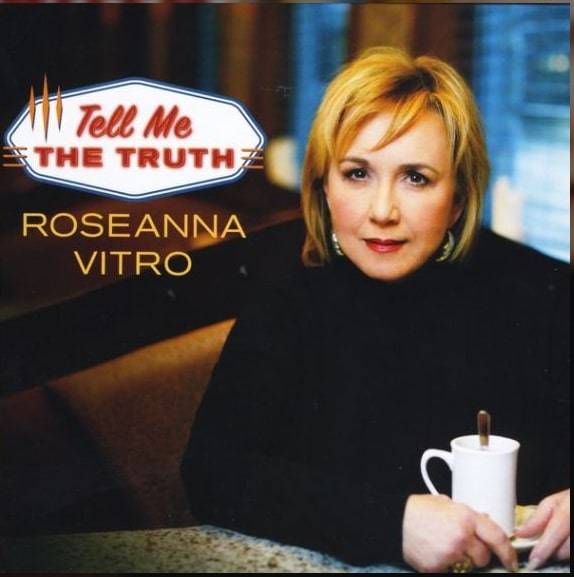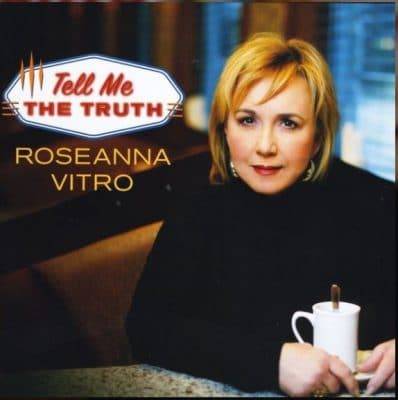 Roseanna Vitro
Tell Me the Truth
Skyline
Grammy nominated jazz vocalist Roseanna Vitro is releasing her 14th album and this one is quite different than her last few tribute efforts. The constant is her pianist and arranger, Mark Soskin, who was aboard for The Music of Randy Newman (Best Vocal Jazz Grammy Nomination 2011) and Clarity, the Music of Clare Fischer (2014).  The press materials have this cool line "in the age of alternative facts, TELL ME THE TRUTH is ON TIME!" It seems that it took the recent election and the on-going divisive political climate to inspire Vitro to raise social consciousness through these songs; not all of them, but several.
Here are some liner excerpts from Roseanne – "In those early years, I was motivated by a deep disdain of racism and misconceptions regarding the poor. Each song i this collection is my Americana, my Truth. I've added personal lyrics to update some of the stories. We all deserve respect, love, health care, an education and honest information to choose our politicians unfettered by lies and hidden money."  On the writer, she says, "Jon Hendricks was a mentor to all jazz singers. He was simply one of the greatest jazz poets and vocalese improvisors we've known. His song "Tell Me the Truth" predicted the future.  I sang it with my first jazz band in Houston many decades ago. I dedicate this project to Jon for the truth and inspiration in his words."
Vitro reached to the South culling gospel, jazz, R&B, and country tunes for this effort. These are songs popularized not only by Hendricks but also by Allen Toussaint, Mose Allison, Mavis Staples, Boz Scaggs, and The Everly Brothers, among others.  She dubbed her unit (mostly New York-based) The Southern Roots Band comprised of: Mitch Stein (guitar), Tim Ries (saxophones), Nate Eklund (trumpet), Dean Johnson (bass) and Rudy Royston (drums). Philly soul singer Al Chestnut sings on "Respect Yourself," frequent collaborator Sara Caswell joins on violin for two selections. Vocalists Kate McGarry and Cindy Scott sing on the closer "I'll Fly Away."
In keeping with Vitro's interpretive approach, these are all covers uniquely arranged by Soskin and rendered with musicians she's gigged with often in the studio and in live performance. These are not different than other themes she's pursued but there's an urgency in them that reflects our times.  They fit her upbringing as a southern girl born into a family of optimists who were also gospel singers. Vitro began under the tutelage of Houston tenor great Arnett Cobb.  Eventually she made it to New York and flourished there amidst the company of Fred Hersch, Kenny Werner, Elvin Jones and Fathead Newman, among others.  She is a recently retired Vocal Jazz educator and U.S. Jazz Ambassador.
She begins with Toussaint's "On Your Way Down,'' emphasizing and directing these chorus lines at those in power "Well it's high time/That you find/The same people that you must use on your way up/You might meet up (pause) on your way down." Solos from Stein and Ries accent the message.  She next turns to one associated with Patsy Cline, "Walkin' After Midnight." It's a slight diversion thematically but of course is a quintessentially southern song and features tasteful piano from Soskin.  The drums and horns lead into The Staples "Respect Yourself," a duet with soulster Al Chestnut.  Her version of Mose Allison's "Your Mind Is On Vacation" is a clear shot at the one in the Oval Office and his unrelenting Twitter babble. Stein offers some intriguing, twisted guitar here.
She wrestles with positivity and regret on Boz Scaggs' ballad, singing in her rich alto on "I'll Be Long Gone," also a showcase for Eklund and Soskin. "Foolin' Myself" treads similar territory, featuring a melodic soprano sax solo from Ries. She then interprets Jon Henricks' title track, the album's thematic centerpiece, "Tell Me the Truth." Lines like "I'm drowning in lies," "You're talking peace while you're fighting a war" take on more urgency through Vitro's vocals and the aggressive soloing from Ries and Eklund.  The theme of lies continues in a very creative arrangement of The Everly Brothers "When Will I Be Loved" as Stein answers boldly in his solo.
Vitro and band take Fogerty's "Fortunate Son" in a spoken word intro that builds to tight ensemble work as Royston's snare work, here and throughout, is remarkable. Stein's rock-jazz guitar leads seamlessly to Caswell's fiddle and Eklund's trumpet before Vitro re-enters. This, as much as any tune, shows the brilliance of Soskin's arrangements. Soskin and fiddler Caswell lead into the closing traditional gospel tune "I'll Fly Away" as the gorgeous vocal harmonies pit joy against the fiddle's mournful lines.
Vitro, Soskin and the musicians do wondrous work with familiar tunes, making them sound newly animated.
[amazon_link asins='B07G7Y2WVK,B07G7WYVFS,B07G83LT3R,B07G83DF5D,B07G7Z8JR6,B07G7YZ4C7,B07G7XR25L,B07G7XK8Z8,B07G7XG68W' template='ProductCarousel' store='maasc-20′ marketplace='US' link_id='bea20658-aad7-11e8-bb34-554814aa71c3′]