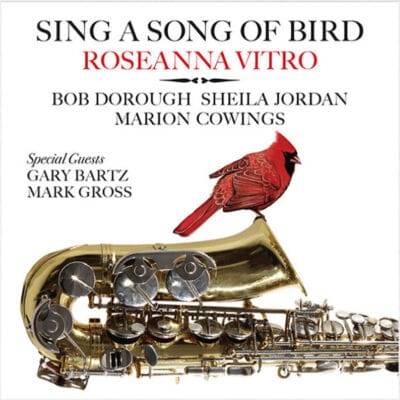 Roseanna Vitro
Sing a Song of Bird
Featuring Sheila Jordan, Bob Dorough, Marion Cowings, Gary Bartz, Mark Gross
Skyline
Sing a Song a Bird is a collaboration of four vocal and two saxophone giants as they celebrate the music of the iconic Charlie Parker. The main mover here is Grammy nominee vocalist Roseanna Vitro who has had this project simmering in the can for a few years now.  To make it a project of potentially landmark proportions she reached out to three of her mentors, masters of the bebop idioms of both vocals and vocalese. She also enlisted two of Bird's saxophone disciples, fronting small combos dubbed "Red Team" and "Blue Team" (no political implications herein).  They are vocalists: the late Bob Dorough, a long-time friend since they met at the Arkansas Jazz Hall of Fame induction ceremony, the seemingly ageless living legend master of bebop vocals who sang with Charlie Parker, Sheila Jordan (who was 89 at the time of the recording), and NYC vocalese master Marion Cowings. Altoists Gary Bartz and Mark Gross head up the accompanying two teams.
The two teams are another way of indicating that the album was recorded in two sessions, the first in 2017 before Dorough's passing at age 94, taking in his new lyrics to "Red Cross" and "Audubon, the New Bluebird." That's another redeeming feature of this project as it represents the first time that lyrics have been added to some of these classic Bird tunes.  The 2017 group, "The Blue Team," features longtime colleagues jazz pianist/composer/arranger Jason Teborek, and bassist Dean Johnson, drummer Bill Goodwin (Phil Woods), with Mark Gross on alto, who currently runs the NJPAC Jazz for Teens. This session also had Paul Myers on guitar for "Audubon's New Bluebird" and Mino Cinelu on percussion for "Grapple with the Apple." Vitro also has a long association with NJPAC. Husband Paul Wickliffe, engineer/lyricist/composer, who collaborated with Vitro writing lyrics and recording the tracks. The second session, from 2021, was a celebration (albeit perhaps premature) of the end of Covid, featuring friend and iconic altoist Gary Bartz with Johnson returning on bass, Alvester Garnett on drums, and the acclaimed Alan Broadbent on piano.
Some of the titles have been cutely altered with the addition of lyrics such as the opener "People Chase," based on "Steeplechase" with Vitro at the mic singing Wickliffe's new lyrics, backed by the Red Team. We next have Dorough and Vitro trading verses (or scats as indicated by the title) in "The Scatter," which has the new Dorough lyrics to "Red Cross." The Blue Team continues with "Bird's Song" (Relaxin' at Camarillo) as the Sheila Jordan relates firsthand the history of Bird and the scene in which she and several others were part of. It's easy to hear why the now 92-year-old Jordan has long been considered the master of bebop phrasing. We're back to the Red Team for "Parker's Mood." Note no subtitle as Marion Cowing's deep baritone carries the original King Pleasure lyrics.
Mid-album has a consecutive four song Blue Team sequence beginning with Vitro's turn on "Grapple With the Apple" (Scrapple from the Apple) with Wickliffe's lyrics once again, contemporary in nature as a New Yorker flies to the beach to escape the mayhem. Musically, they reimagine it in bossa nova style.  "Audubon's New Bluebird" (Bluebird) is the other late Dorough's lyrics contribution and is fittingly emblematic of his wit and personality. Vitro gets to trade verses with mentor Jordan on "Sheila, Jazz Child" (Cheryl) with the original first verse lyrics by Gary Brocks as Wickliffe penned the last two. On "Quasimodo," the disc's longest and standout track, approaching seven minutes, Jordan goes deeply autobiographical (Bird stayed at her apartment on occasion) expressing what the icon meant to her, and referencing Clint Eastwood's film Bird, among other things while Gross blows fervently in his solo. When Jordan returns, she scats in her signature style. Broadbent plays elegantly in the next break after which Jordan resumes with her patented phrasing in singing her lyrics.
Cowings returns in swing fashion on one of Parker's most famous tunes, "Now's the Time" as he delivers Jon Henricks' well-known lyrics as well as one from Eddie Jefferson with Bartz (Red Team) flying high in the break. The saxophonist shows even more of his lyrical Bird-like form in the instrumental "Koko/Cherokee." Bartz also appears on another recent Parker tribute, 2019's Bird at 100, featuring fellow altoists Vincent Herring and Bobby Watson.
Parker wrote the lyrics for his "Yardbird Suite," with Vitro taking the vocal lead backed by the Blue Team, which is also aboard for the closer, the only non-Charlie Parker tune in the set, "These Foolish Things," which gives Vitro a chance to share Jack Stachey's classic lyrics with Dorough and Jordan in a kind of celebratory send-off.
This is the fifteenth recording for Vitro, who can be counted on to deliver many more. We will also be hearing more from Marion Cowings, but the legacy of this recording will certainly focus on Dorough and Jordan, who together with the Vitro and Cowings breathe new, fresh life into the enduring music of Parker. Not only does Vitro see a long-anticipated dream session come true but delivers this year's vocal triumph and a lasting one for years to come, proving yet again that Bird lives!
Help Support Making a Scene
Your Support helps us pay for our server and allows us to continue to bring you the best coverage for the Indie Artists and the fans that Love them!
Make a one-time donation
Make a monthly donation
Make a yearly donation
Choose an amount
Or enter a custom amount
$
---
Your contribution is appreciated.
Your contribution is appreciated.
Your contribution is appreciated.
Donate
Donate monthly
Donate yearly
You can donate directly through Paypal!
Subscribe to Our Newsletter