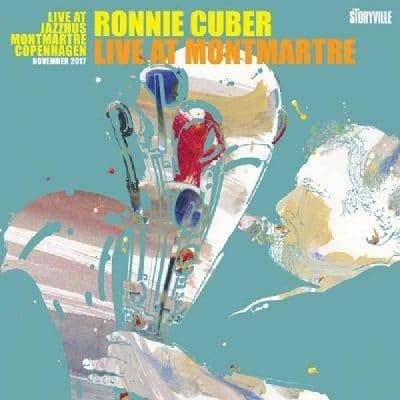 Ronnie Cuber
Live At Montmartre
Storyville Records
Ronnie Cuber is a jazz saxophonist. The seventy-six year old musician has played with a virtual who's who of Jazz. Some of the artists he has worked with include George Benson, Slide Hampton, Maynard Ferguson, Eddie Palmieri, Grant Green, Dr. Lonnie Smith, Jimmy McGriff, The Mingus Big Band and Frank Zappa. He has also worked with pop stars Paul Simon and Billy Joel. In the world of blues he has played with B.B. King, Eric Clapton, J. Giels, and Dr. John. He was also a former member of the Saturday Night Live Band.
Cuber plays a variety of saxophones, clarinet and even flute but as a band leader his primary instrument is the baritone sax. This is Cuber's twentieth album as a leader. Cuber's jazz is known as hard bop. This live recording was recorded at Jazzhaus Montmartre in Copenhagen. The band lineup was Cuber, baritone sax; Kjeld Lauritsen, Hammond B-3; Krister Jonsson, guitar; and Andreas Svendsen, drums.
The set list opens with "Tee's Bag" Cuber's tribute to pianist Richard Tee, who was a founding member of Gordon Edward's band "Stuff". Jazz harmonica icon Toots Thielemans' "Bluesette" first recorded in 1963 follows.
Lauritsen relates "No fixed setlists, but all nice and easy stuff. Then with out warning Ronnie turns to me after a medium jazz tune and asks "Can you play Cheokee?", "It's gonna be fast" and they tore into the Ray Noble composition waxed back in 1949.
Rounding out the set are John Klenner's "Just Friends" which dates back to 1931; Charlie Parker's bebop standard "Au Privave" recorded on Verve Records in 1951; Horace Silver's "Silver Serenade" recorded on the Blue Note label in 1963; Miles Davis' "Four" first released in 1954; and Lauritsen's own "Jazz Girls" from 2004.
If you want to know what "hard bop" sounds like, check out this set from Cuber.
Richard Ludmerer
[amazon_link asins='B07DFMPR2S,B00AZAJXUS,B07CCB258L,B07DYRT8F9,B01596R8YU,B002RAYXFE,B00000B48M,B00005MK3O,B006S2X75O' template='ProductCarousel' store='maasc-20′ marketplace='US' link_id='60fe8115-e43d-11e8-b9c3-a79c7efbb60a']