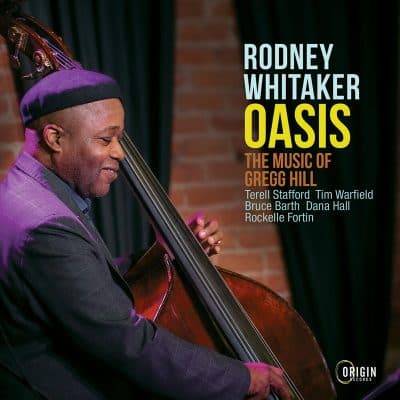 Rodney Whitaker
Oasis – The Music of Gregg Hill
Origin
Detroit native, Director of Jazz Studies at Michigan State University, and esteemed bassist Rodney Whitaker is back with his third album dedicated to music of his East Lansing neighbor, composer Gregg Hill, with Oasis. If this, the first one this writer has heard, is any indication, you'll also want to listen to 2019's Common Ground and 2021's Outrospection. The lineup both for this outing and Common Ground is the classic jazz quintet lineup of sax, trumpet, piano, drums and bass, respectively Tim Warfield (tenor and soprano), Terell Stafford (trumpet and flugelhorn), Bruce Barth, Dana Hall, and Whitaker. We also have Whitaker's daughter, Rockelle Fortin, singing on four of the eleven tracks. Those of you who are curious will note that the lineup was different and more expansive for Outrospection with Whitaker, Hall, Rockelle (Whitaker at the time), Xavier Davis, Randy Gellispie, Etienne Charles, Michael Dease, Diego Rivera, Marcus Eliot, and Randy Napoleon, most of whom have some tie to the Michigan jazz scene and the Michigan State jazz program. As with all three, Whitaker and Hill are the co-producers. Given the frequent interplay among these musicians, there's a looseness and conviviality that runs through the set.
The set kicks off with Fortin taking charge on the cooker, "Betty's Tune" along with the fiery Stafford, an equally combustible Warfield on soprano, and a motoring rhythm section with each getting his say "Puppets" is in the introspective ballad mode with Whitaker's bass prominent around the two major soloists, Warfield on soprano and Stafford on the muted trumpet. The highly lyrical melody mixes with bluesy strains and Barth gets his own declaration in amongst the two horns. "Minorabilia" intentionally goes for the hard bop jugular, evoking the sounds of early classic Blue Note and Riverside and artists such as Cannonball Adderley, Horace Silver, and Art Blakey, especially in its ensemble horn parts. Fortin returns for "Interlude," as the tempo downshifts into ballad mode, where Warfield on soprano and Stafford weigh in tastefully as does the leader.
While "Puppets" may be a strong example of Hill's more moody compositional style, "Sunday Afternoon" represents the straight-ahead swinging side. Its relaxed groove is perfectly suited to a soaring Stafford, who intensely builds his statement after which Warfield steps in on tenor, blowing a series of burning clusters. Barth just picks up from his comping, flying easily into his solo. There's nothing especially complex harmonically or tricky changes to navigate; just five musicians doing what they do best. "The Jazzdiddy Waltz" has a warm melody and fits into a kind of hard bop/soul jazz groove as well. On the other hand, "S'cool Days" is one of Hill's more involved compositions, with Whitaker arranging the multiple sections to put his musicians in their strongest light. Hall sets the pace, driving hard on his kit pushing the trumpeter, tenorist, and pianist into hard swinging exclamations, capped off by a volatile exchange between Hall and Whitaker.
"Blues For Gregg," the title being a dead giveaway, is the one non-Hill tune here, penned instead by Whitaker, who delivers a killer solo after the horns state the initial theme. Hall favors his high hat here, to accent the high heat emitted by the soloists, all in peak form until they allow the drummer to have his own energetic turn. "Fan O Gram" is a mix of blues and Monk, the latter inspiring Barth to deliver angular, percussive statements while Stafford and Warfield get into gritty blues in their turns, passing the baton to Whitaker who reveals his own blues chops, all giving Hall his turn on the eights before reprising the theme in the last several choruses.
The suite-like "To the Well" differs from the others, beginning in a searching like mode with bass and drums before the initial melody emerges around the 1:40 mark with Warfield and Stafford trading lines darkly and dramatically. This gives way to a pizzicato Whitaker introducing the next section when Fortin enters, singing her own lyrics (which she penned for the four tracks she vocalizes on). Barth, Stafford, and Warfield (on tenor) follow with stately turns that begin brightly but morph into darker tones before Fortin rejoins. To close, we're back to soulful jazz with the title track, an exercise in pure funk, with Fortin leading the way for the horns to engage in syncopated statements, accented by Hall's steady beat and Whitaker's walking bass line. It all seems old and new at the same time – a swinging, swaying set of music that both honors tradition and injects enough surprises to keep one guessing.
Help Support Making a Scene
Your Support helps us pay for our server and allows us to continue to bring you the best coverage for the Indie Artists and the fans that Love them!
Make a one-time donation
Make a monthly donation
Make a yearly donation
Choose an amount
Or enter a custom amount
$
---
Your contribution is appreciated.
Your contribution is appreciated.
Your contribution is appreciated.
Donate
Donate monthly
Donate yearly
Subscribe to Our Newsletter