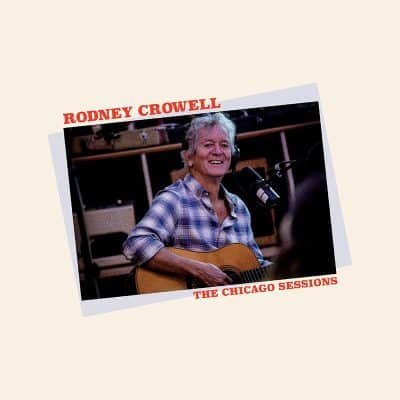 Rodney Crowell
The Chicago Sessions
New West
The title of Rodney Crowell's new album speaks to a collaboration with Jeff Tweedy of Wilco who produced the album that was recorded in Wilco's Loft by Tom Schick. In terms of sound, knowing that, you might not expect that it is more in line with Crowell's first recordings in the late '70s and early '80s than those of more recent vintage. In the cover bears purposeful resemblance to Crowell's 1978 debut Ain't Living Long Like This per his daughter's direction. The loose feel of the record owes mostly to recording live with a full band in one room. Crowell tapped longtime guitarist Jedd Hughes as well as pianist/organist Catherine Marx and bassist Zachariah Hickman while Tweedy recruited John Perrine and his son Spencer Tweedy to split the drumming while he assisted on vocals, guitars, and banjo throughout. Background vocalists are Sarah Buxton, Molly Sarlé, and Liam Kazar.
Marx's pounding piano drives the upbeat ode to his partner, "Lucky," chuck full of cool rhymes like "Always running from a misspent youth cold and empty as a pay phone booth." The lively opener has Crowell sounding fresh and vital and caring while "Somebody Loves You" decries our current state with wry political commentary expressed in succinct lines like these – "There's lead in the water knees on your neck…but somebody loves you, least that's what they say" powered by robust guitars. The sound turns acoustic for the infectious "Loving You Is the Only Way to Fly." "You're Supposed to Be Feeling Good," although appearing on Emmylou Harris' 1977 Luxury Liner, makes its first appearance on a Crowell album, rendered as a duet with Tweedy. Townes Van Zandt's spare "No Place to Fall" also hails from that same era, a tribute to the singer/songwriter Crowell cites as a mentor.
Tweedy's banjo imbues the jaunty blues of "Oh Miss Claudia," filled with sharp, economical, guitar playing from Hughes and keys from Marx. The single/video "Everything At Once" has nothing to do with the decorated movie of a similar name but is bright co-write between Tweedy and Cowell sung in unison.  This infectious rocker will likely have you singing along at least to the chorus – "Everything at once, or nothing at all."  The crunchy "Ever the Dark" has its share of angst too and the raveup nature of the tune reminds this writer of Dylan's 'Subterranean Homesick Blues," not that the lyrics are as obtusely abstract but just the pace, insistent beats, and demeanor of the song.
If there's a song anywhere near his classic, "'Til I Gain Control Again," "Making Lovers Out of Friends" taps into that same realm, albeit without the dynamic mix of crescendos and diminuendos. Finally, Crowell gets intimate and brutally honest about how he feels about our current state in "I'm Ready to Move On." It's as if he's fed up with the news cycle of culture wars and so forth. Here's just a brief snippet – "No war, no hate, no church, no state/ No prejudice, no edifice No evidence, just common sense/ No character fault, no pillar of salt/No point of attack, no knife in your back"
Whether singing about love and mortality or trickier subjects such as race, religion, and the current state, Crowell never minces words. He has that distinctive gift of being comforting and provocative at the same time with these ten songs.
Help Support Making a Scene
Your Support helps us pay for our server and allows us to continue to bring you the best coverage for the Indie Artists and the fans that Love them!
Make a one-time donation
Make a monthly donation
Make a yearly donation
Choose an amount
Or enter a custom amount
$
---
Your contribution is appreciated.
Your contribution is appreciated.
Your contribution is appreciated.
Donate
Donate monthly
Donate yearly
Subscribe to Our Newsletter