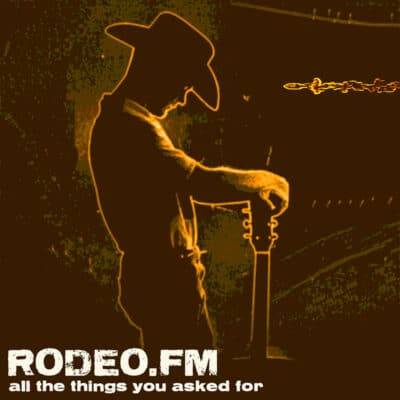 Rodeo FM
All the things you asked for
Rodeo FM is Pat – lead vocals and acoustic guitar, Masataka – bass, Dominik – drums and backing vocals, Desmond – guitars and backing vocals, Gigi (guitar & banjo)
Rodeo FM is a band based in Berlin, Germany, making music for 15 years. They have really played everywhere, at weddings and funerals, in clubs, beer tents and festivals. In 2020 they released their album "upgrade of truth" and they took five songs out of the same recording session to create this EP.
5 great songs that definitely make you want more!
"Worthless Gain", first song and a beginning with a touch of country, Americana at its best, but that's what the guys stand for after all! Fantastic introduction to the EP and you immediately want more!
And you get more with the second song "All the things you asked for", played well and I love the lyrics that somehow contrast with the optimistic melody because they are rather less optimistic.
"And while you should have been fighting
they cut your unions and your ties
riding on productivity
offering wasted lines"
"Shame, shame, shame"immediately grabbed me with this original sound that this band has pretty exclusive. It's an art to put songs about being abandoned in such a melody and the guys have it, no doubt!
"Where does it leave us" deals with promises that were once made to the previous generation, but of which there is not so much left in today's world. Here, too, a very serious text was packed into a very cool melody, one of my favorites for the EP.
And finally "the truth",almost like a ballad, of course with critical text and a sound that is second to none and a brilliant instrumental towards the end of the song.
Rodeo FM is pure Americana, "Cowboys" from Berlin with a clear edge who are not afraid to express their opinion and the whole thing in an almost poetic form.
A form of music and criticism that one would often want from artists and makes Rodeo FM unique.
Help Support Making a Scene
Your Support helps us pay for our server and allows us to continue to bring you the best coverage for the Indie Artists and the fans that Love them!
Make a one-time donation
Make a monthly donation
Make a yearly donation
Choose an amount
Or enter a custom amount
$
---
Your contribution is appreciated.
Your contribution is appreciated.
Your contribution is appreciated.
Donate
Donate monthly
Donate yearly
You can donate directly through Paypal!
Subscribe to Our Newsletter