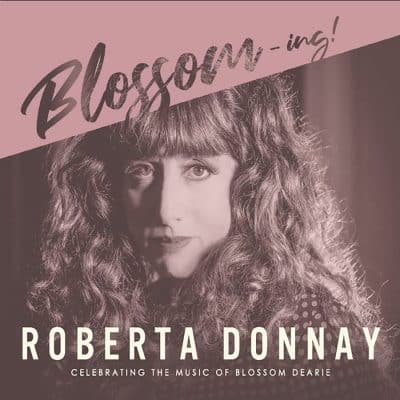 Roberta Donnay
BLOSSOM-ing
Village Jazz Café
BLOSSOM-ing, a tribute to the music of Blossom Dearie, is the tenth album for the award-winning vocalist Roberta Donnay. We'll get to Donnay shortly but just in case you need a little background on Blossom Dearie, we'll start with the famed vocalist who made her mark mostly in the late '50s and early '60s performing in London and New York City and collaborated with many musicians, including Johnny Mercer, Miles Davis, Johnny Mandel, and among many others, most important for Donnay's connection, Bob Dorough. Dearie had a unique style with her little girlish voice and sexy, coquettish, playful approach and juicy, bordering on salacious material. Her light airy voice made her a darling of fans but not necessarily critics who felt that she had "Improper breathing" and didn't use her diaphragm to sing. She knew she had a style that set her apart and brushed off those criticism. Never seeking to make her voice more powerful, she stated this is in a 2003 interview – "I have never been a singer who could stand up and sing like a theatrical singer. I sit down, and I've always used a microphone. I have a kind of microphone technique." (Dearie passed in 2009 at the age of 84.)
Donnay, whose working group, The Prohibition Mob Band, features swinging, danceable jazz popular in speakeasies from the 1920's and 1930's. Donnay's performances have become audience favorites as she dresses in period clothing and assumes a gun mol character fronting her band dressed as gangsters from the same time period. In other words, Donnay's sugary sweet voice and penchant for throwback music makes her the perfect one to pay tribute to Dearie. Donnay has been singing jazz and blues for over three decades and is a recipient of the prestigious ASCAP Composers Award for her song, "One World," which was selected as a world-peace anthem for the 50th Anniversary of the United Nations. Here Donnay does a great job of capturing Dearie's light, breezy, endearing style while adding her own sassy blues approach to these songs that include "Peel Me a Grape," "Spring in Manhattan," "Just One Of Those Things," "Someone to Watch Over Me," and "Put On a Happy Face," among the total of sixteen, all in the two-three minute range. Listen to Donnay's relaxed, poised phrasing on "Someone to Watch Over Me" as just one example to gain an appreciation for her skilled jazz vocals or her alluring, whispery take on "A Paris." For the playful, sexy approach, head for "Peel Me a Grape."
Donnay tapped some of Northern California's finest jazz musicians for this session including Mike Greensill (piano), Ruth Davies (bass), Mark Lee (drums), Jose Neto (guitar), David Sturdivant (harmonica), and Los Angeles-based MB Gordy(percussion). To give you a sense of the composers Donnay draws from, tunes come from Billie Holiday, Dave Frishberg, Cole Porter, Johnny Mandel, Carolyn Leigh, Julie Styne, and Dearie herself among others.
Donnay's connections that play into this repertoire are rather fascinating. Her three major mentors include Bob Dorough, Dan Hicks, and jazz producer Orrin Keepnews. All provided guidance, encouragement, and opportunities for her vocal talents to shine. Keepnews loved her singing and offered to produce an album for her. They began a friendship in which he shared his extensive knowledge of jazz and the music industry with her. One of the longest and most important professional relationships Donnay has experienced was with Dan Hicks, who blended elements of swing, jazz, folk and country music to create his own unique sound with his group The Hot Licks. Roberta worked and recorded with Dan over the last ten years of his life, touring the country performing in the group's very theatrical shows.
We called out Bob Dorough earlier because he provided the direct linkage to Blossom Dearie's music, as he was Dearie's close friend and collaborator. After meeting him at the Hooker's Ball in San Francisco in the 1990s, Donnay recorded two of his songs on What's Your Story, produced by Keepnews. They shared musical tastes and became fast friends, and in 2011, Donnay recorded five songs with Dorough which have never been released. Dorough shared his personal insights into Blossom's life and music, eventually leading to this tribute album that faithfully captures Blossom's essence.