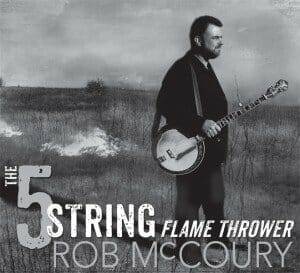 Rob McCoury
The 5 String Flame Thrower
McCoury Music
Rob McCoury is the son of Del McCoury and the banjo player in The Del McCoury Band. "Kansas City Railroad Blues" is the hard driving vehicle that sets the stage for this album of mostly banjo instrumentals. The song credits include Earl Scruggs, Don Reno, J.D. Crowe, and Sonny Osborne. This album is therefore both a display of McCoury's virtuosity and a tribute to his influences.
Earl Scruggs invented the three fingered picking style that was to revolutionize the banjo and bluegrass music. He and singer Lester Flatt both left Bill Monroe and his Bluegrass Boys to form their own band. Lester Flatt, Earl Scruggs and the Foggy Mountain Boys recorded for Mercury Records before signing with Columbia. In 1961 they released "Foggy Mountain Banjo" an all instrumental album featuring Scruggs on banjo along with guitar, fiddle, dobro, and bass. This album set the standard for bluegrass instrumentals. Although not on that album "Foggy Mountain Chimes" also by Scruggs is recreated here by Rob. Del McCoury, another former lead singer with Monroe, sings on "I've Lost You" written by Scruggs.
Don Reno and singer Red Smiley recorded for King Records out of Cincinnati, Ohio. Reno had also started as a banjo player with Bill Monroe. Reno's three fingered style incorporated "double stops, double-time picking, triple-pull offs", and single note runs. He recorded many instrumental albums and often played popular songs bluegrass style. His "Banjo Riff" and "Charlotte Breakdown" are both performed by Rob.
J.D. Crowe earned his stripes as the banjo player with Jimmy Martin and His Sunny Mountain Boys. His band J.D. Crowe and The New South, at times included Keith Whitley, Ricky Scaggs, Tony Rice, and Jerry Douglas. Crowe's banjo playing was so impeccable that it enabled him to include a drummer in his band. "Blackjack" written by Crowe is played by Rob.
Sonny Osborne performed as the Osborne Brothers with his brother Bobby. They were the first bluegrass band to add percussion and drums and recorded on Decca Records. They scored big hits with "Ruby are You Mad", "Rocky Top", and "Midnight Flyer". Included are both Sonny Osborne's "Jericho" and "Siempre" and Boudleaux and Felice Bryant's "We Could" sung here by Rob and Bobby Osborne. The Bryant's also wrote "Rocky Top" and over twenty songs recorded by The Everly Brothers.
There are fifteen songs included on this banjo extravaganza. One of my favorites is the traditional "John Henry" arranged here by Rob. Band mates include his dad, Del; his brother Ronnie, mandolin; Jason Carter, fiddle; Alan Bartram, bass; and Tim Sergent, pedal steel.
Rob's picking is extraordinary. I love albums like this one. As basically an instrumental album it serves as an introduction to bluegrass. It gives the new listener a chance to get accustomed to bluegrass singing and harmonies. For many Bluegrass singing is an acquired taste and the instrumentals more palatable. When one realizes the traditions involved and the fact that Del has passed these traditions onto his sons the idea of re-listening becomes more viable.
Rob and his brother Ronnie are heirs to this fabulous tradition and if you ever heard Ronnie sing, he sounds just like his dad. To me the McCourys are the first family of Bluegrass.
On this album Rob calls himself the 5 String Flame Thrower. Thank you, Rob for lighting the way and fanning the fire. This is highly recommended.
Richard Ludmerer