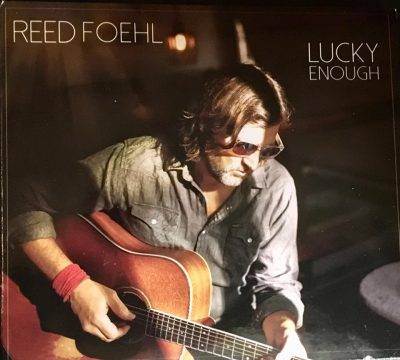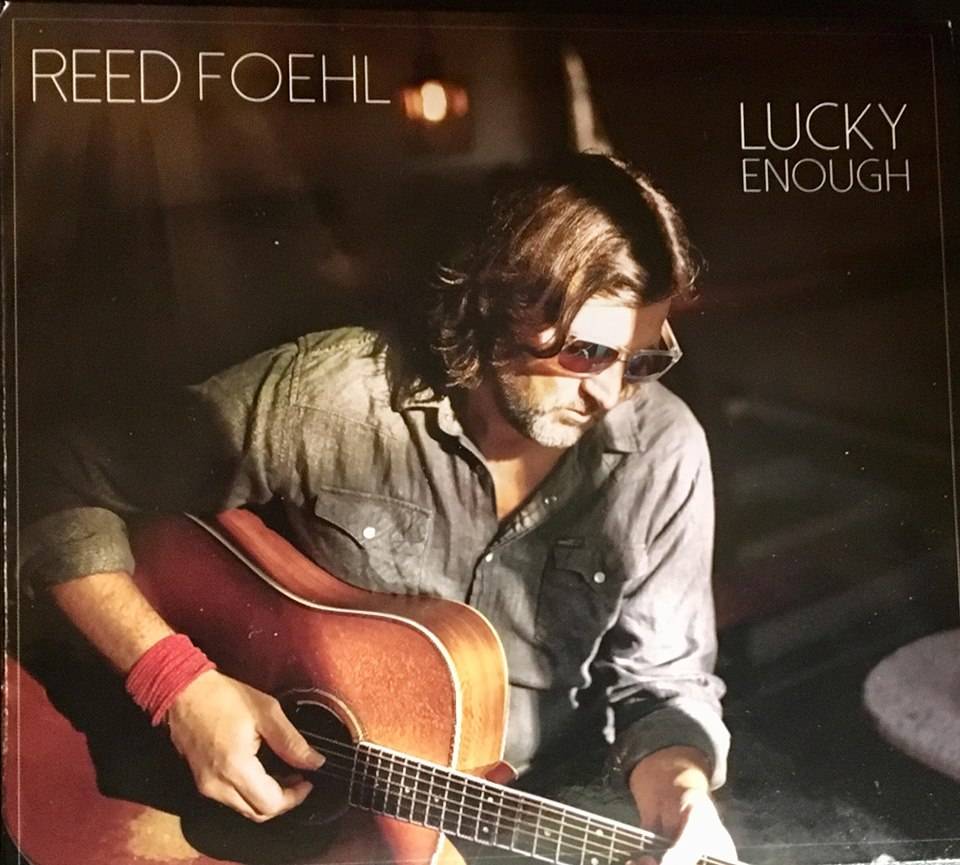 Reed Foehl
Lucky Enough
Green Mountain Records
At first you pick up the album, it is dark with starlight streaming in to highlight a solitary figure playing a well-worn guitar. Then you drop the needle. These are powerful songs. Reed Foehl's Lucky Enough, birthed during a dark time, is one that we all will pass through at one time or another, perhaps that is its source of power. All sources of energy balance both dark and light. Although these songs contain darker themes, they are reflective and shed light on the blessings in life. Lucky Enough is healing and gives me hope.
Lucky Enough is the fifth solo album by Reed Foehl. After writing a song that landed on a Grammy nominated album, Reed was on the move to Nashville. News from home put everything on hold and he turned back to Massachusetts to care for his ailing mother. The ten songs on this album were mostly written in the year and a half he spent with his mom. He made the right choice and the karma pays off in Lucky Enough. Reed Foehl absorbs every vibration of energy and processes it in ways great songwriters dream about. The goal of a songwriter I feel is to make sense of our emotions and make us feel less alone. We are lucky to have Reed Foehl lessening the blow.
Recorded with The Band Of Heathens, and produced by Reed, Ed Jurdi and Gordy Quist at Finishing School studio in Austin, TX. All ten songs are written solely by Reed who sings and plays acoustic guitar. Gordy Quist and Ed Jurdi both play acoustic and electric guitars and add vocals. Richard Millsap also plays electric guitar as well as drums and percussion, Trevor Nealon plays keyboards, Jesse Wilson plays bass and guitars, and that's Geoff Queen on pedal steel. Linda Mackey provides love and inspiration, the album is dedicated to her.
The album opens with "Stealing Starlight" a slap-bass, grooving drum, and jangly guitar string band sound. Then Reeds vocal. You lean in close and realize he's singing your song. "American Miles" continues this same folk string band but with a more haunting feel.
… They say we are lucky

Rising with the sun

In the coming of the twilight

Still the works never done

Haunted by the skyline

Blinded by the sunshine

All I know Ooh ooh

All I love is all I know …
As the album progresses, the music becomes more layered and textured. You ask, where is this taking us. With "If It Rains", you can feel the horizons open up. There is a sense of taking each day as a gift. There is most certainly a mindset shift. "Long Time to Make Old Friends" is obvious enough from the title, but perhaps not to the new guy in town. This is a barroom country sing along for all those friends old or new to drown their sorrows with.
"Carousel Horses" takes you to church. This is a torch passing song, one that takes you from childhood to adulthood. A gospel tinged lament that quite simply breaks you heart. "He's On An Island" is pure country with its pedal steel, guitar imagery, and Townes Van Zandt. The heartbreak continues with "Running Out of You".
… "looking for the light of day

underneath these shades of gray

I'm running out of nothing left but fumes

Running out of you …"
The album lightens the mood with "Wish I Knew" and this song will have you grabbing your partners belt loop onto the dance floor. Next you'll reminisce old loves in the reflective "Hello My Dear".
…. "Love is a letter we write along the way

and it burns like an old fashion flame

it's the same old story

gets better with age

you get what you gave

and send it away

and wait

and hope

to hear back someday …"
These songs from Lucky Enough will expose your heart. With guitars plucking like an angels harp, "Color Me In" will release you. Like the passing of winter and the waiting for something new this song allows you to feel. The elephant in the room asks,
"…what will you do with me my darling

will you wrap me in rain

send me home with that same old song …"
You'll cry, I cried, and it is a beautiful thing. You cry because you feel for someone or something. That's what life is all about, till the end.
[amazon_link asins='B07L532PS2,B00NHXKJIU,B007U5PNWI,B007HYNOKK,B000NVHWMA,B007U5POEA,B007HYNOZA,B007U5PQ3Y' template='ProductCarousel' store='maasc-20′ marketplace='US' link_id='0f9b50e6-4ecf-4d5a-b3c5-4a3976632394′]