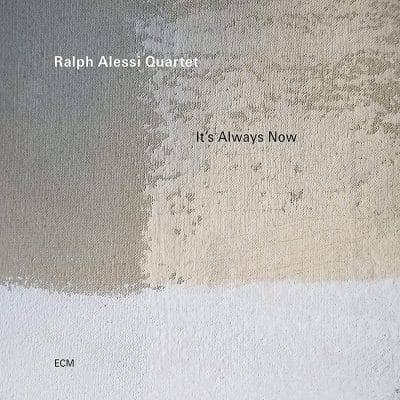 Ralph Alessi
It's Always Now
ECM
It's Always Now is the eleventh release and fourth on ECM for American trumpeter and composer Ralph Alessi. Departing from previous ECM works, Alessi moves away from his NYC quartet in favor of new European- American lineup that features German pianist Florian Webber (co-writer on three compositions and fourth appearance on the label), Swiss bassist Bänz Oester, and New Haven-born drummer Gerry Hemingway. The set is mostly of the dreamy contemplative variety with nothing hurried and a balance between a through composed feel and improvisation. Alessi's trumpet tone is pure and stunning both in terms of range and moods conveyed.
The first two pieces are evocative, serene piano-trumpet duets, the first, "Hypnagogic," is a co-write with Webber that has the trumpeter in mostly a series of jabs over the pianist's undulating lines and comping, resulting in a strange but disarming dreamy feel. This delicate approach continues with "Old Baby" where Alessi blows more liquid, sustained, and lingering notes over Webber's delicate "less is more" piano accompaniment. Immediately one senses Webber to be an ideal harmonic partner, able to anticipate and gently react to Alessi's movements, which are by no means predictable.
"Migratory Party" introduces the bass-drum tandem, albeit subtly as Hemingway works with brushes in support of a repetitive three-note figure, with the trumpeter and pianist echoing each other's lines to the bassist's sturdy pattern. "Residue" begins to establish some momentum with close quartet interplay that evolves into a swinging, danceable groove. "Hanging by a Thread" is another with a simple melody, with solos from Alessi, and a very measured one by Webber underpinned by Oester's bass and gentle kit work from Hemingway to deliver a succinct, melancholic piece, emblematic of Alessi's approach that continues into "The Shadow Side."
Alessi's tone is so tight on the title track that he sounds somewhere between an animal's clarion call in the wilderness or a remote Eastern chant with Webber's (co-writer) single chords and note ringing like a bell or gong. Oester plucks declaratively to open "Diagonal Lady" setting up a Alessi's crystalline, floating melody that builds in intensity almost as a gathering storm that fluctuates between flashes of light and cloudiness over the subdued quartet rumbles underneath. The standout "His Hopes, His Fears, His Tears" appears to bear similarities to the opener with Alessi's series of jabs and quick bursts but it takes off into spirited territory through Webber's more forceful comping and later a frenzied solo, as the bass-drum tandem motors at full throttle, as is the leader when he rejoins for his final turn.
The aptly titled "Everything Mirrors Everything," has the same motif of repetitive and echoing lines from Alessi and Webber cascading through in a lively, feisty way as opposed to the more languid and dour approaches heard earlier. "Portion Control" carries similar tension with jagged rhythms, which Webber and the rhythm team punctuate more emphatically than ever. Another standout is the almost nine-minute "Hanging By a Thread" which too is jagged, even rather choppy with Alessi blowing a series of rapid-fire bursts in his most aggressive posture yet as Hemingway and Oester set a propulsive pulse and Webber moves unbounded in support, until the quartet decelerates to a closing dissolve. The Alessi-Webber "Tumbleweed" closes with the band returning to an abstract, ethereal mode not unlike the opening sequence of pieces.
Alessi's quartet delivers a transportive experience, by turns mysterious, beautiful, and disarming. Play this before sleeping and your dreams will likely be colorful and eventful.
Help Support Making a Scene
Your Support helps us pay for our server and allows us to continue to bring you the best coverage for the Indie Artists and the fans that Love them!
Make a one-time donation
Make a monthly donation
Make a yearly donation
Choose an amount
Or enter a custom amount
$
---
Your contribution is appreciated.
Your contribution is appreciated.
Your contribution is appreciated.
Donate
Donate monthly
Donate yearly
Subscribe to Our Newsletter