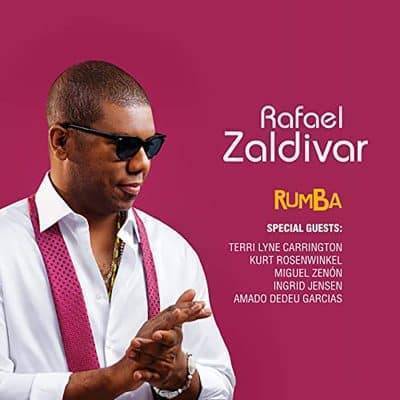 Rafael Zaldivar
Rumba
Effendi
We bring you a Cuban pianist and composer, Rafael Zaldivar, by way of Montreal. Zaldivar calls the ensemble gathering for Rumba some of the best Cuban Canadian-American jazz voices from around the world. The term RUMBA refers to social gatherings of the black community from Havana, Cuba. By the beginning of the 20th century, these groups met to celebrate or to praise the deceased with Afro-Cuban rhythms, songs, and dances. Although known as a musical genre, RUMBA promotes social interaction, cultural exchange, and the transmission of Africanism that feeds this album. Zaldivar plays his RUMBA with special guests: drummer Terri Lyne Carrington, guitarist Kurt Rosenwinkel, altoist Miguel Zenón, trumpeter Ingrid Jensen, percussionist. Amado Dedeu Garcias, and many others. To be fair most of these headliners only appear on one track with Carrington on two and Garcias on four.
The classically trained Zaldivar obtained his bachelors from Montreal University and his masters from McGill University. The pianist has worked with jazz icons such as Barry Harris, Kenny Barron, and Herbie Hancock and he has performed with jazz luminaries as Steve Coleman, Greg Osby, Roy Hargrove, Terri Lyne Carrington, Francisco Mela, Nate Smith, Ari Hoenig, and Dan Weiss. The bandleader and educator made strong contributions at Berklee College of Music which is where he formed a friendship with Terri Lyne Carrington. His sophomore album, Drawing, was nominated for ADISQ and JUNO Awards as "Best Contemporary Jazz Album of the Year" featuring saxophonist Greg Osby as special guest. Rumba is his fourth recording.
The opening track, "Eleggua" features the vocals of Garcias over a light Cuban rhythm with ethereal backdrop from Zaldivar's synthesizer, which he also plays on four other tracks along with the acoustic piano as is the case with the alternating gently flowing and rapid running rhythms of "A Pray" featuring aa vigorous turn from Zenón in lively dialogue with Zaldivar's piano. "Baila Mi Changui" and "Guajiro," both feature frenetic rhythms steered by Carrington with percussion assistance from Garcias. You'll hear Zaldivar's blinding rapidity meshed with his knack for the angular in the former while the latter, a standout track, has that melodic, swaying Caribbean vibe as he invokes both classical and folkloric strains. In fact, it begins a very strong three song sequence with the spare, pensive, atmospheric "Two Words" followed by rambling, stomping trio piece, "Short Blues" where bassist Remi-Jean LeBlanc and drummer Louis-Vincent Hamel make individual statements contributing to the tune's blistering pace.
The distinctive guitar of Kurt Rosenwinkel highlights the steady, circular patterned epic "Dolor De Amar" creating intriguing harmonics in conjunction with Zaldivar's synth, evoking Pat Metheny. LeBlanc's sturdy bassline and Hamel's drumming drive the swift moving "Alma," colored by the twin synths of Zaldivar and Amhed Mitchel. "Crying for Cuba" is the brassiest number in the set featuring two trumpets, an alto (Luis Deniz soloing) and two tenors, all combining to bring it to a rousing climax. "Tiempos de Amar" settles into calming balladry with supergroup Artemis member, Ingrid Jensen's exquisite, sweet tones over a light bed of electronics. The album closes with the most ostensibly Cuban piece of all, the chanting "Obbatala" with multiple voices and percussion.
The sonic range explored by Zaldivar and his aggregation here is simply staggering. It's a unique mash-up of contemporary and traditional Afro-Cuban sounds that bodes for multiple listens.
Full Personnel
Acoustic Piano: Rafael Zaldivar
Vocals: Rafael Zaldivar (12), Amado Dedeu Garcias Jr. (1, 12), Amada Dedeu Garcias Sr. (12), Sara Rossy (2), Dayron Luis San Juan (12), Jorge Varona (12)
Synthesizer: Rafael Zaldivar (1, 2, 8, 9, 11), Amhed Mitchel (9)
Guitar: Kurt Rosenwinkel (8)
Trumpet: Ingrid Jensen (11), Alexis Baro (10), Jocelyn Couture (4), Rémi Cormier (4), Alexander Brown (10), Ron Di Lauro (4)
Alto Sax: Miguel Zenón (2), Luis Deniz (10),
Jean-Pierre Zanella (4)
Tenor Sax: André Leroux (4), Kirk MacDonald (10),
Pat LaBarbera (10)
Bass: Roberto Occhipinti (10), Rémi-Jean LeBlanc (3-5, 7-9)
Drums: Louis-Vincent Hamel (3, 7-9),
Terri-Lynn Carrington (4, 5), Amhed Mitchel (2, 10)
Percussion: Rafael Zaldivar (2-4), Amado Dedeu Garcias (1, 4, 5, 12), Dayron Luis San Juan Maguercia (12), Carlos Henrique Feitosa (8), Jorge Luis Papiosco (10)
Help Support Making a Scene
Your Support helps us pay for our server and allows us to continue to bring you the best coverage for the Indie Artists and the fans that Love them!
Make a one-time donation
Make a monthly donation
Make a yearly donation
Choose an amount
Or enter a custom amount
$
---
Your contribution is appreciated.
Your contribution is appreciated.
Your contribution is appreciated.
Donate
Donate monthly
Donate yearly
You can donate directly through Paypal!
Subscribe to Our Newsletter