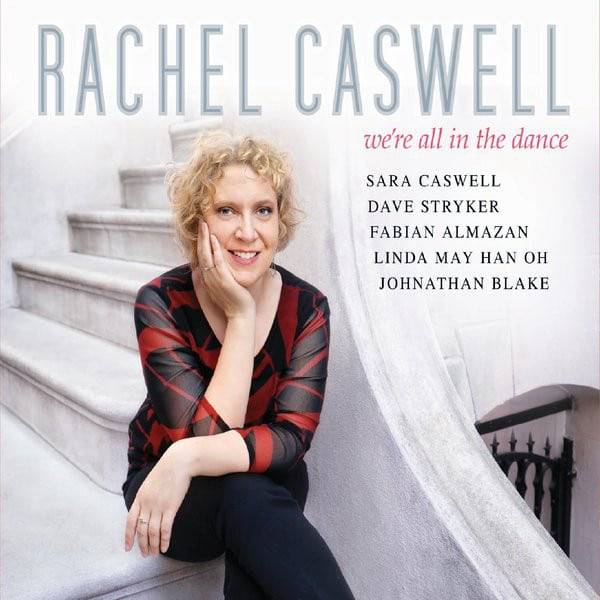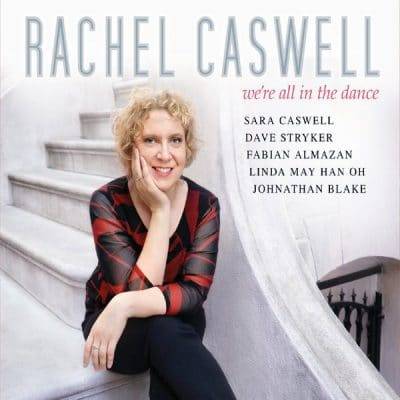 Rachel Caswell
We're All in the Dance
Turtle Ridge
Her Grammy-nominated violinist sister Sara may be better known but it's clear that musical DNA runs through vocalist Rachel as well. We're All in the Dance looks to be only Rachel's second or third album but she's already established quite a presence with her intelligent phrasing and natural feel.  Helped by her sister on three tracks and the steady producing hand of guitar playing Dave Stryker, amidst a backing quartet of diverse and seasoned players, these ten tracks –  a mix of standards, blues and pop tunes is perhaps Rachel Caswell's breakthrough statement.
Pianist Fabian Almazan  (Terence Blanchard Band) joins Stryker as well as Australian bassist Linda May Han Oh (T.S. Monk, Slide Hampton, Pat Metheny) and veteran drummer Johnathan Blake (Tom Harrell Quintet, Kenny Barron Trio). They form a cutting edge unit that gets even edgier when Sara Caswell adds her violin to "Fragile," the title track and "Two for the Road.'
This is an interesting mix of tunes beginning with an enchanting, passionate rendition of Sting's "Fragile" to Henry Glover's a la Ray Charles "Drown in My Own Tears" to a meditative closing of Jon Hendricks/Thelonious Monk's "Reflections (Looking Back)." Caswell's articulation, elegant interpretations and innate ability to caress a lyric and squeeze every bit of emotion from it, separate her from the many vocalists in the ultra-competitive, especially for females, jazz vocal category. And, like the best, she can swing and scat too. You'll hear the scat in the mid-tempo swinging "A Lovely Way to Spend an Evening" where each member in the backing quartet takes a turn while Rachel imparts her inner Ella Fitzgerald and Sarah Vaughan.
Sara Caswell's emotive violin leads the way into the title track, a ballad where Rachel's vocals show a real strength at sustained notes, and a flair for reflecting the mood her sister sets. She takes Bob Dorough's "Devil May Care' into adventurous territory with a combination of scat, dynamic and inventive rhythmic changes. Her band, especially pianist Almazan, feeds off her impressive vocal introduction with some creative soloing, followed by Stryker, Oh and Blake. Sara excels again in her solo on Henry Mancini's "Two for the Road" which is given some Latin feel while Rachel displays the wide breadth of her vocal range.
Rachel puts her own forceful blues stamp on "Drown in My Own Tears" which ultimately, as you might expect, proves to be a showcase for guitarist Stryker, a true bluesman at heart.  Stryker has fun with his shifting meter arrangement of the Rodgers and Hart American Songbook "I Didn't Know What Time It Was" as Rachel sings with a combination of swing and scat over some sparkling guitar and piano. She eases into the Tom Ellis/Herbie Hancock "Tell Me a Bedtime Story" conveying each lyric emphatically while Almazan provides a different texture unheard until this point, by opting for the Fender Rhodes instead of the acoustic piano. Rachel's scat and Stryker's guitar are in unison for the melody on Charlie Parker's "Dexterity" as each player relishes a solo opportunity for this bebop tune. She closes with the pensive ballad "Reflections (Looking Back)' with clarity and the confidence of "a woman who knows."
This is an album made for repeated listens not only for Rachel's wondrous vocals, but stellar work by each accompanist.
[amazon_link asins='B07FZBGDGD,B00VS5LXRK,B00V5OIFY8,B07FZ3CST1,B07FZD3KQN,B07FZBWZTM' template='ProductCarousel' store='maasc-20′ marketplace='US' link_id='156d6a14-e2b5-11e8-85bd-1727863dfd29′]