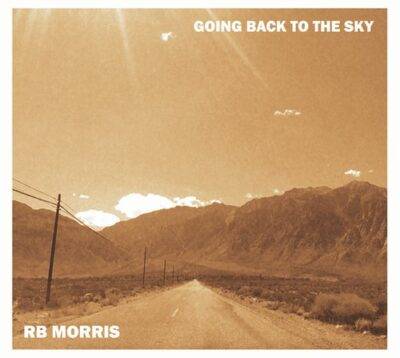 R.B. Morris
Going Back to the Sky
Singular Recordings and songwriter, solo and band leader, and a sometimes playwright and actor
Admittedly, the initial draw here is that RB Morris' album is produced by Bo Ramsey. Yet, a small bit of research combined with listening to just the first full song, "Red Sky," proves that RB Morris is an elite songwriter. In fact, consider this short bio and it's clear to those who haven't listened to any of his material that this singer-songwriter brings the goods. RB Morris is a poet and songwriter, solo performer, and band leader, and a sometimes playwright and actor from Knoxville, Tennessee. He has published books of poetry including Early Fires (Iris Press), Keeping The Bees Employed, and The Mockingbird Poems (Rich Mountain Bound), and music albums including Spies Lies and Burning Eyes, and his previous solo project Rich Mountain Bound. He wrote and acted in The Man Who Lives Here Is Looney, a one-man play taken from the life and work of James Agee and was instrumental in founding a park dedicated to Agee in Knoxville. Morris served as the Jack E. Reese Writer-in-Residence at The University of Tennessee from 2004-2008 and was inducted into the East Tennessee Writers Hall of Fame in 2009.
Another indication of Morris' talent are the accompanists on this album Going Back to the Sky. They include Mickey Raphael on harmonica, Ramsey on guitar, David Mansfield on fiddle and mandolin, and Neilson Hubbard mixing. Some of the lesser known such as multi-instrumentalist Greg Horne, bassist Daniel Kimbro, and drummer Hunter Deacon are more than solid in support, taking the music into bluegrass, rock, folk, and even lounge-like jazz ("Once In a Blue Moon").
That first full song referenced takes the old saying – "Red sky at night, sailor's delight, Red sky at morning – sailor take warning" into a discourse on yearning for a relationship. His are the tales of a traveler sprinkled with colorful characters he's met along the way. He calls it his "dustbowl" record – dusty old highway songs and stories that came from his early road trips out west. Some were even written while hitchhiking. One of those story songs is "Me and My Wife Ruth" with killer guitars from Horne and Ramsey and lines such as – "It gets old on that road/And we both know that's the truth/I just thought you might want to rest one night/and maybe meet my wife Ruth."
The haunting, spooky pedal steel imbued "Missouri River Hat Blowing Incident" seems to channel the late Tony Joe White. The title track also rides along that sweeping pedal steel, evoking touches of nostalgia and conflicting emotions of memories and hope. "Going to the Sky" evokes both returning to a certain place (Montana perhaps?) and obviously death. The epic "Montana Moon" is a riveting story song, half sung, half-spoken, punctuated with Ramsey's signature guitar. The defiant attitude that colors "That's the Way I Do" is a hybrid of Dylan and Roger Miller, a jaunty anthem to live every moment just as you want to. Other highlights include the jazzier Leon Redbone evoking "Old Copper Penny," the swaying "Under the Cigar trees" with its mariachi vibe, and the chugging "Six Black Horses and a 72 Oz. Steak" brings a shuffle beat and more great guitars from Ramsey and Horne ring around the indelible chorus "Six black horses and a 72 oz. steak/Ride me off this panhandle and drop me on a plate." In an album packed with great songs, Morris brings it all to a close quietly and effectively with "Walking Song" as his gritty, whiskey-worn vocals seem suspended above the bed of guitars. It's the epitome of loneliness on the road, looking for the next new adventure that awaits but more often than not transfixed in a daydream kind of state as depicted in the opening verse – "Sometimes I'm into the picture/Sometimes I'm into the sign/Sometimes I'm into the faces flying by/In the window shield frame."
RB Morris delivers a superb set of songs.. It's not surprising that Lucinda Williams calls him "the greatest unknown songwriter in the country," that John Prine originally signed him to his Oh Boy label, or that Prine and Marianne Faithful have both covered his songs. Steve Earle even exclaimed, "R B Morris is the reason I started writing poetry." Enough said. Just listen.