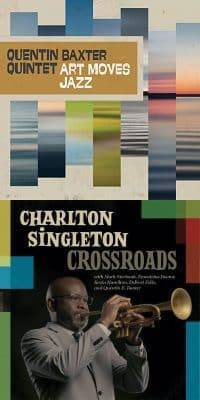 Quentin Baxter Quintet
Art Moves Jazz
Charlton Singleton
Crossroads
BME Baxter Music Enterprises
Art Moves Jazz and Crossroads are tandem releases on the same label by two friends, bandmates, and fellow members of South Carolina's Gullah cultural community. They are two-fifths of the Grammy-winning (Good Time, 2017 Best Regional Roots Album) Gullah community ensemble Ranky Tanky, and each plays a integral role in supporting each's album, sharing common personnel along the way. Quentin Baxter is a drummer while Charlton Singleton is a trumpeter. Art Moves Jazz is Baxter's debut as a leader, devoting most of the program to tunes composed by Jimmy Heath and Thelonious Monk excepting his own titular suite and another from Bobby Watson. Yes, these are mostly standards, rendered with traditional Gullah rhythms. Singleton's Crossroads, his fifth release, features all original music in bebop or hard bop but again expresses the Southern music of jazz, gospel, and Gullah traditions, which are mostly rooted in the church, indigenous as first developed by descendants of the South Carolina Lowcountry's enslaved African community. You can find in-depth information on this sound and their collective history by visiting either of the artist's websites.
Aside from the standards, Baxter's four-part suite, a series of improvisations, were inspired by the abstract landscapes of local artist John Duckworth, installed at FIG, a Charleston restaurant where Baxter's bands often played. Members of his band have been playing together for years. Along with Singleton, they are tenorist Mark Sterbank, pianist Demetrius Doctor, and bassist Rodney Jordan. This group plays on the suite as well as the opener, a fresh reading of Monk's "Off Minor." On the third segment of the four seasons inspired suite, "Summer," altoist Calvin Baxter, the drummer's older brother, and organist Timothy Campbell, give that movement the deep churchlike feel and prominently display the hand-clapping Gullah rhythms. The quintet does an excellent job of portraying these four seasons, especially evoking the contrasts of bleakness and presumably familial warmth via Doctor's tenor in the final movement, "Winter." Two of the three Heath compositions benefit from the additional percussion of Ecuadorian conga player Gino Castillo. As you listen, Baxter's nimble touch, primarily snare based, along with bassist Jordan's impressive work whether pizzicato or arco, are especially noteworthy throughout as they cover Heath's "Miles and Miles," "For Minors Only," and "Resonant Emotions" along with Watson's "Time Will Tell" and Monk's "In Walked Bud."
Singleton's Crossroads features Sterbank, Doctor, and Baxter with the bass shared by former Branford Marsalis bassist Delbert Felix on two selections and Kevin Hamilton on five. As you can see both albums are in the classic trumpet/sax front-line quintet configuration. The boisterous title track features bright solos from Sterbank and Doctor before Singleton steps into his swinging foray. Singleton's major influence is Harry "Sweets" Edison, along with Clifford Brown, Clark Terry, and Dizzy Gillespie and those "old school" strains as well as the classic pairings of Miles and Trane and Miles and Wayne are present as well. We hear Singleton's clear, light-of-hand but robust tone come to the fore on the mid-tempo ballad "Matador" and another mid-tempo ballad, "PS (Postscript) and the up-tempo "Man in Motion," both of which feature bassist Felix, Singleton pays homage to the late Roy Hargrove. Although Singleton doesn't explicitly cite Lee Morgan as an influence, this tune bears similarities to Morgan's hard boppers.
"On the Avenue" is a brisk, bright bebop swinger featuring solos from all three principals again, especially the deep toned Sterbank. The highly melodic, airy "Gradual Lean" was composed for seminal Charleston jazz band of that name in which Singleton and Baxter played. However, that unit never played it so it thereby makes its debut here with Singleton's dulcet tones on flugelhorn. The warmest ballad of all is the delicate "Nett and Root," a tribute to Singleton's parents, both teachers. The closer, another hard bopper, "1000 Nights," was also written for another band Singleton played in, named Skwzbxx (pronounced "Squeeze Box), a ska/pop/funk band. This one, is a showcase for Baxter's drumming although Doctor, Sterbank, and the leader each make declarative statements.
So, this is a two-pack. Don't go home without both straight-ahead projects. While both have the Gullah rhythms in common, the focus of each is different and each holds unique attributes.
Help Support Making a Scene
Your Support helps us pay for our server and allows us to continue to bring you the best coverage for the Indie Artists and the fans that Love them!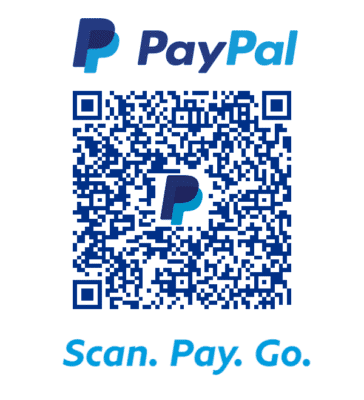 FOLLOW US ON INSTAGRAM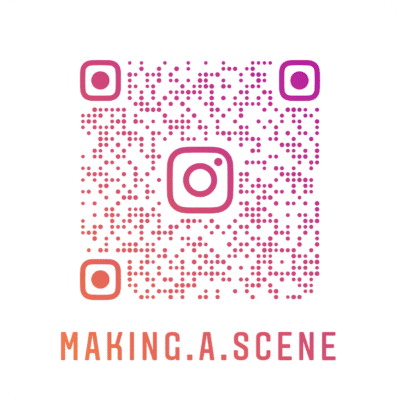 Subscribe to Our Newsletter