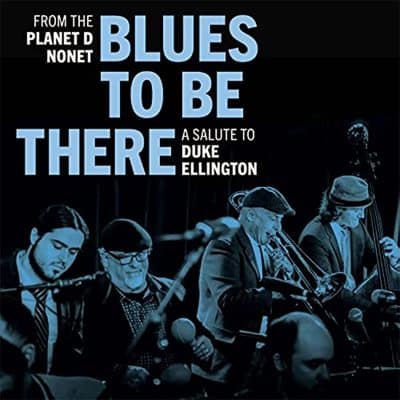 Planet D Nonet
Blues to Be There
A Salute to Duke Ellington
Eastlawn
The Planet D Nonet is a Detroit-based group, actually numbering ten, lead by percussionist and music personality RJ Spangler and trumpeter/vocalist James O'Donnell. Prior to this salute to Duke Ellington the band has engaged in what they feel are neglected jazz and blues artists such as Fletcher Henderson, Buddy Johnson, Sun Ra, and South African jazz. They have also revealed a deep knowledge of Billy Strayhorn's and Duke's Cotton Club material. Yet, this project focuses on the portion of Ellington's career from 1956-1963, beyond his initial swing period, according to Spangler offering a host of little-known gems. He seems to be on target there, as among these sixteen tracks, the only two widely recognizable tunes are "Take the A Train" and Strayhorn's "Tigress." Of course, Ellington followers may be familiar with more of them such as the title track which breaks out of the three-four-minute length, extending to over eight minutes. Spangler also finds a common ground in this period of Ellington's music – a place where swing era types and hard bop types could "find themselves in this music."
Instrumentation aside from the conventional piano-bass-drums rhythm section includes three reeds, two trumpets and a trombone. Spangler plays percussion and directs the band. Two of the selections feature vocals from band members and some tunes feature as many as six or seven soloists while O'Donnell is the lone soloist on "Almost Cried" and tenorist Christopher Tabacynski on "Chinoiserie." The boppish opener "Spacemen" features a full seven soloists with a bright turn from guest bari saxophonist Alex Harding, who appears on eleven tracks. "Pie Eye's Blues" is a more the kind of straight forward, walking bassline, piano blues we associate with Duke with Michael Zaporski on the keys, O'Donnell on a dig deep, growling trumpet solo and Tabacynski on a soulful tenor turn which is on fuller display on his solo feature for "Chinoiserie."
The standout title track, penned by Ellington and Strayhorn, is a simmering slow blues, mainly a piano feature for Zaporski with Tabacynski stepping forward on clarinet and O'Donnell matching that deep emotion with his signature growling trumpet. The first of the two vocals appear with trombonist Tbone Paxton on "Moon Maiden," aided by soloists trumpeter Charlie Miller and Zaporski. While Paxton's vocal is somewhat bland, he quickly compensates with a from-the-gutter trombone intro to deep blues of "The Swingers Get The Blues Too," played to a hand clapping rhythm with sterling spots from O'Donnell and Tabacynski. The tenorist and pianist take the honors on the swinging "Blow by Blow" while the perky "Tigress" features Spangler, Tabacynski. and Alex Colista on the soaring soprano.
"Purple Gazelle" opens with similar strains to "Take the A Train," colored by turns from Tabacynski on both clarinet and tenor along with trumpeters Miller and O'Donnell who, takes a Satchmo-like vocal on Duke's iconic subway tune. "Way Early Subtone" is one of those gently swaying Ellington tunes, played gracefully by Colista on alto and Harding on his ever present baritone sax. Strayhorn's "U.M.M.G" features the core band's bari saxophonist Goode Wyche III along with Miller. The percussive "Bonga" naturally involves bandleader Spangler with the two trumpeters whereas "Moonbow" is another highly rhythmic number highlighting the pianist. Colista, and Paxton. The closing medley, "VIP's Boogie/Jam with Sam" is another with a wide breadth of soloists, six in all. Throughout this music is solid, passionate, and true to the blues. We'd be remiss without mentioning other band members and guests not cited – bassist Trevor Lamb, drummer Sean Perimutter, guest tenorist Ryan Bills, and guest clarinetist Kasan Belgrave.
Maybe you haven't played your Ellington music for a while. If not, this is certainly a fervently respectful salute. And, it may prompt you to reach for the real thing too.
Help Support Making a Scene
Your Support helps us pay for our server and allows us to continue to bring you the best coverage for the Indie Artists and the fans that Love them!
Make a one-time donation
Make a monthly donation
Make a yearly donation
Choose an amount
Or enter a custom amount
$
---
Your contribution is appreciated.
Your contribution is appreciated.
Your contribution is appreciated.
Donate
Donate monthly
Donate yearly
Subscribe to Our Newsletter