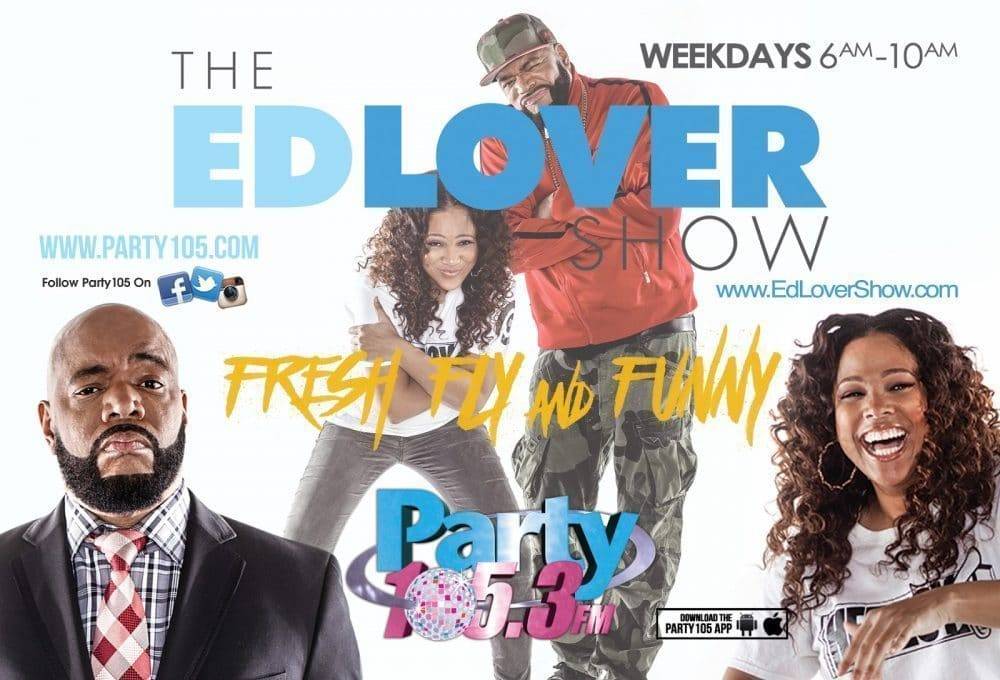 PARTY 105.3FM PREMIERES
"THE ED LOVER SHOW"
MONDAY, JUNE 12TH
EVERY MONDAY-FRIDAY 6-10AM ET
New Show Hosted By Hip Hop Icons Ed Lover and Monie Love
Long Island, NY (June, 2017) — Having already kicked off "Weekend Blast with Ed Lover and Monie Love" (Saturday's 7am-9am) this past weekend, Long Island's party station Party 105.3FM is getting ready to premiere their brand new "Fresh, Fly, and Funny" weekday drive-time show hosted by none other than the hip hop legends themselves!
The Ed Lover Show will bring not only classic hip hop music and celebrity interviews from the hottest artists and influencers of of today, but features that connect with a generation of urban trendsetters, as well as giving listeners a chance to give their own input through daily segments and contests!
Daily:
Early Morning Evening News w/ Monie Love – Monie Love lets you know what's trending in politics, entertainment, sports, and of course the most outlandish news going on around the country.
Throwback Mix – An innovative mix of the best Throwback Hip Hop and R&B from some of the best DJs around the country to get your morning moving!
Benchmarks:
Mondays
Behind Hip Hop – As Hip Hop icons themselves, both Ed Lover and Monie Love will give you the backstory of some of the most influential and impactful figures in the culture.
Tuesdays
Certified Top 5 – Each Tuesday, Ed Lover and Monie Love rank a list of items that are certified in the Hip Hop culture, from Best Emcees to the Best Fashion Trends that make Hip Hop more than just music!
Wednesdays
Lose One – We give listeners another opportunity to be a part of the Ed Lover Show every Wednesday. Giving them the option to pick from two classic lifestyle items or figures, they get to "Choose One" and "Lose One!"
Thursdays
Who Said That – Ed Lover will spit some classic lyrics and listeners will be solicited to identify the artist and song. The 50th caller with the correct answer wins BIG MONEY!
Fridays
#FOH – "F Outta Here!" A chance to let listeners vent, express themselves and share with the world what's on their minds!
C'Mon Son – Ed Lover's take on pop culture; he gives his rough, raw and rugged thoughts on what was trending this week and some motivation to get us through the weekend.
Ed Lover is a popular and respected rapper, actor and comedian who gained a loyal following as a host of Yo! MTV Raps and most recently hosting Backspin on XM/Sirius. Lover is a member of the Hip Hop Hall of Fame and continues to be an iconic figure in the world of entertainment.
Grammy-nominated Monie Love is an MC and radio personality who fans have embraced for her wit and love for Hip Hop. Songs like "Monie in the Middle," "It's a Shame (My Sister)" and "Buddy" laid the foundation for her status as a Hip Hop icon.
For More Information on The Ed Lover Show, Visit: www.EdLoverShow.com
For More Information on Party 105, VISIT:
OR
For Press Inquiries, CONTACT: Rick@RickEberle.com
For Immediate Release:
Contact: Rick Eberle | www.rickeberle.com
516-­729-­6872 | rick [AT] rickeberle.com