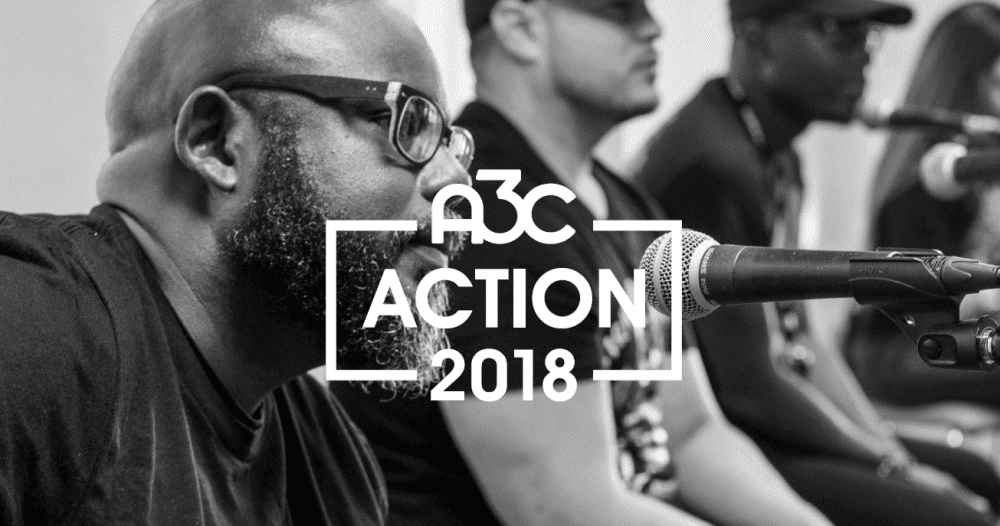 A3C Action Supports Artists, Grassroots Activists, and Nonprofits With Hip-Hop and Social Progress at Heart
Hip-Hop is a springboard, a sounding board, and an inspiration for some of America's most innovative, creative grassroots initiatives. The 14 year old organization dedicated to educating and empowering the artists and entrepreneurs that shape hip-hop culture A3C knows the importance of supporting creative non-profits working hard to make an impact in their communities.
Last year, A3C launched the Action Summit for social justice to create a place to discuss social justice challenges, learn from community leaders and develop actionable initiatives. This year's Action Summit features Killer Mike, Talib Kweli and Trae The Truth.
"Hip-Hop and justice have often gone hand in hand, and A3C wants to underline that," says Mike Walbert of A3C. "Our Action events are our way of paying tribute to this powerful current in the music we love and to help support the music makers and lovers who use this power to do real good in their communities."
Over the past three years, the A3C Action programs have given more than $30,000 to 17 non-profits chosen from more than 500 applications. In 2018, the A3C Action Accelerator will invite another group of activists seeking to create real change for an intensive bootcamp in Atlanta. Co-developed and led by the Center for Civic Innovation, the training embraces all aspects of growing and running a non-profit: management, sustainability, scalability, messaging and marketing. The one-on-one work with A3C Action participants culminates in a Pitch Night (October 5, 2018) at the Action Summit, where one organization is selected by a panel of judges to receive $10,000 in funding.
"The A3C Accelerator shines light on some of the most incredible grassroots ideas from around the country," says Rohit Malhotra, Director of the Center for Civic Innovation. "Every year, we are inspired and humbled by the stories of people who, against many odds, are building programs for people in their community. It's amazing to just be a part of their journey, and in a time like right now, their work is necessary to showcase."
These grants are often the first, deciding influx of financial support these nascent change-makers see. As Malika Whatley of 2016 winner Chop Art enthused, "A3C Action was the financial first bet that was ever taken on ChopArt from an institution. It helped other funders begin to look at us and make investments as well, and media outlets interested in telling our story."
This year's A3C Action Accelerator cohort includes:
Hip Hop Mentoring Cypher Sessions: A creative wellness program that uses hip hop to engage teens on issues of critical thinking, emotional wellbeing, and social justice
Words Liive: a technology-powered, music-based literacy program that aims to bring ¾ of the student population in the US to grade-level reading by 2040
Cool Moms Dance Too: Fun, multigenerational fitness and dance classes designed to improve the mental and physical health and connectedness of families
Supreme MCs Rule Hip Hop Expression Program: A music education program that uses hip hop as a gateway to self-discovery and positive coping skills
FlexIn FlexOut: Workshops get youth dancing inside detention and foster care facilities, coupled with programming to continue the mentorship once kids get outside
The public can engage with a passionate community, learn about creative ideas and discover new ways to create change at the Action Summit on October 4-5, 2018 at the Auburn Ave Research Library for African American Studies. Speakers include Talib Kweli, Killer Mike, Shanti Das, Trae the Truth, Dr. David Wall Rice, Representative Bruce Franks, Jr. and other prominent artists, activists, and academics to be announced.
"I think the Action Summit is what makes A3C stand out from the rest of music festivals and conferences," notes Stic of Dead Prez, "and this aspect represents its investment and involvement in elevating the community consciousness in a real way."
In addition the A3C Conference in Atlanta dedicates a day of programming to Women in Charge of the hip-hop music industry
Women have always been forces to be reckoned with in the hip-hop community. As their leadership contributions are increasingly recognized, A3C, the essential hip-hop community conference held annually in Atlanta, strives to amplify their voices and give woman space to share their invaluable perspectives.
This commitment sparked A3C's Women In Charge programming. It connects, inspires, and educates women in the music industry through events, panels, and sessions led by hip-hop's most influential and innovative women. Women In Charge will take place on Thursday, October 4th at the Loudermilk Center and is presented by Toyota.
The dynamic women involved in Women in Charge play every possible role in the music business, from label heads to self-made media moguls, from journalists to lawyers. They include (in alphabetical order): Asya Shein (Fusicology, President), Dia Simms (Combs Enterprises, President), Dina Marto (Twelve Music & Studios, Owner & Founder), Ethiopia Habtemariam (Motown Records, President), Janee Bolden (BOSSIP, Managing Editor), Keisha Lance Bottoms (Mayor of Atlanta), Lola Plaku (Lola Media Group, CEO + Owner), Malita the Mogul (Mogul Mentality, Founder + CEO), Nicole Bilzerian (Interscope Geffen A&M, SVP Head of Urban Marketing), Nicole Wyskoarko (Interscope Geffen A&M, EVP Urban Operations), Phylicia Fant (Warner Bros Records, SVP Media + Special Projects), Uwonda Carter Scott (The Carter Law Firm, Attorney + Owner) and Whitney-Gayle Benta (Spotify, Head of Talent Relations).
A3C Women in Charge Programming Overview
The Mayor's Brunch
The Mayor's Brunch (Loudermilk Center Toyota Ballroom; 10am – 12pm) will feature an intimate one-on-one conversation with Mayor Bottoms and Rembert Browne, one of America's most respected culture writers and Atlanta native. Their conversation will cover many topics including Bottoms' journey from Frederick Douglass High School, the true culture of Atlanta, the balance of growing a city and making it open to all, while wanting to retain the essence near and dear to those "made in Atlanta."
Featured Panel
Women leaders and trailblazers in the music industry discuss the challenges and achievements on their journey to create and build their individual brand and careers. The panel features Dina Marto, Whitney-Gayle Benta, Dia Simms, Nicole Wyskoarko, Phylicia Fant and Janee Bolden.
Mentorship Sessions
Mentorship sessions enable attendees to gain insight and advice from one-on-one conversations with industry experts Nicole Bilzerian, Nicole Wyskoarko, Uwonda Carter Scott, and Malita the Mogul.
Girl Connected hosted by Lola Plaka
A mentorship program that pairs aspiring female professionals with some of Plaku's successful industry colleagues to help them learn the ins and outs of the business.
Meet the Founder: Fusicology's Asya Shein
Learn from Asya Shein's 15+ years in the music industry. Fusicology is a hub for progressive culture and lifestyle events, aggregating local and national event listings, relevant news, and music. Fusicology serves as a multi-faceted marketing entity for influencers that live and breathe music, fashion, style, and subculture.
An Evening With Ethiopia Habtemariam
This closing event will acknowledge the work and impact Habtemariam has made in music. After a 30-minute conversation hosted by Janee Bolden, Habtemariam will take audience questions. A mixer and meet-and-greet will follow, featuring all the women participating in the Women In Charge programming. This will be a special evening to connect with some of the most influential women in music.
A3C FESTIVAL @ GA FREIGHT DEPOT
WU-TANG CLAN LIL WAYNE THE DIPLOMATS J.I.D. TRINA YOUNG M.A. CURREN$Y PRHYME (ROYCE DA 5'9 & DJ PREMIER) TALIB KWELI MANNIE FRESH WESTSIDE GUNN + CONWAY SAWEETIE CHILDISH MAJOR LIGHTSKINKEISHA DEANTE HITCHCOCK LUTE YUNG BABY TATE LOU THE HUMAN JARREN BENTON & KATO ON THE TRACK STEVIE STONE & JL CALEBORATE ISHDARR