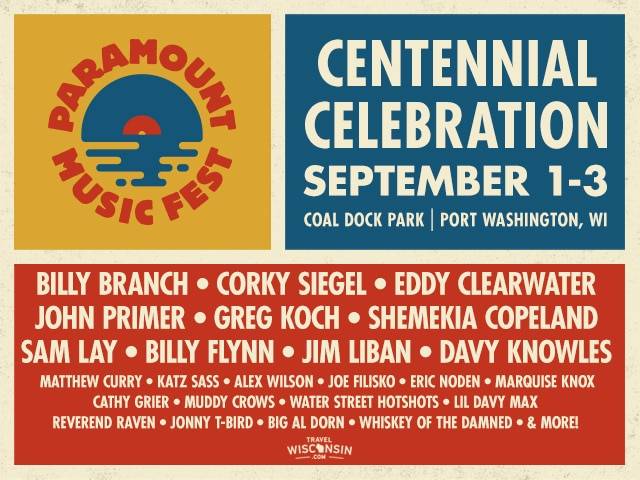 Coal Dock Park – Main Stage
190 S. Wisconsin Street
Port Washington, WI
Paramount Music Fest – Stage 2
190 S. Wisconsin Street
Port Washington, WI
---
September 1-3, 2017
Advance prices end August 30
Gate prices will be higher. Fri $15, Sat & Sun $35 each. Only individual day tickets will be available at the gate. Get your weekend pass online NOW. You can also purchase tickets in person at Raymond's Auto Body on hwy 60 in Cedarburg, Sir James Pub in Port Washington, and The Fermentorium in Cedarburg. Tickets at these locations will be available starting August 19 and will be available while they last up to the weekend of the festival.
There will NOT be VIP passes available at the gate and VIP sales will end August 27.
OTHER ACTIVITIES LABOR DAY WEEKEND INCLUDE:
Fri/Sat/Sun the Tall Ship – Denis Sullivan will be in town, cruises and deck tours will be available
Saturday 10:30am – Historian Gayle Dean Wardlow will speak at Seven Hills pub & Grille located inside the Country Inn & Suites. No shuttle to the hotel at this time. Drive to the hotel, park at the park in ride next to the hotel and jump on the shuttle to the festival grounds after the lecture.
Saturday – Ride for All my Friends will end at the festival grounds. Parking for riders (bikes only) will be available some parking will be pavement, most will be grass, bring your kickstand stabilizer.