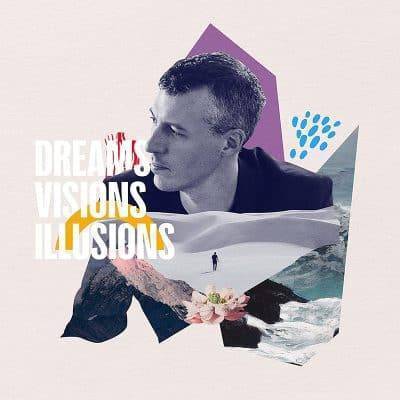 Nick Finzer
Dreams, Visions, Illusions
Outside in Music
Trombonist, composer, arranger, producer and Outside In Music label founder Nick Finzer delivers Dreams, Visions, Illusions with his long running sextet. The album follows his 2021 album Out of Focus and is a cousin to his 2020 sextet recording Characters. Finzer's sextet features tenor saxophonist and bass clarinetist Lucas Pino, guitarist Alex Wintz, pianist Glenn Zalenski, bassist Dave Baron and drummer Jimmy Macbride. The inspired album was the result of a New Jazz Works grant courtesy of Chamber Music America, an American not-for-profit that provides a variety of resources to small-ensemble practitioners. The program is funded by the Doris Duke Charitable Foundation, which directly supports the performing arts via generous grants.
The concept of the album is to essentially mirror the creative process. In other words, the idea may begin initially as a dream, takes shape during the vision phase when the musician may actually be sharing and executing the idea with others. The Illusions part is dealing with expectations and could involve escape from day-to-day routines to maintain sanity. Finzer has four compositions in the Dreams segment and three in each of the others.
The animated "To Dream a Bigger Dream" opens with robust solos from Finzer and Pino on tenor backed by impressive stick work from MacBride and Zalenski's comping to form a determined, concise statement. The tone changes markedly on "Aspirations and Convictions," as if to connote a reflective reevaluation of the former. Dave Baron takes a measured bass solo followed by a rather agitated passage that involves focused interplay. Finzer expresses it this way, "When you set out on your romanticized journey, you aspire to overcome, despite the world telling you not to do it. Your dreams cloud your mind's clarity and you're passionate about your mission, so why wouldn't it happen?" "Follow Your Heart"
Is even more introspective, as if one is plunged right into the depths of decision-making. The trombone and Pino's bass clarinet set a serious, almost somber tone in the Intro that brightens as the piece commences. Finzer's rapid clusters in his solo launch shimmering turns from Zalenski and a vigorous conversation between Wintz and the drum-bass tandem.
The Visions section begins with the flowing, explorative "I Thought I Should Take The Road Less Traveled," meant to capture the difficult choices each creative person must face. In particular it deals with choices one must make when there are no longer role models to follow. After the ensemble section, Wintz steps forward as the lead voice with simpatico accompaniment from the sextet before yielding to the leader who leads the ensemble into more intense territory before exiting calmly. "But I Did What They Said" is similar, though edgier and darker in tone as if one has encountered disappointment in following the rules. Finzer and Pino express such in their poignant solos, a frowning musical "so, this is what I get." "To the 'Top,'" is the counterbalance, a healthy reflection about the good news and experiences one enjoyed, buoyed by Zalenski's pianism and an enlivened solo from the leader.
"Vision or Mirage?" has the listener seemingly suspended in midair as it opens the Illusions section. Finzer's wobbly solo reflects his view of the composition – "You might not be able to tell the difference between what you think is real and what the rest of the world feels is real." Although Finzer highlights it as a feature for Zalenski in the notes, his trombone is the dominant voice, Zalenski's poignant chording notwithstanding. "Waking Up" paints the picture of one slow to rise, with Pino again on bass clarinet, and Macbride gradually pushing the tempo to connote how daybreak has finally arrived, Finzer's bright solo emblematic of accepting that reality. The rhythmic guitar driven, Detroit-infused "Now, Then and When" ends the journey on an optimistic, reveling in the idea that the whole idea of this quest was to follow the muse and make music.
You'll rarely encounter an album that explores the thought process and various emotional/mental phases of making music. This writer can't recall any other attempts. In his multiple roles as musician, bandleader, producer, and label owner Finzer has a deep appreciation for the process. Yet, even if you didn't know the theme behind this music, you'd likely find it intriguing.
Help Support Making a Scene
Your Support helps us pay for our server and allows us to continue to bring you the best coverage for the Indie Artists and the fans that Love them!
Make a one-time donation
Make a monthly donation
Make a yearly donation
Choose an amount
Or enter a custom amount
$
---
Your contribution is appreciated.
Your contribution is appreciated.
Your contribution is appreciated.
Donate
Donate monthly
Donate yearly
You can donate directly through Paypal!
Subscribe to Our Newsletter