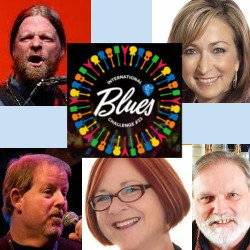 SHOW #353 – 01/16/17 – IBC PREVIEW SHOW #2
​Listen here: https://goo.gl/MzO4ag
Show Length: 2:02:32

MATT ISBELL – Bandleader of Ghost Town Blues Band
2013 Band Finalist / 2014 2nd Place Band
Matt and I discussed his thoughts on the IBC and the rules you need to follow.  Matt also talked about the result of GTBB appearing in the IBC and the things he found most beneficial.
WEB SITE       FACEBOOK PAGE
| | |
| --- | --- |
| ​ | |
VENUE COORDINATOR ROUNDTABLE – Segment Begins At The 34:00 Mark
We sat with three venue coordinators who talked about the issues which effect both bands and the fans at the IBC…some great advice from Pat Pepin, world-known sax player and three-time IBC Challenger;  Kyle Deibler, a 2-time Keeping The Blues Alive Recipient who acted as venue coordinator at Rum Boogie Cafe for over 10 years and Greg "Slim Lively" Johnson, President of the Cascade Blues Association, a KBA Recipient and venue coordinator at Club 152 for over 10 years.
PAT PEPIN WEB SITE       PAT PEPIN FACEBOOK
KYLE DEIBLER FACEBOOK       GREG 'SLIM LIVELY' JOHNSON FACEBOOK
CASCADE BLUES ASSOCIATION WEB SITE
​

JANICE JOHNSTON – Executive Committee Member / H.A.R.T. Fund Liaison
Segment Begins At The 1:37:00 Mark
Dr. Janice came by to talk about the Free Health Clinics available to all Blues Foundation Members during IBC Week. We discussed how these have helped numerous musicians over the last 4 years. She also talked about the H.A.R.T. Fund and all it does to help the Foundation Membership.
H.A.R.T. FUND WEBSITE
Songs played:
Tie My Worries To A Stone – Ghost Town Blues Band – Long Road To Hoe
One At A Time – Eddie Cotton Jr. – One At A Time
Ain't Got No Troubles – Eden Brent – Ain't Got No Troubles
Wrong Side Of The Blues – Trampled Under Foot – Wrong Side Of The Blues