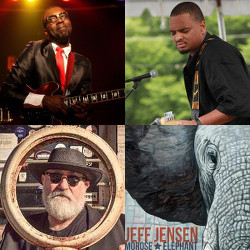 SHOW # 251 – 01/12/15 – IBC PREVIEW

Mr. SIPP – 2014 Band Challenge Winner
Mr. Sipp spoke about his coming to the IBC in 2013 and the many friends he made. He described the Challenge as a group of friends, competing but always willing to assist. He and his band took the judges comments from that year and worked on their talent and stage presence and he attributed those comments to his win in 2014. We also heard about some of the perks earned by winning the Challenge.

JAREKUS SINGLETON – 2011, 2012, 2013 & 2014 Band Challenger
Segment Begins At The 33:40 Mark
Jarekus spoke openly about his disappointment in appearing at the IBC 4 times and not making the final stage. We talked about the judging comments he received and how he worked to 'up his game' each year. We also shared that, even without a final stage appearance, Jarekus is on top of the world with his being signed by Alligator Records and his three 2015 Blues Music Award Nominations. Jarekus shared his most important piece of advice for those coming to the IBC this year, or in the future.

MICK KOLASSA – IBC Judge – Segment Begins At The 1:01:53 Mark
Mick gave a wonderful primer for all IBC Challengers on the scoring system and how judges react the performances by the Challengers. he covered Blues content, originality, Talent, Vocals, and stage presence, sharing tales to illustrate his points. We also spoke about the Health Fair, which occurs in Memphis, and were joined by Dr. Janice Johnston who put this great service together. Dr. Johnston will join me Wednesday morning in Memphis to speak in more detail.
MICK'S WEB SITE MICK'S FACEBOOK PAGE
JANICE'S WEB SITE JANICE'S FACEBOOK PAGE

JEFF JENSEN – COUCH KID NEW MUSIC – WORLD PREMIER
Segment Begins At The 1:34:57 Mark
Jeff brought his album Morose Elephant, which will not drop until February 3, 2015 to share with our listeners and I was incredibly honored. We spoke about the recording of the album and a number of the songs as we shared 5 of the 11 songs from the album. Jeff spoke about his songwriting and how it has developed and gotten stronger. Through a question by Victor Wainwright in the chat room, Jeff spoke about the most difficult song to record on the album; which sheds a new light on the tune. He also shared that pre-orders will be mailed this week, so watch your mailbox!
TO LISTEN TO THIS SHOW:
1) Go to http://www.musiconthecouch.com/#!2015-ibc/cwux and click the graphic for Show # 251
Or
2) Click This Link and the show will be downloaded to your computer: http://www.blogtalkradio.com/convertplaylist.aspx?PlayListUrl=http%3a%2f%2fwww.blogtalkradio.com%2fmusiconthecouch%2fplay_list.xml%3fshow_id%3d7211825&OutputType=m3u