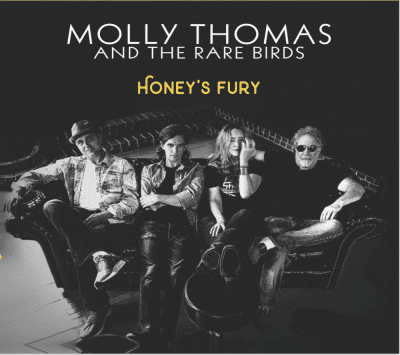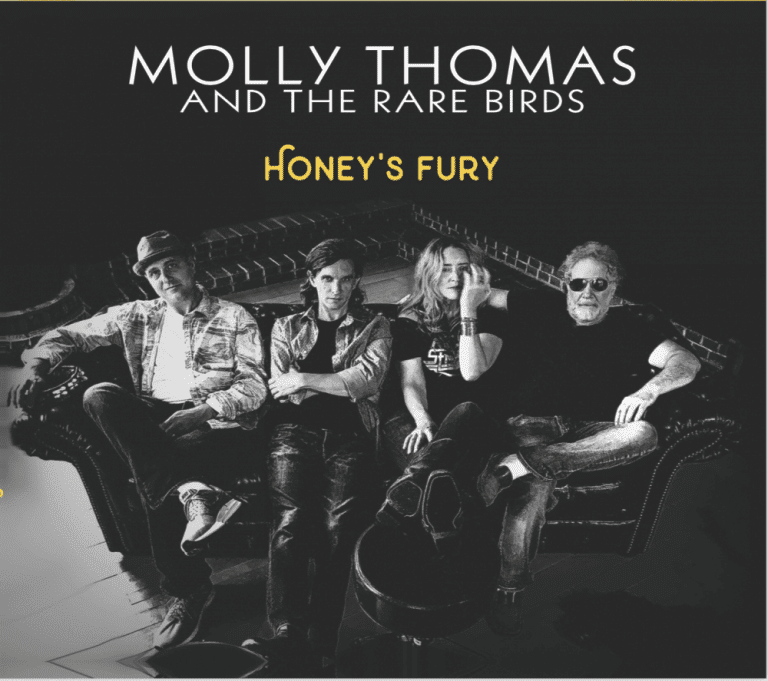 Molly Thomas and The Rare Birds
Honey's Fury
Kaigler's Bottom Records
From the first drop of the needle, Honey's Fury is evident. There is an urgency to these songs. They enlighten, and empower. These are honest songs that capture the exact moment one decides the moment has come. A band that prides itself on authenticity, Molly Thomas and the Rare Birds have raised the bar a bit. Multi-instrumentalist Molly Thomas sings with a raw power that commands attention. The Rare Birds are purposeful. Every note and instrument choice serves the song in the best possible light.
Individually these artists are exceptional, they are rare birds and together they are formidable. Molly Thomas and The Rare Birds are; Molly Thomas, Rick Hirsch, John Keuler, and John Milham. Molly Thomas and Rick Hirsch produced the album, and Trina Shoemaker was adjunct producer and mixing engineer. Guest artists include; Red Young who plays piano and Courtney Blackwell who plays cello on "Sharona". Red also plays Hammond B3 organ on "Tear It Down", Courtney plays cello on "Thank You". Guest vocalists include; Keylan Laxton, Josh Daigrepont, Ryan Avinger, Ellen Corley and Whitney Jordan on "Tear It Down"
The opening song is "The Boatman", co-written with Amelia White, and the Celtic violin paired with a dramatic military snare-drum convey that this album means business. This urgency continues with the full-out sultry blues ballad "I Wanna Live". Written by Mando Saenz, (who also adds vocals) and Jess Brown, this song has been stuck on replay.
"Got my best cotton dress on

stickin' to my skin.

Part of me is dressed for travelin'

part of me is dressed for sin"
Molly's vocals are damn powerful and goosebumps worthy. The song simply rocks. The mournful "Tumbleweed", written by Jack Tempchin, is beautiful in its simplicity and breathy vocals. The guitars ring brightly against the deep hollow drum beats. Molly's "Laura", co-written with Ken Rose, has a sixties pop, girl-group feel to it. "I'll Meet You Anywhere", co-written with Rick Hirsch, evokes a worldly feel. It's mood is certainly lighter. It's a love song.
Two songs anchor the middle of the album, and alone are worth the cost of admission. Honey's Fury returns again with "Calling My Name", co-written with Christopher Hoffee and Rick Hirsch. This is a song that, like "The Boatman" is dramatic from the first guitar chords and war-like drumbeat. Molly's vocal drives the song through a series of crescendos that ebb and flow in a dream-like crashing and calming. "Sharona" written with Amelia White is simply stunning! This will be claimed by many as their theme song. Lyrically it heals, it confides, it hold fast your secrets, and it breaks your heart. The soft patter of drum, classic keyboard, and uplifting violins are beautifully arranged. Molly's achingly beautiful vocals are waveringly perfect. The cello solo heightens the drama. Sigh, songs just don't get better than this.
"Tear It Down" is powerful. The driving guitar and percussion assures you pay close attention. The quintessential I've had enough song. The full chorus calls out injustice with its;
"The flood is rising quick and he's losing his grip.

The white man's dog is eating better

while the stamp baby's sucking on sugar.

Stuck as a summer bridge dweller.

Losing bets with a fortune teller.

High hopes as a blue collar worker.

No side door anymore, want the front door.

Tear it down."
"All Used Up" is a rolling waltz that finally gives in. "Thank You" classically mourns the loss of love. Sparse piano and guitar, this is predominantly performed with orchestral strings. "Stay Stay" achingly plays through a one-sided love and the decision to stay. The album ends with "The Ocean". The fiddle, hand-claps, and driving warrior drum-beat give it a Celtic feel. Overall, the album is cohesive. The songs are sequenced beautifully, they tell a story, they tell your story. If you are a lover of well crafted songs, add Honey's Fury to your collection. Get two, you'll want to share these songs with a friend.