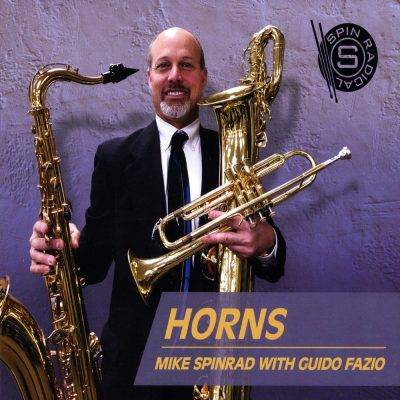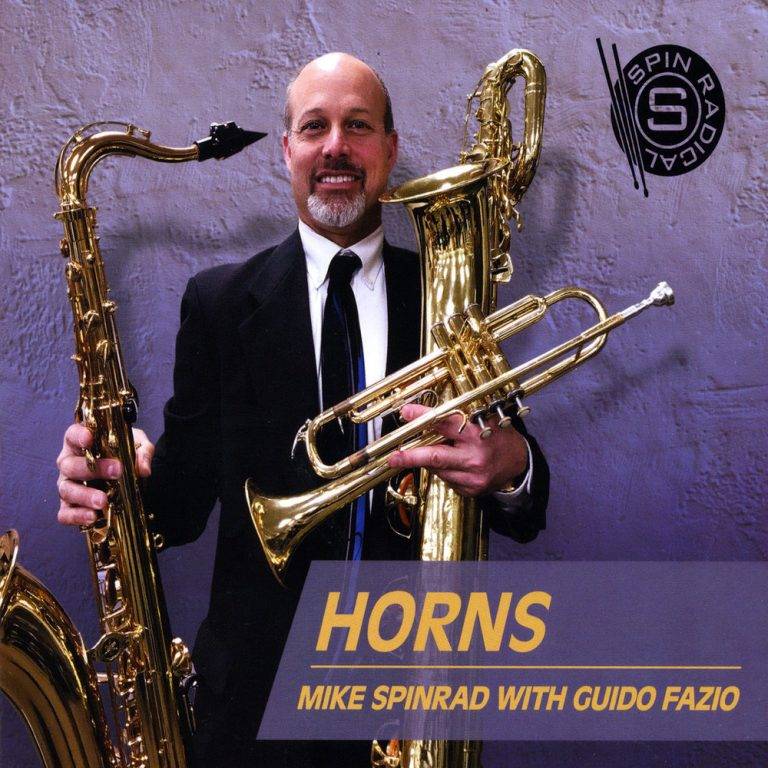 Mike Spinrad
Horns
Spin Radical
It's not often that you'll find a jazz drummer releasing an entire album of original compositions. Not only does San Francisco Bay area-based Mike Spinrad have an affinity for engaging melodies but this album has an upbeat, enthusiastic feel throughout. The players are clearly having fun.
This is Spinrad's second album as a leader following It's Morning, a piano trio project released in 2001. For this effort Spinrad wanted to add more textures and did so by adding a three piece horn section and an organ rather than a piano on some tunes. Spinrad performs regularly in his home area with his sextet, pop and liturgical groups. He has numerous cohorts to draw from. First call was to Guido Fazio, whose name is also on the cover. Fazio arranged the horn sections and plays the tenor sax and flute. Joining him is Richard Conway, a notable Bay area big band and combo player in the Bay area, on trumpet and flugelhorn. Larry Stewart, a regular in Spinrad's bands, plays baritone sax here. Given scheduling issues in the studio, Spinrad has four different bassists involved. Don Turney is on the piano and organ. Turney produced Spinrad's first CD and did the recording, mixing, and mastering for this one.
Spinrad begins with the bluesy, somewhat funky "Smarbar," the name derived as an acronym of his five children. It's an interesting horn ensemble arrangement, with expressive solos from Fazio and a showcase for Spinrad's polyrhythms. It's the first example of the other six tunes named after other people in the leader's life, the exception being "Texarkana." That one was written because it reminded him of touring through Texarkana and Arkansas. He usually closes his live set with this tune.
"Betty 'N Hy" is named after his parents. The call and response structure is emblematic of his parents communicating with each other as he remembered from his childhood. Turney's organ gives it a '60s kind of groove. Like the opening tune, "Chaim" is written with pianist John Groves. It has a medium bop tempo whereas "Shelia" is a ballad that opens with his drum solo via mallets and later features some beautiful flugelhorn from Conway. The former was named after his father; the latter after his dog.
"Raul" has some terrific bass playing from Daniel Parenti and is purposely Cuban in its rhythmic approach, named after a fun-loving Cuban co-worker. Hence, the liveliness of the track. "Brooke" has passages that sound familiar because the chord structure is based on the bop standard "Cherokee" with a different melody line on top. This one also has call and response but here it takes place between the trumpet and the saxes. Latin comes again in the cha-cha "Manny," done in a minor key and named after his grandfather.
This is a spirited, bouncy outing revealing Spinrad's strong composing skills, Fazio's stellar arrangements, solid ensemble work, and some terrific soloing. The mix of styles helps too as there are both blues and Latin currents running through several tunes.
[amazon_link asins='B07DYL6WF6,B000CADTKG,B00QMMFC0I,B00QMMF9N8,B00QMMF708,B00QMMF3HA,B00QMMF0IW,B00QMMEY84,B00QMMEUV0′ template='ProductCarousel' store='maasc-20′ marketplace='US' link_id='fe6194ea-b74e-11e8-afea-d342c711c637′]