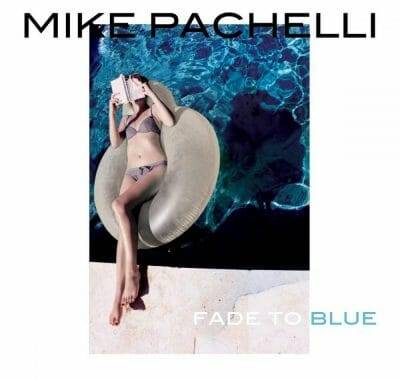 Mike Pachelli
Fade to Blue
Fullblast Recordings
Michael Pachelli was raised in Youngstown, Ohio. His earliest guitar influence was Wes Montgomery. He studied classical guitar at Youngstown State University before moving to New York City to study bebop with Joe Pass and Pat Martino. He has toured with Brother Jack McDuff and Albert King among many others.
Pachelli owns and operates the Fullblast Recording Studios in Nashville, Tn. Pachelli's first recording was 1995's "In The Now" recorded with Phil Keaggy on The Fullblast imprint. Pachelli released "Meeting Point" in 2011 although the track featuring McDuff was recorded much earlier.
This is Pachelli's sixteenth recording overall. As the title would imply "Fade to Blue" is a concept album. Pachelli's guitar style combines influences from blues, jazz, and rock. The band on this recording consists of Pachelli, guitar and vocals; Kevin McKendree, piano and B-3; Baba Elefante, bass; and Rich Russo, drums. All of the songs were written by Pachelli.
The opener "You Got Me Where You Want Me" is a groove with great guitar from Pachelli who injects jazz rock and funk into his blues. Pachelli's vocal here is airy, sort of like Steely Dan or Michael Franks. McKendree takes a beautiful B-3 solo.
"Mediocre Lovin'" is more straight ahead blues rock. "Mediocre Lovin' is good enough for me". Again McKendree's B-3 is outstanding. This track should receive a significant amount of airplay.
"You Make Livin' Fun" is a great celebration. Pachelli's gets a great tone from his guitar. Keaggy sits in on rhythm guitar.
"I Need My Baby By My Side" becomes a great rockin' anthem. Pachelli's jazzy guitar solo has flashes of Al Di Meola.
"Steppin' Stone" is all funk with the line "smile on your brother cause it's the right thing to do". On this track and on "Let's Cut a Rug" Bryan Cummings's horn and background vocalists Cecile Pachelli, Regina McCrary and Kenny Marks are added.
The rhythm section of Elefante and Russo are superb throughout the recording. Pachelli's great guitar playing and superb production make this recording recommended listening.
Richard Ludmerer