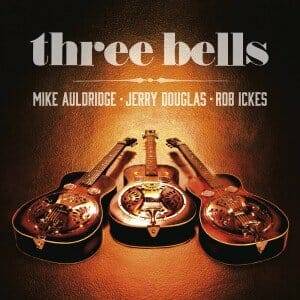 Mike Auldridge, Jerry Douglas, Rob Ickes
Three Bells
Rounder Records
Mike Auldridge, Jerry Douglas, and Rob Ickes are the three premier resophonic guitar or Dobro players of our time. These tracks were recorded between May and September of 2012.
Mike Auldridge was a founding member of The Seldom Scene. He formed the Seldom Scene in 1971 along with John Duffey, mandolin; Ben Eldridge, banjo; Tom Gray, bass; and John Starling guitar. In 1994 in order to play more often Auldridge formed another band, Chesepeake, with Jimmy Gaudreau; T. Michael Coleman, and Moondi Klein. That band remained together for five years. Auldridge has recorded solo albums of his own including the much heralded 2002 "Dobro, Blues, and Bluegrass". Auldridge toured with Lyle Lovett and also as part of the Emmy Lou Harris Band. He appears on Harris's 2008 album "All I Intended to Be". He is a Grammy winner and also holds an International Bluegrass Music Association Distinguished Achievement Award. Unfortunately Mike Auldridge passed away on December 29, 2012 just three months after recording this album.
Like Mike Auldridge, Jerry Douglas learned to play the dobro from listening to Uncle Josh Graves, the dobro player with Lester Flatt, Earl Scruggs and The Foggy Mountain Boys. Douglas, born May 28th 1956, appears on over 1600 albums and has won thirteen Grammys awards. Eight of these awards came as a member of Alison Krauss and Union Station. He also holds eighteen IBMA Awards. Douglas, who has played with everyone, recently produced a tribute to his mentors called "The Earls of Leicester".
Rob Ickes has learned from both Auldridge and Douglas. Ickes is a founding member of the band Blue Highway which has been together since 1994. Ickes holds thirteen IBMA Dobro Player of the Year awards and is the most awarded instrumentalist in the history of the IBMA. He also has five solo albums in his own name.
This is an instrumental dobro summit. The dobros are arranged so that Douglas is on the left, Auldridge is in the middle, and Ickes on the right. Auldridge contributes "For Buddy". "The Perils of Private Mulvaney" was written by Douglas while he and Stuart Duncan co-authored "North". "Dobro Heaven" and "The Message" are from Ickes.
Included also are pop standards "Silver Threads Among the Gold"; "Sunrise Serenade"; and a medley of Meredith Wilson's "Till There was you" and Johnny Mercer's "Moon River". "I'm using my Bible for a Roundmap" is from banjo sensation Don Reno while the "Panhandle Rag" is from steel guitarist Leon McAuliffe who played with Bob Wills and The Texas Playboys. The title track "The Tree Bells" is the Jean Villard-Bert Reisfeld song popularized by the Browns but of course it's another instrumental.
This is a great album. It's not Bluegrass; it's not hillbilly jazz. It's Americana.
Richard Ludmerer