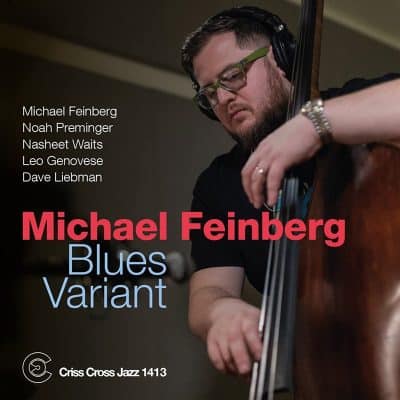 Michael Feinberg
Blues Variant
Criss Cross
Bassist and composer Michael Feinberg gathers an elite group of jazz musicians to honor the spirit of Elvin Jones specifically and John Coltrane's classic quartet in general. The bassist contributes six originals, one from Tenor saxophonist Noah Preminger, one from pianist Leo Genovese, and his own arrangement of Herbie Hancock's "Eye of the Hurricane." The other members of this quintet are Coltrane disciple and Elvin Jones bandmate, soprano saxophonist Dave Liebman and drummer Nasheet Waits. Feinberg has played often will these players except for Liebman, the NEA Jazz Master, who is an asset to any session. Feinberg claims to know every note of 1982's Earth Jones, where Liebman, along with trumpeter Terumaso Hino, bassist George Mraz, and pianist Kenny Kirkland, were part of the Elvin Jones-led group. Feinberg is versatile with a range that extends to deep funk and heavy swing. His background includes blues bands, pop bands, Latin bands, and close association with many prominent alumni, like himself, from the University of Miami's Frost School of Music.
The album kicks off with title track. Preminger states the theme with Genovese all over the keys, especially with rapid run right hand lines as Feinberg walks a steady ostinato bass line that maneuvers the trio rendered piece of blues variations into heavy swing toward the end. "Saqqara" takes its name from an ancient important Egyptian village. Again, the sparkling, floating Genovese steps forth with Waits propelling Preminger into a theme that wafts exotically Middle Eastern and cinematic in scope while the leader keeps the bottom sturdy. The composer Preminger confidently expresses himself on his own "High or Booze" (rhymes with minor blues), a tune that first appeared on his own 2022 Criss Cross release, Sky Continuous. Waits adds great cymbal and snare work behind Genovese's Fender Rhodes solo, before the composer launches an explorative foray over Feinberg's angular bassline.
Feinberg's "Healing Power of GRITS" is in spirt of Cannonball Adderley's Mercy Mercy, Mercy, with shades of Ramsey Lewis as Genovese again This works the Rhodes both soloing and comping behind Preminger's by turns lyrical and hard-edged solo while the leader and Waits underpin a dark, funky bottom. This leads to Hancock's "Eye of the Hurricane," one where you clearly hear Feinberg in fine pizzicato accompanying Leibman's first of three appearances on soaring soprano. Genovese takes a wild solo on the acoustic piano before making way for Preminger's aggressive turn. All join for an explosive climax.
Fienberg's "The Water Spirit Brought Us, The Water Spirit Will Take Us Home" does feature some rare soloing from the leader in a tune that's inspired by Liebman's waltz tunes of the 70s-80s, thus another feature for the master of the soprano, glistening pianism from Genovese, and a nod from Preminger to Coltrane's late period sound. Admittedly one has to listen very closely to find blues in most of these "unconventional blues" seeking compositions. Genovese answers that challenge with his own "Gather Power," a rather majestic series of solos, first from an emotive Liebman, Genovese in a Bley meets Tyner style, Preminger commanding in his soulful approach in both the low and high registers and Waits channeling his inner Elvin.
Feinberg displays his heartfelt unaccompanied blues plucking with "Improvisation (for Leslie)" that segues to the gentle, Rhodes driven, electric bass powered "Cycle Song" where Preminger is most melodic in what comes across as one of the simpler, more accessible pieces. We are jolted out of trance-like state for rollicking "Year of the Ox," again replete with exuberant solos from Genovese on Rhodes and Preminger's free flowing tenor.
There's plenty of high-octane energy and combustible moments in this varied, certainly unconventional set of blues variations. It's at a sophisticated level well beyond the jazz that you usually associate with blues whether that's bebop or soul-jazz. Feinberg and these cats have found something that much deeper.
Help Support Making a Scene
Your Support helps us pay for our server and allows us to continue to bring you the best coverage for the Indie Artists and the fans that Love them!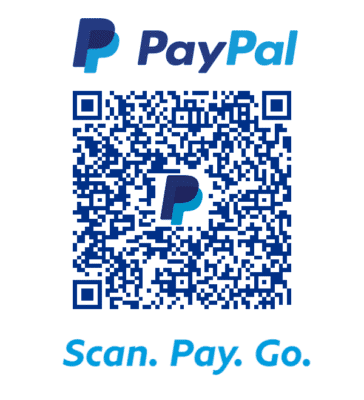 FOLLOW US ON INSTAGRAM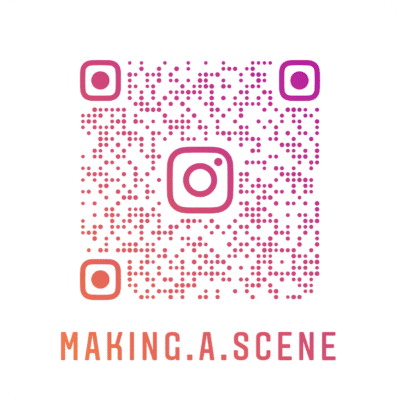 Subscribe to Our Newsletter