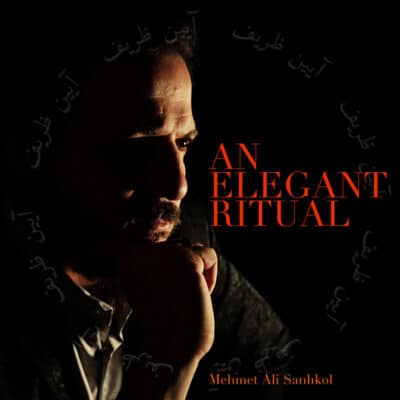 Mehmet Ali Sanlikol
An Elegant Ritual
DÜNYA
Last year one of our Top 30 Jazz albums was from multi-instrumentalist and composer Mehmet Ali Sanlikol leading a large ensemble featuring NEA Jazz Master Dave Liebman for The Rise Up: Stories of Strife, Struggle, and Inspiration.  This one, An Elegant Ritual, is almost entirely different as Sanlikol is in a piano trio setting, yet the merging of Turkish music with contemporary jazz is still present as Sanlikol both plays piano and ney (a traditional kind of Middle Eastern wooden flute) and sings, accompanied by James Heazlewood-Dale on acoustic bass and George Lernis on drums, gongs, and bendir (a wooden frame drum typical in the Middle East). The vocalisations and instrument choices do create a departure from typical piano trio settings, although Sanlikol does try to uphold the tradition, as he, a scholar of world music, draws from other worldly conventions beyond his usual Middle East favoring, to include Indonesian gongs. This is Sanlikol's first recorded trio outing and was recording live devoid of overdubs or special effects. He makes a direct overture to the piano trio idiom by including the standard "Invitation" and his composition "Lost inside," both of which have the usual piano-bass-drums configuration without any additional instruments or Turkish/world music influences.
Most of it though is a blend of the Turkish and other influences as Sanlikol vocalizes on most of the tunes, where he also strives to honor the Turkish modes and rhythms. No matter how you slice it, this is quite different than what most of us expect from a piano trio. Structurally, the album is modeled after a Sufi whirling dervish ritual with influences from Coltrane's A Love Supreme.  This ritual typically features a central composition bookended by an opening call (i.e., "Prelude") and preparatory piece in front and two upbeat pieces at the end. Here, like Coltrane's masterpiece, the central composition has four movements and Sanlikol makes a concerted effort to infuse the music, especially the title track, with spirituality.
You hear Sanlikol's vocals right away on "Prelude" or 'opening call" followed with more vocalizing on the "preparatory piece" "The 7th Day" which features some bright, interesting rapid runs and piano chords. "Lost Inside," following an interlude, begins the four-movement album centerpiece with remarkable interplay between the three players. "Arayis/In Search" and the title track are both extended, ambitious pieces that are filled with improvisational passages. Clearly though, you will be hearing some combinations that have never been heard in this kind of setting. The opening duo of the bass and ney in unison has the bass playing the challenging natural harmonics at the very top of its range which complemented the tones of the ney. The use of the gongs was complex too. It took over six months for Lernis and Sanlikol to find, order, and properly arrange the gongs but it took Lernis only a short time to play the interlocking gong and drums pattern.
Sanlikol describes his vocal style as a blend of Turkish aesthetics and scat-singing – like a bridge between two traditions. The best examples of this are in the opening "Prelude" and again in "Hasret: Anadolu Jazz." In the comparison to Coltrane's classic, Sanlikol's voice is like adding a horn to the instrumentation. The album ends with "Invitation," nodding to the jazz tradition, as previously mentioned. That is preceded by "Postlude," the combination serving as the two upbeat pieces at the end of the Sufi whirling dervish ritual.
By the way, the stamp of approval so to speak, is that renowned producer and NY Times Best Selling author Kabir Sehgal comments in the liners, most of which contain remarkable details about the project from Sanlikol, that "From the first notes, you know that you're in for an adventure, not just one that spans East and West. But that of a cognitive leap towards what music can be."
In his large ensemble project, we had the comparison to Miles Davis' Sketches of Spain. Here we have a less direct comparison to A Love Supreme but in the final analysis, Sanlikol is unique as both references are a bit of a stretch. Wade in for something utterly new and you may find yourself immersed in the deep end of these remarkable sounds.
Help Support Making a Scene
Your Support helps us pay for our server and allows us to continue to bring you the best coverage for the Indie Artists and the fans that Love them!
Make a one-time donation
Make a monthly donation
Make a yearly donation
Choose an amount
Or enter a custom amount
$
---
Your contribution is appreciated.
Your contribution is appreciated.
Your contribution is appreciated.
Donate
Donate monthly
Donate yearly
You can donate directly through Paypal!
Subscribe to Our Newsletter
Find our Podcasts on these outlets