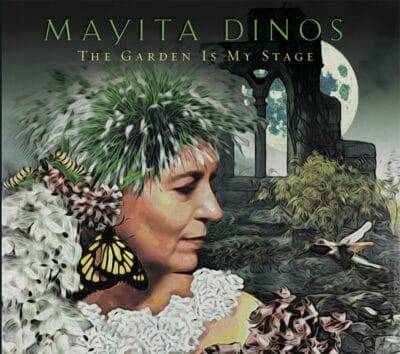 Mayita Dinos
The Garden Is my Stage
Dash Hoffman
Maybe this writer is just a bit biased toward landscape designers. After all, my wife is one of them. However, she doesn't have dual talents of being vocalist like Mayita Dinos, who is making her debut as singer, with songs naturally themed on nature and gardens. There's some warm music here and a few backstories that would rival those of any musician. We'll start with the most recent one and work our way back.
In the liners Dinos describes the fortuitous event that led to this recording. – "As the sun set, I stood in the Pine Forest of the Arlington Garden in Pasadena, California. It was Earth Day, April 22, 2018, and this garden, the crown jewel of my decade-long career as a landscape designer, was the venue for a very special concert. The Rich Eames Trio started playing the haunting intro to Joni Mitchell's "Woodstock." After four bars, I walked into the Olive Allee and made my entrance to join them under fragrant blossoms of a wisteria trellis. My voice resonated through the audience clustered between the olive trees, and in that moment, my dream of combining my passions for creating sustainable gardens and making music came true. The garden became my stage." Following the show, and audience member Dan Davilla, offered to produce a cd of these songs and thus the project was born.
Dinos has a multi-cultural background as well because she was born in Puerto Rico and her family lived in Spain, Greece, and Turkey before settling in Queens where she lived in a complex designed to house United Nations employees and delegates. That's where she first became attracted to gardens, later studying in colleges in New York and Wisconsin, where she met her aspiring actor husband. They moved to L.A. so he could pursue his career but without even trying Dinos began appearing on TV shows as a landscape expert on the HGTV and DIY networks. Her husband coached her for her on-camera work. He also is a jazz fan and began taking her to jazz clubs, where she eventually began singing, tutored by the late Howlett Smith with whom she studied for five years.
So, that brings us back to this project. While Davilla served as executive producer, it's fellow vocalist Cathy Segal- Garcia (also serving as vocal coach) and guitarist Dori Amarilio, who did the arranging, who co-produced. Dinos comments on the latter, "…I hear tinges of flamenco, birdsong, rain, and the longing for reconciliation with nature in Dori's instrumentation, pulse and harmonic choices." The two co-producers have extensive networks and were able to tap some of southern California's best for the sessions. They include Bill Cantos and Rich Eames on piano, Gabe Davis on acoustic bass, Hussain Jiffry on electric bass, Michael Hunter on trumpet and fluegelhorn; Alex Budman on flute, clarinet, and soprano sax; Steve Hass on drums; Tiki Pasillas on drums and percussion with Amarilio on guitar.
Dinos has a soft, warm, smoky voice that is as calming as the landscapes she shapes. She makes the listener feel comfortable as her vocals flow easily and gently; nothing at all seems forced or tense. The selections are themed on the natural world, a highly imaginative cross section of tunes beginning with Charlie Parker's "Ornithology" and running through such gems as Jobim's "Double Rainbow," Strayhorn's "A Flower is a Lovesome Thing," Stevie Wonder's "Come Back as a Flower," Freddie Hubbard's "Little Sunflower," and Thelonious Monk's "Pannonica." Of course, Joni Mitchell's "Woodstock" is a centerpiece of sorts. She delivers a couple of standards toward the end in "Spanish Harlem" and "Willow Weep for Me'" and composed the melody for "La Lolla" and added the lyrics to Parker's opening tune.
This is an album for reflection. It's quiet, calming, and comforting. The musicians play sensitively in support of Dinos' articulate, genial, well-phrased delivery.