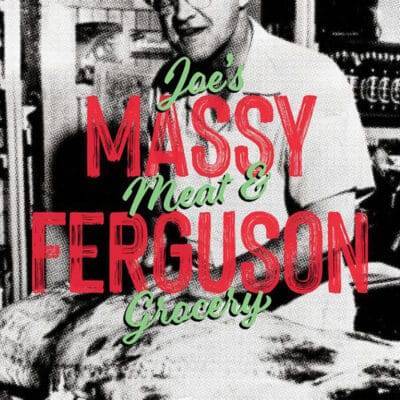 Massy Ferguson
Joe's Meat & Grocery
North & Left
Joe's Meat & Grocery is the sixth album for the Seattle-based alt-country rockers Massy Ferguson (MF), known for their jangling, no-holds barred guitar driven attack and their invigorated fusing of country-rock and amped-up Americana. You would expect a heavy, driving sound. After all, they take their name from a tractor company yet the focus here is more on the songs than on rocking out. On their 2019 release, Great Divides, this writer likened their sound to a Northwest version of the Drive-by Truckers. Others have compared their sound to Lucero, and even Springsteen. MF is a core unit of just four – Ethan Anderson (bass/lead vocals), Adam Monde (guitar), Fred Slater (keys) and Dave Goedde (drums). Anderson and Monde write the songs with themes rooted in small-town adolescence and wresting with the challenges of adulthood in the thriving city. Six guests contribute with dobro, pedal steel, harmonica, and other instruments.
The album takes its title from the family store that Monda's grandfather ran in the early 1900's in blue collar small town of Wenatchee, WA. Anderson claims these authors influence his heartland songwriting – Cormac McCarthy, Raymond Carver, Dennis Johnson, and Willie Vlautin. They may sound simple, but there's often a ton of detail and imagery wrapped into his storytelling, shifting moods from the dark to the exuberant. For more insight on this, you should reference the interview with Ethan Anderson on the pages, speaking with Richard upon the release of their 2019 Great Divides.
The blaring in-your-face sound is behind the opening standout track "Miles Away," a heavy rocker where one can envision the crowd singing in unison with the band on the infectious, anthemic chorus. This is one that would have fit comfortably on their last effort, delving into rigidly held beliefs that divide. The ever-confident Ethan Anderson delivers the lyrics directly and urgently, with the music climaxing tumultuously. Close your eyes. It's easy to see flag wavers marching along. The pulsating "Save What Couldn't Be Saved" with its lyrics of "worked three jobs" and Springsteen-like piano from Slater, oozes with similar honestly and heartland cred. "Fire of Life" has another impossibly infectious hook. You'll swear you've heard this song somewhere and will inevitably crank it up.
"I Don't Why" is more in a rootsy Americana vein while Kelly Van Camp's haunting harmonica imbues the hard driving "Backspin." "Off to See Rose" is one you may have caught via a premiere. Their harmonious singing in multiple octaves and complex musical layers stands out here. The lyrics are a combination of Monde's yearning to see his new-born niece Rose and Anderson's predilection for naturalist writers like Jack London and Henry Thoreau as the song was written with the two of them picking by a mountain lake. "Sister Roll Up" goes in the opposite direction with an unrelenting blast of rock. "Leave If You Want To" is another potent, blaring track but with harmonious singing from Anderson and Monda that also colors the country tinged "Off My Mind," punctuated by the guests, Darren Loucas on dobro and Iain Sloan on pedal steel.
"The Road Ahead" bears the same anthemic qualities as "Miles Away" with some of the most aggressive guitar playing on the album. Goedde's drums and Van Camp's harmonica take the reverberating "Hard Six" full throttle and into overdrive as Slater pounds the piano as if it's the last gig he'll play. MF has little choice but return to piano driven ballad of sorts in closing with "You Don't Bother Me," one of Anderson's best vocals.
In a recent interview, the veteran rocker Elvis Costello said that he didn't like much of today's rock. This writer, of a generation a bit older than Costello, concurs; yet there are bands such as Massy Ferguson and others mentioned in the opening, which continue to extend that contagious, irresistible spirit of rock n' roll. Let that spirit ring loud and clear.
Help Support Making a Scene
Your Support helps us pay for our server and allows us to continue to bring you the best coverage for the Indie Artists and the fans that Love them!
Make a one-time donation
Make a monthly donation
Make a yearly donation
Choose an amount
Or enter a custom amount
$
---
Your contribution is appreciated.
Your contribution is appreciated.
Your contribution is appreciated.
Donate
Donate monthly
Donate yearly
Subscribe to Our Newsletter