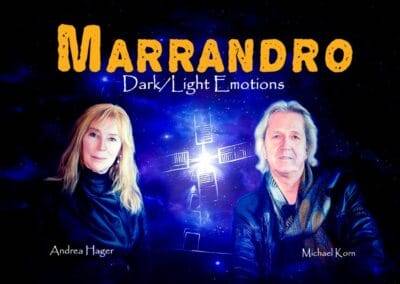 MARRANDRO
Dark Light Emotions
When two musicians meet who could hardly be more different … The result is something that can justifiably be called incredible … the new album by the duo MARRANDRO.
Who is this duo? MARRANDRO is on the one hand the songwriter Andrea Hager who has an unmistakable tendency towards the mystical and in her songs turns her innermost outward, sensitive, vulnerable and thoughtful. In addition there is Michael Korn, a well-known pop singer who conveys happiness with his songs and who is breaking completely new ground with this duo.
Nine songs in English, nine times to be amazed, that's what this album brings.
Already with the first song "Shadow Warrior" it is as if a curtain goes up, the light is dimmed and then there are only goosebumps. Followed by "Rainbow Night", a duet that couldn't be nicer. The different voices of the two artists, so lovely from Andrea and so full of tone from Michael fit together so perfectly that it is simply a pleasure to listen.
"Black Moon", as the title suggests, is a bit dark and very mystical, emotional and of course wonderfully performed by both of them.
"Be Masked", also one of the "darker" titles, sung so hauntingly and so touching.
"Demon Friends", what a song! It's like you can look deep into the souls of the musicians and I love the melody, gloomy and yet so stirring, so varied, one of my favorites on the album.
"Souls Life", a song like a dialogue between the two of them, a piece like something out of a musical, Andrea's voice seems made for this song and when both of them end up singing together, that's the perfect combination.
"Angel of My Night", a wonderful melody, reminds me a bit of the music on an old children's carousel on which the wooden horses spin. I don't mean to say that it sounds old-fashioned, it just sounds wonderful! Close your eyes and enjoy!
"Stormwings" is a song that tells of hope and waiting and again both artists are in dialogue with each other. A beautiful ballad.
"Power Of Fantasy," last song on the album and one with power, indeed. A brilliant ending to a brilliant album.
I've heard a lot of music, but the music from MARRANDRO is something very special. It's a fairy tale, a musical and stories that are sung.
It's magic and it gives you goosebumps, no question about it. And more variety than here is not possible! Dark, mystical, longing on the one hand, bright, positive and trendy on the other. In addition, the virtuously played instruments, from the electric guitar to the cello … everything just fits together perfectly. The ultimate play of two artists who couldn't fit better together even if they couldn't be more different!
Help Support Making a Scene
Your Support helps us pay for our server and allows us to continue to bring you the best coverage for the Indie Artists and the fans that Love them!
Make a one-time donation
Make a monthly donation
Make a yearly donation
Choose an amount
Or enter a custom amount
$
---
Your contribution is appreciated.
Your contribution is appreciated.
Your contribution is appreciated.
Donate
Donate monthly
Donate yearly
You can donate directly through Paypal!
Subscribe to Our Newsletter