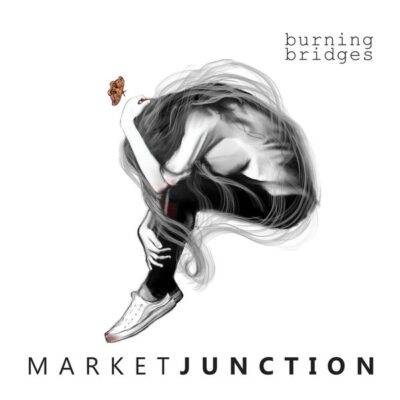 Market Junction
Burning Bridges
Self-released
Houston, Texas-based Market Junction grabs the listener right from the outset with lyrics to the opening "When Your Heart Begins to Break." Try this line – "Love is not an anchor that steadies you at sea. It's more like a shipwreck on a godforsaken beach." As the album unfolds, it's not long before you'll be making comparisons to The Eagles with their lilting country rock and flowing melodies. It's what The Eagles could have been, had they not gone so commercial and in an electric rock direction. In other words, The Eagles image in terms of comparison is along the vein of "Take It Easy," rather than "Hotel California." Anyway, enough on that topic: it's Market Junction's lyrics, their sense of humor and relatable insights that make Burning Bridges striking and endearing. Surely, the themes of heartbreak, yearning, and loss can lead to a melancholic vibe, but Market Junction delivers lush harmonies and varies the tone and tempos enough to not wear the themes down.
In fact, "Out of Love' is a bit more uplifting in tone than the opener as it touches on rock but has lines like these – "Years have left me here to rust, all because two hearts fell out of love." The country-tinged "I Hope It Breaks Your Heart" follows, weaving yet another tale of a relationship about to go on the skids. Those first three tracks serve as a kind of appetizer for the next two which, together are the centerpieces of the album, both having been released as singles already. "Nebraska," imbued with lap steel and mandola forming a dreamy backdrop, is a poignant ballad. Frontman Matt Parrish was channeling his former brother-in-law's life experience. Following divorce, that brother-in-law moved in as roommate of Parish's to help pay the mortgage. After the house sold, he moved out and travelled around the country rarely seen by Parrish. A phone call one day from the middle of nowhere, produced a conversation that led to the song. When asked what it's like out there, the response was "If you don't love wind or dust or corn, then there is no reason to visit a place like this. That sense of restlessness became the cornerstone lyric for the song. The relationship is drowning because work keeps the man on the road working.
"Western Coast" follows, painting yet another picture of desolation, marked by a bit of humor – "California's full of hippies, waiting tables, sleeping till noon" but the indelible chorus has the protagonist in a sorry state – "I'm all alone on this western coast, out of gas." In both tunes the narrator seems to be travelling to find something better, or to ponder his next step, only to be left with disappointment. Sometimes the heartbreak spurs the traveling and sometimes too much traveling is the cause of the heartbreak. Lines appear in other tracks that show the how well the themes are constructed and bound together. The lover is saying he lost without his mate on "Stone Will Sink" and "Hello My Dear" find the narrator hoping futilely to surprise his lover by returning home while fearing she's gone anyway. The pull it all together on the closing title track, the most somber of the bunch with this stellar line – "Time will take our youth and leave our mistakes." It's an album that could take you in either direction. You may relate so well to some of the lyrics that it could bring you down or lift you up, knowing that others have shared similar emotions.
Market Junction is Matt Parrish on lead vocals and acoustic guitar with his songwriting partner Justin Lofton on various instruments and background vocals. Taylor Hilyard on bass and Michael Blattel on drums form the rhythm section. Parrish's vocals are crystal clear and well-articulated throughout, Lofton is terrific on whatever instrument he plays, and the production values are superb. The listener can feel the ache. This, their third release, could catapult the band to a higher trajectory. It's not surprising to learn that Parrish and Lofton have won or places as finalists in every songwriting competition they have ever entered, around a dozen or so including the 2019 Southwest Folk alliance Showcase Artist. This is an impressive band that clearly deserves wider recognition beyond just regional accolades.