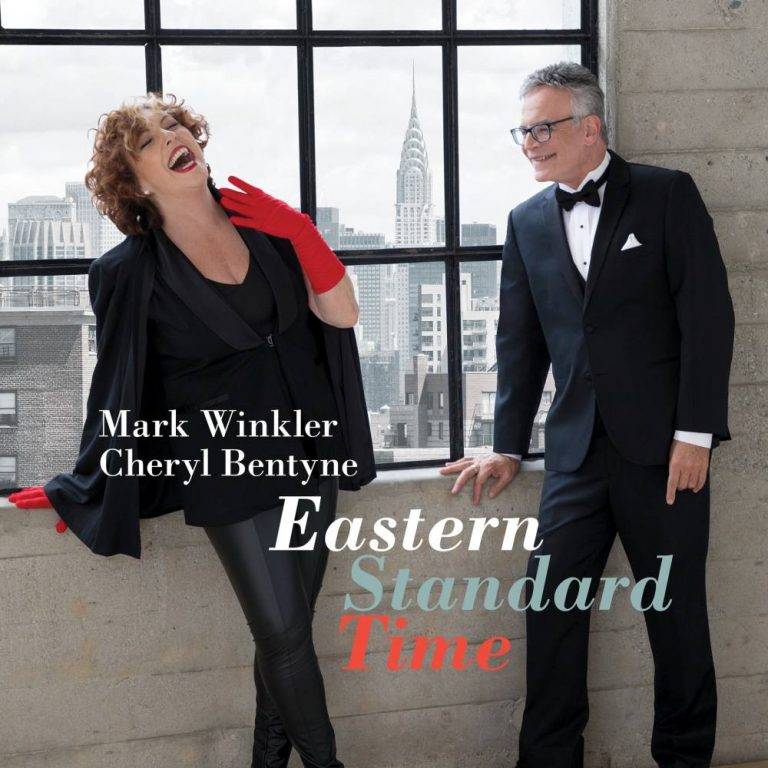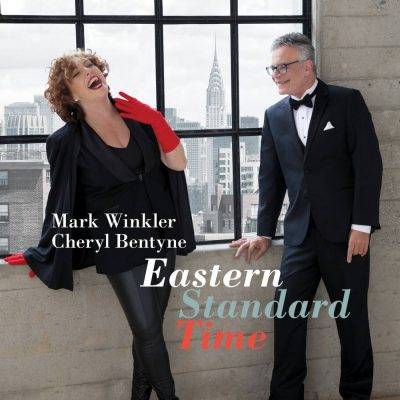 Mark Winkler and Cheryl Bentyne
Eastern Standard Time
Café Pacific
This is the follow-up to West Coast Cool for the vocalist team of Mark Winkler and Cheryl Bentyne. The two have received numerous accolades for their solo projects too. Winkler is the 2018 Downbeat Rising Male Vocalist who has recorded 16 CDs and his songs have been covered over 250 times by artists such as Dianne Reeves, Dee Dee Bridgewater, Jane Monheit and Bob Dorough. Bentyne has over dozen CDs but is probably best known as a long-term member of Manhattan Transfer. Their collaborative effort here involves standards as well as a couple of Winkler originals, sung in duet and in solo formats.
Working with Bentyne and Winkler are Winkler's first call pianist, Rich Eames, who arranged nine of the 11 tunes. Emmy-nominated guitarist Grant Geismann is also a Winkler cohort. Drummer Dave Tull works often with Bentyne in her solo outings and he tours with artists like Barbara Streisand, jack Sheldon, and Chuck Mangione. Saxophonist and multi-instrumentalist Bob Sheppard has recorded with numerous artists including Chick Corea, Freddie Hubbard and the Brecker brothers. Joining them are bassist Gave Davis (all tunes) and Pat Kelly (guitar), Kevin Winard (percussion) and Stefanie Fife (cello) on select tracks.
These are mostly upbeat and updated tracks you'd hear in the smoky NYC jazz clubs in the '50s and '60s. As it says in the liners, "imagine it's New York circa 1959…and you stroll into one of those little clubs they had in the Village like The Half Note or The Bon Soir or Chantilly's, where you could catch a late show by Blossom Dearie."  One of these tunes is indeed one often sung by Blossom Dearie. Winkler sings the witty "Rhode Island is Famous for You" solo. His other solo is "I Could get Used to This (Bumpin')," originally a Wes Montgomery instrumental that Winkler put to lyrics. Bentyne's solo turns come on "The Gentleman is A Dope" from Allegro, one of Rodgers and Hammerstein's less well-known plays. She also does a tender, sultry take on  the standard "Spring Can Hang You up the Most" accompanied only by Kelly's guitar.
The disc opens with the oft covered "Devil May Care," sung in duet and differentiated from other versions by Eames' Afro-Cuban arrangement. Winkler's "Like Jazz" was arranged by pianist Jamieson Trotter, with whom Winkler worked on his most recent CD, The Company I Keep. Interestingly, "The Best Is Yet to Come" was the last song Frank Sinatra sang in public and those same words are emblazoned on Sinatra's tombstone.  The outlier here is Lou Reed's "Walk on the Wild Side," arranged here by the musical director of the Saturday Night Live band, Eli Brueggemann and accented by Sheppard's tenor and Geismann's guitar.
Winkler and Bentyne are two veteran, marvelous vocalists who are having fun.  Winkler says, "While most of these songs should be listened to with a scotch and soda in one hand, "Walk on the Wild Side".…should perhaps be listened to under different influences. But Cheryl and I just had to include it on the CD."  Speaking to the sophistication of these New York imbued tunes are "You Smell Good," first recorded by Jackie & Roy and "Things Are Swingin"," recorded by Peggy Lee in 1959. It sounds a bit like Les Paul and Mary Ford due to Geismann's guitar solo. The CD closes with the medley "The Ballad of the Sad Young Men" and "The Lies of Handsome Men," accented by the touching cello contribution of Stefanie Fire.
You'll often hear the term "cool" associated with jazz. Bentyne and Winkler make jazz both cool and fun.
[amazon_link asins='B07FDL532M,B07FDHMSFZ,B00EBJ666I,B01G4C57VE,B01K8LUHX0,B00F6VCG0K,B00F6VCNK8,B011RAAYES,B011RABGUO' template='ProductCarousel' store='maasc-20′ marketplace='US' link_id='bf9c6b42-b623-11e8-aa9a-1bd81ac8a924′]