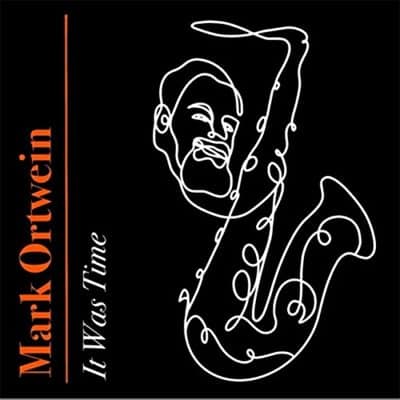 Mark Ortwein
It Was Time
Terra Voce
The kneejerk reaction when learning that Indiana-based musician, composer, and educator Mark Ortwein was a one-man woodwind section playing tenor, alto, soprano, and baritone saxes, along with bassoon, electrified bassoon, clarinet, bass clarinet, and flute was that perhaps this would be a self-indulgent exercise. As it turns out, Ortwein's debut reveals a talent for composing, and a breadth of material that ranges from third stream to Latin to funk to edgy. In other words, there's a similar kind of versatility in composition as in his playing. Through it all, he keeps the listener guessing and engaged. In one way, it's a brilliant hot mess but in another way, it works surprisingly well.
Rest assured, despite the heavy lifting, Ortwein is not exactly a one-man band either. He taps musicians from Indianapolis, Chicago, and New York to accompany his entire woodwind section effort. They are Frank Glover (piano), Paul Langford (piano), Gary Walters (piano), Pavel Polanco-Safadit (piano), his son Olas Ortwein (fretless bass, bass), Peter Hansen (bass), Francis Wyatt (drums), Matt McGraw (drums), Craig Hetrick (drums), Johnny Concannon (drums), Carrington Clinton (drums), John Fell (guitar), Kenny Rampton (trumpet), Jon Crabiel (percussion), Josh Kauffman (vocals). Said succinctly, this is an album of multiples, as eclectic as any. The instrumentation and Ortwein's chosen arsenal differ with almost every track, a mix (what else?) of originals and covers. Democratic in his approach, he offers generous solo opportunities for these musicians.
Ortwein on bass clarinet and tenor saxophone opens with his original, the title track, a blend of jazz and classical penned for his mother who passed away a couple of years ago, and in one sense the impetus to begin working on his own projects. "Pepperoni Grand con Queso Max" is a glimpse into Ortwein's Latin side, with the leader occupying the low end on bari sax and electrified bassoon (a new sound for this writer, and probably you too) while Pavel Polanco-Safadit plays piano, congas, and cow bell. You'll recognize both the song and perhaps the singer of "I Can't Make You Love Me" as Josh Kaufman did the song on NBC's The Voice while Ortwein goes for the David Sanborn soulful approach on alto sax. Of course, he plays more than one instrument, also listing flute, clarinet, bass clarinet, and bassoon. The tune is an outlier in this instrumental set but there's a friendship at play between Ortwein and Kaufman, hence its inclusion.
Another cover, "After You've Gone" follows with Ortwein rather remarkably just sticking to tenor sax in a quintet that features poignant solos from trumpeter Rampton (JLCO) and guitarist Fell. Bassist Hansen penned the vibrant"Basso Bosa" for the quartet that includes the leader strictly on alto sax, Fell on guitar, and Hetrick on drums, each with ample opportunity to stretch out over the almost nine minutes. Ortwein's original "No More Butterflies" was inspired by a visit to Auschwitz as he conveys the somber tone with bari sax with a flute countermelody that brightens midway with Fell's edgy, angst driven guitar solo along with bassist Ortwein's and drummer Clinton's. Ortwein reprises the melancholy heartfelt melody to take us out. Rather than tackling Coltrane's "Lonnie's Lament" straight on, Ortwein electrifies the tune with a funky arrangement rendered by the same players on the previous while his electrified bassoon delivers the primary melody, his tenor sax the counter. Fell's guitar gets wild in this almost unrecognizable arrangement.
The original "Lunar Love" again features Ortwein's alto along with bright solos from Fell and pianist Walters. The guitarist Fell penned "I Might Be Happy," which includes another sharp guitar turn as well as trading lines and verses with the leader who plays tenor and bassoon. The original "Schizoid" describes the tune itself, beginning with a NOLA feel and morphing to a cool jazz style as Ortwein handles soprano, bassoon and clarinet. To these ears, there are some faint echoes of the late Rahsaan Roland Kirk in this one. The main players – Fell, Hansen and Hetrick solo once again in this extensive, experimental take. The closer, "Bigfoot" is composed by Ortwein son, Olas, who takes after dad in embracing multi-instrumentalism, plays guitars, bass, and keyboards on the funk fusion piece. The leader trades lines with Olas, using electrified bassoon, tenor and bari saxes in the process. Trumpeter Rampton joins in the fun with a plunger solo, and after keeping all in line drummer Concannon explodes for the big finale.
Ortwein says it all in the title – it was definitely time for us to hear this talented multi-instrumentalist and composer.
Help Support Making a Scene
Your Support helps us pay for our server and allows us to continue to bring you the best coverage for the Indie Artists and the fans that Love them!
Make a one-time donation
Make a monthly donation
Make a yearly donation
Choose an amount
Or enter a custom amount
$
---
Your contribution is appreciated.
Your contribution is appreciated.
Your contribution is appreciated.
Donate
Donate monthly
Donate yearly
Subscribe to Our Newsletter