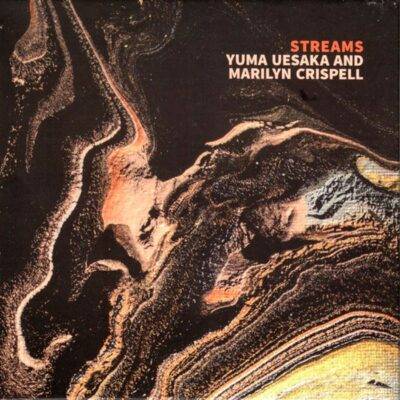 Marilyn Crispell and Yuma Uesaka
Streams
Not Two/Polyfold Music
Avant-pianist Marilyn Crispell has built her distinguished career in the company of inventive saxophonists, from the AACM artists Anthony Braxton and Joseph Jarman to more recent outings with Joe Lovano's Tapestries. She now teams in duo format with Yuma Uesaka, and emerging talent among multi-reed performers. Streams, like most of Crispell's forays, is "out there" but much of it is accessible enough to warrant listens from those who love improvisational work and are not necessarily avant-garde devotees.
The album is conceived in the same spirit as Crsipell's work with Braxton (Duets, Vancouver 1989) and Jarman (Connecting Spirits). Uesaka, who has two solo albums of his own, plays tenor sax, B-flat, and contra-alto clarinet. This setting obviously offers no place to hide and requires extreme focus, intense musical connection, and explorative courage. Through the course of the album the duo journey through meditative, poetic, and emotionally charged sequences. The album begins calmly with the atmospheric "Meditation" before moving into Uesaka's "Iterations I," inspired by Braxton in terms of its atonal melodic synchrony that keeps building in intensity before subsides, and surprisingly just fades out quietly. It's as if two boxers are trading jabs in double time. Jagged and riveting, Uesaka hits every note on his tenor, especially the higher register notes.
We then enter a 20-minute exhilarating, at times disarming sequence of "Streams," "Capillarity," and "Torrent," a centerpiece of free improvisation chock full of interesting textures, East Asian strains, spontaneous counterpoint, and inventive call and response. It's best described by Usesaka this way, "…I sent her some recent recordings of my playing, and she invited me to come up to Woodstock to play at Nevessa studios. The album actually captures our very first, unfiltered musical encounter, with the loosely symmetrical suite of 'Streams,' 'Capillarity,' and 'Torrent' our initial 20 minutes of playing. After the first two pieces, I opened my eyes to look at her, thinking we were finished. But she re-entered full force with her signature Cecil Taylor-like bursts. I was taken off guard but also energized, so I joined her with all the sound I could muster for the cathartic surprise coda." Crispell especially never ceases to amaze, going from thunderous energy to calm, contemplative notes and chords in the blink of an eye. She has the rare quality of active listening to support Useaka's thrusts and changes but can also serve as the leader in taking the piece into new and unexpected territory. The album finishes with Uesaka's "Ma/Space," a nod to his Japanese heritage and features an overdubbed third player, Chatori Shimizu on Sh (the Japanese mouth organ).
Uesaka commissioned poet Rushi Vyas to create six sets of accompanying verse inspired by the music and track titles. It's worthwhile reading those while listening or getting your own sheet of people and just writing down words that come to mind while listening to these two. The cover art is also arresting. It's a detail from one of Alexandra Powell's acrylic pour works to denote the album title about which Uesaka says that he titles the record to "evoke the quality of flowing water which is what improvisation feels like to me as we simultaneously witness and direct the flow of musical ideas."
Crispell and Uesaka play brilliantly. It's all here – lyricism, angular rhythms, judicious use of space, tension, calm. Listen freely and often.
Help Support Making a Scene
Your Support helps us pay for our server and allows us to continue to bring you the best coverage for the Indie Artists and the fans that Love them!
Make a one-time donation
Make a monthly donation
Make a yearly donation
Choose an amount
Or enter a custom amount
$
---
Your contribution is appreciated.
Your contribution is appreciated.
Your contribution is appreciated.
Donate
Donate monthly
Donate yearly
Subscribe to Our Newsletter