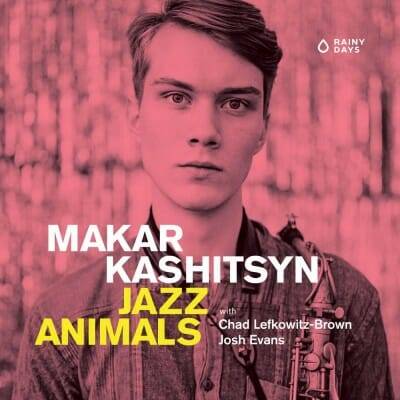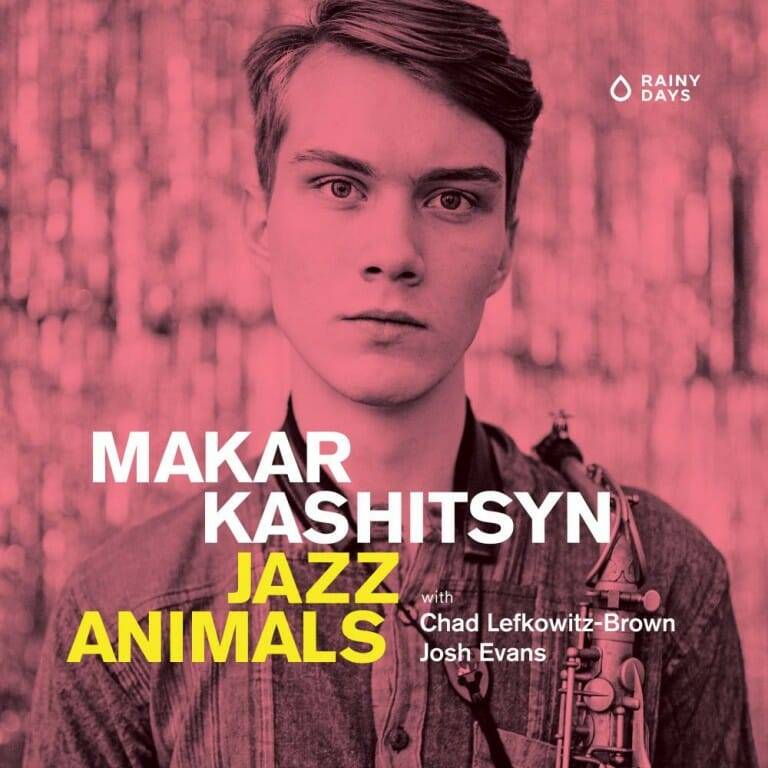 Makar Kashitsyn
Jazz Animals
Rainy Days
There's a revolution going on in Russia, a jazz revolution that is. We'll get to the mission and some of the projects of the label, Rainy Days but first we'll talk about the debut recording of alto saxophonist and composer Makar Kashitsyn, the 19-year-old prodigy from Moscow with Jazz Animals. Most of these seven pieces are rendered with a septet or octet, featuring a front line of American rising stars, tenor saxophonist Chad Lefkowitz-Brown and trumpeter Josh Evans, Dutch vocalist Hiske Oosetwijk and Russian musicians Alexey Polubabkin (guitar) Sasha Mashin (producer, drums), Maker Novikov (double bass/electric bass) and Alexey Podymkin (keys).
This music is accessible hard bop and ballads with a huge sound and strong improvisation from the global group of players gathered for the session. The solos are imaginative, energetic, and crisp. Kashitsyn composed five of the seven with Leftkowitz-Brown contributing "Time to Forget" and arranger Nikita Mochalin composing "Song for Chad." The first five selections showcase each horn player on the front line as well as keyboardist Podymkin and guitarist Polubabkin. The last three tracks, beginning with the edgy 13 and half minute "Our Song," a funky showcase for guitarist Polubabkin, through "Time to Forget," with Podymkin on Fender Rhodes; and "Phone Call" feature the vocals from Dutch vocalist Hiske as well. Leftkowitz-Brown blows his tenor with abandon on the latter.
Rainy Day Records is a Saint Petersburg-based label that is changing the global perception of modern Russian music. Founded just last year, the label has released three albums that demonstrate the vibrancy of today's Russian jazz scene. Acting as a platform for Russian and international musicians, the label facilitates the creations and presentation of new works and fosters collaboration. It's almost as it they took the original Blue Note blueprint. But aside, from the remarkable talents of the Russian musicians is the global spirit of collaboration.
The three titles already released are Mashin's debut and label's inaugural release Outsidethebox that features Alex Sipiagin, Rosario Giulani, and Josh Evans. As alluded to previously drummer Sasha fills the roles of A&R and producer for the label. Last April bassist Novikov teamed with the Dutch vocalist and composer Hiske Oosterwijk for Stereobass for a much different sound than the hardcore jazz found on Mashin's album and this one. Last June the label released The Change, a quarter comprised of saxophonist Zhenya Strigalev and guitarist Federico Dannemann backed by New York musicians Obed Calvaire (drums) and Luques Curtis (double bass). In early October the label will also release a trio project entitled Zoo from pianist and composer Evgeny Sivtsov joined by bassist Dan Chmielinski and drummer Shawn Baltazor.
The label has major plans for 2020. In addition to these names and more, some of the collaborators include bassist Tim LeFebrve, Christian McBride, Jeff "Tain" Watts, Nicholas Payton, Essiet, and Josh Evans among many others. Sasha Mashin explains the label's mission this way, 'of course, in Russia we boast a formidable legacy of classical arts like Russian ballet and Russian classical music, veterans of which including Tchaikovsky, Mussorgsky, Glinka, Stravinsky, Shostakovich, Prokoviev etc. We as a label will support openness and creativity in our musicians, aiding them to create new, innovative, bold music, without fearing the potential of hostility from international audiences, in response to this niche art."
These are unique artistic collaborations that evoke full creative freedom. This release, as just one example, is thoroughly exciting and animated. We look forward to hearing more from the Rainy Days label.